Mastani, the name brings a kick with it, isn't? Mango mastani, yummilicious drink of mangoes topped with ice-cream and served with nuts garnished, i have watched this mastani in many blogs and have literally drooled over it! I chose the theme : summer coolers, thinking of Mastani!
Let us know a little bit about the drink before learning how to make it. Mastani is a famous drink from Pune in India, land of Peshwa's and the Maratha's. A place that still preserves its cultural heritage and history with its mighty forts and food of-course.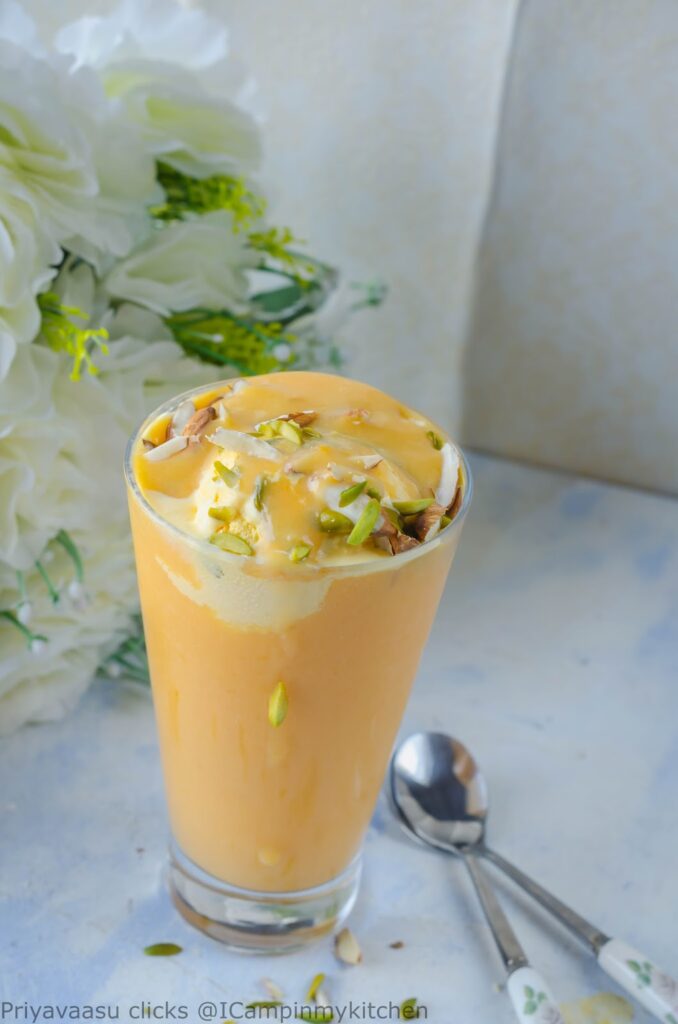 While searching for the root of mastani, i came across some articles and videos on the Web, thanks to my curiosity, i still love to learn about food and its origin. 
One of them says, it is named after the legendary Peshwa ruler Bajirao's Love, gorgeous Mastani and the drink too is such a beauty so, it is named after her. 
Other story says, when it is served, the first thought that hits your mind is how 'mast' it is, meaning how awesome it is, hence the name mastani. 
True to its name, 
it is one of the easiest, most deliciously looking and tasting drink ever. And with mango season in full glory, you should definitely try making this. 
If you are interested to read about the article here it is Story Behind Mastani. Here is the video how they make it. I love the way they crush the fruit straight in the glass and top it with fresh milk, wish someday i can visit pune and taste this awesome drink. For now enjoy making it at home! 
Ingredients (serves 2 tall glasses or  4 small glasses)
3 well ripened mangoes
1 cup chilled milk
3-4 tablespoon sugar (optional)
Mango ice-cream as needed (2 small scoops/person)
Few chopped nuts for garnish
(i have used almonds and pistachios)


Method
Wash and chop the mangoes, remove the pulp. Take the pulp in a blender, add chilled milk, sugar and blend smooth.

Pour the smoothie in tall glasses till ¾th of the glass, top it with mango ice-cream, garnish generously with nuts and serve immediately. 
This is for 

Srivalli's Kid's Delight event
, guest hosted by
Amara,
themed on Summer Coolers
Check out the Blogging Marathon page for the other Blogging Marathoners doing this BM