The last week of Bake-a-thon, it is going to rain cakes here. The first cake is a luscious mango cake, spiced with cardamom,cloves and ginger. With some almonds for a crunch and beautifully topped with soft and fluffy whipped cream. My Mango muffins were such a hit with kids, i wanted to bake a cake for them. I used the same recipe, but added milk and some warm spices and crunchy almonds to the recipe.
The almonds added a nice toasty crunch to the cake and the spices made it more festive and warm. I baked 2 cakes, one cake went divided for my 2 friends, who enjoyed this cake warm for their breakfast next day. I frosted the other cake with simple cream which both my kids enjoyed!
I have made this cake with store-bought mango puree, will definitely try this when i get fresh mangoes next year. If i have to list my best 10 bakes this year, this cake would definitely amongst them. 
1.5 cups Whole wheat flour
6-7 nos cardamom, only seeds, pounded
1/2 tsp dry ginger powder
Take together cream cheese, whipping cream in a bowl, using an electric beater, whip until you see soft peaks, add icing sugar to this and whip until you see stiff peaks. Refrigerate until use.
Preheat the oven to 170C. Prepare the baking pan, grease and line it with parchment paper. I used 2 5 inch pans for this. 

In a large bowl, take together flour, baking powder, baking soda together. Using a baloon whisk, whisk it all together. You can also use a sifter and sift them into a large bowl.

To this flour mix add almonds, cinnamon powder, ginger powder, pounded cardamom, pounded cloves. Whisk this well.

In another bowl, take mango puree, add sugar, oil and milk to it. Use an electric beater or whisk,whisk the contents together into a uniform liquid.

To this liquid add the dry ingredients in 3 batches. Use a spatuala to mix the flour into the liquid in single direction. Do not mix vigorously.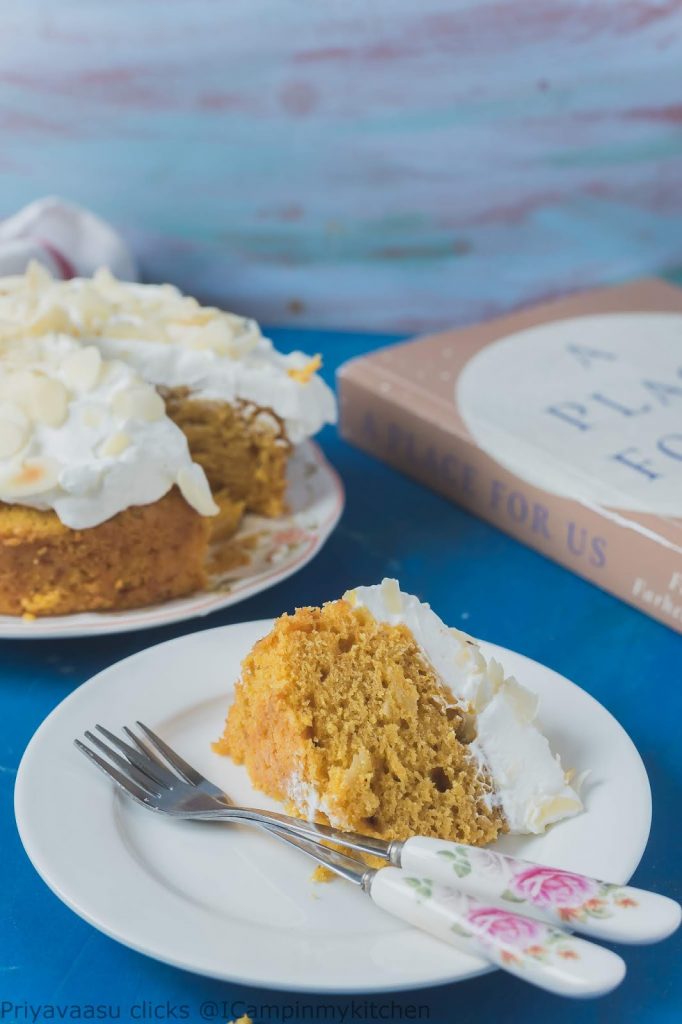 Pour the batter into the prepared pan, bake the cake in the preheated oven for 40-45 minutes or until a skewer inserted in the middle comes out clean.

Remove the cake from the oven, let it sit in the pan for 5 minutes. Then slowly remove the cake onto a wire rack and cool completely.

If serving without any icing, serve it warm. If planning to frost the cakes. let it cool completely. Cling wrap and refrigerate until you are planning to frost it. I baked 2 5 inch cakes, but 1 cake got over even before i could frost and click them. 
I simply dumped the whipped cream frosting on top of the cake, tried to level it and cover the entire cake. Sprinkled some toasted almonds and served.