Mangoes are in season, oh yeah, who doesn't love mangoes! My lil one is super crazy for mangoes. I still remember when we went to Tirupathi in 2013, he was about an year old, he literally ran behind every raw-mango seller, to give him some slices, we bought from almost every seller sitting near the temple.
Right now, i can see only mangoes when i open my rice bin. No, i m not complaining here, i m happy that he loves fresh fruits. Not only mangoes, he loves melon too, so in season, you can find both the fruits at home.
Now coming to chia seeds, though i m using them for about an year now, never blogged about them here. I use them in chutney podi's and breads. For a long time now, i wanted to try them in smoothies or in dessert. Last week, while food-gawking, I came across this Chia pudding here, i got so inspired and wanted to try with mango and musk melon. I m glad that i did. We totally loved this pudding, absolutely no sugar, it is a great snack and yumm desert anytime. And also it is very easy to make, blend the fruits, add the chia and refrigerate. Tadaaa, you can enjoy desert for dinner. Try this and let me know how you liked them.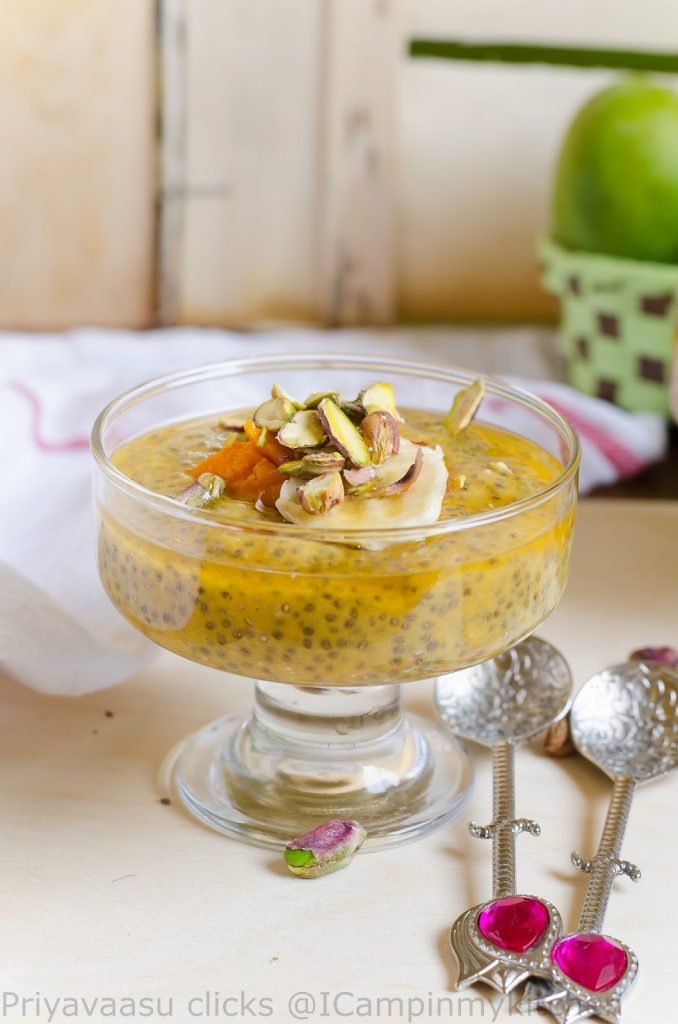 Ingredients
2 cups Musk melon pulp (1 normal musk melon)
2 Alphonso mangoes, pulp (even the seed is scraped off flesh, 🙂 )
½ cup Milk/Coconut milk/Any Non-dairy milk
2 tablespoon honey/agave nectar/maple syrup (i didn't use any of these)
3-4 tablespoon chia seeds
2 tablespoon of pistachios
Banana slices, mango cubes and pistachios for garnish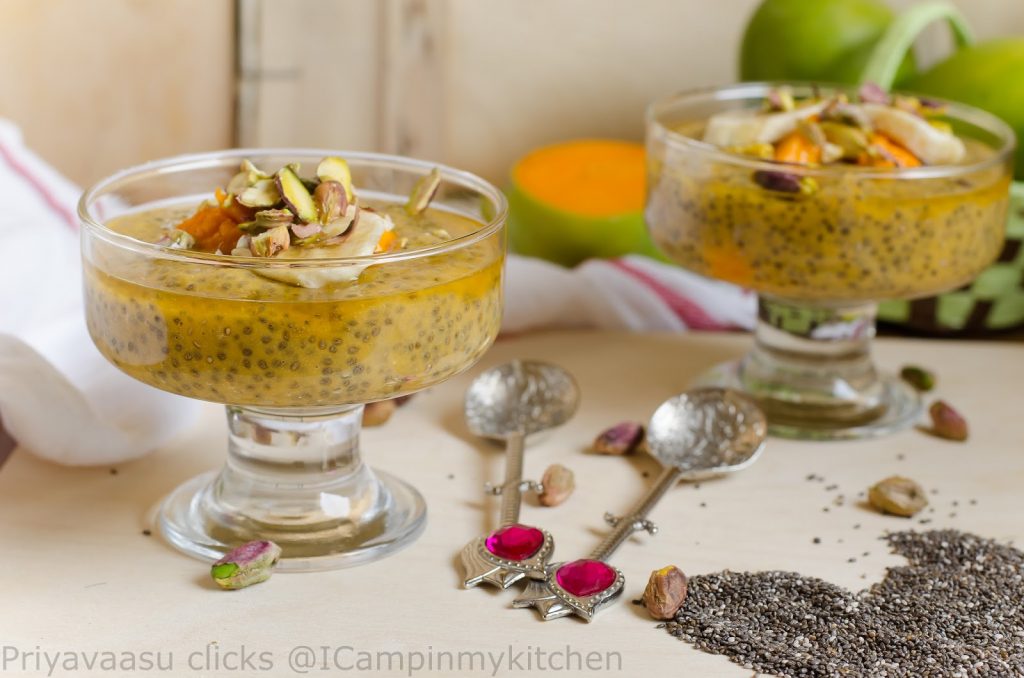 Method
Take mango flesh and musk melon pulp into a blender, add milk and the sweetener if using, blend until smooth. I got about 3 cups of smoothie, of which i burped 1 cup as my breakfast, the rest 2 cups i used to make this pudding.

Take the smoothie in a large bowl, add chia seeds and pistachios, whisk well to combine. Cling-wrap and refrigerate for 4 hours minimum.

To serve, spoon the pudding in bowls, top it banana and mango slices, sprinkle pistachios, drizzle lil honey and serve.
Notes
If serving for kids, i recommend adding 2 tablespoon of sugar to the pudding, mix and serve.

You can also layer them like parafait and serve for dessert, by adding more fruits, double whammy!!!!