After two days of banana and dates, i settled with orange and carrots today. 🙂 Actually i didn't plan for any dish today, I was still thinking and the time was running, finally i settled doing this Microwave cake. I have already experimented with orange cakes, so thought of mixing in carrots to make it more Orangish-too!!!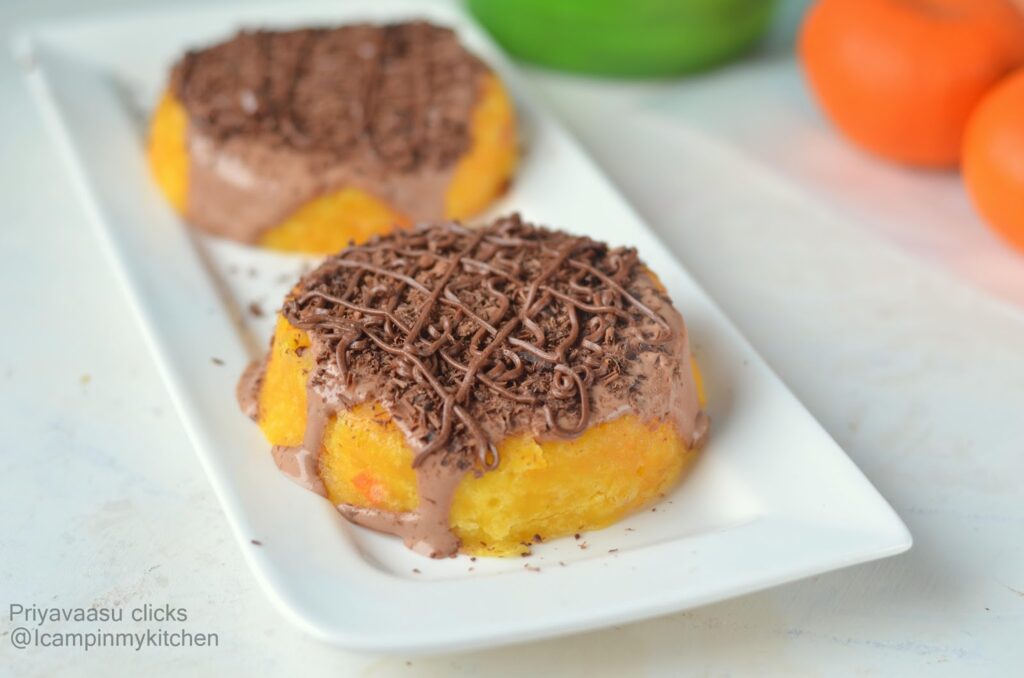 Once the cakes came out of the MW, they were very simple. Awwwh, how dare i present them as Desserts? There came the chocolates to my rescue. Quickly made wee bit ganache and some chocolate cream and used grated chocolate for some more help!!! Voila, the end product was worth the effort.


Ingredients (serves 2-3)
heaped ¼ teaspoon baking powder
⅓ cup freshly squeezed orange juice
¼ cup finely shredded carrots
Take flour and baking powder together in a bowl. Whisk well to combine. Add orange zest to the flour mix. In another measuring jug, take the orange juice, add sugar to it and mix well.

To this add oil and shredded carrots and whisk well. Add this liquid to the flour mix and using a fork or spatula mix well to combine.

Grease two microwave safe bowls fill the batter to ½ of the bowl. Microwave high for 2 minutes or until the cake leaves the sides of the bowl. Do not microwave for a longer time, you will end up with a hard rock. Microwave timings varies from Oven to Oven, so cook accordingly.
Once the cake is done, remove it and let it sit on the counter for a minute. Invert it on a wire rack to cool completely.
For the Toppings
100 grams Lindt Dark Chocolate (70% cocoa), divided
¼ cup Whipping cream + 2 tablespoon extra
Divide the chocolate equally. Take one portion and melt in the microwave. I microwaved

@ high

for a minute. Once done, whisk it smooth using a fork, to this add ¼ of whipping cream and whisk well to a smooth ganache.

Grate the remaining chocolate, using a cheese grater. Add a portion of grated chocolate to 2 tablespoon whipping cream, to get a pour-able smooth cream.

Decorating the cake

: Take the cake out, Place it on a wire rack, keep a plate to catch the dripping chocolate.

Pour the chocolate mixed cream on top, let it drip on the sides. Top it generously with grated chocolate.

Now mix the smooth ganache into a piping bag or a ziploc pouch, snip the end of the bag to let out thin stream of ganache. Make wiggly lines on top of the grated chocolate both horizontal and vertical. Let it sit in the fridge until serving time.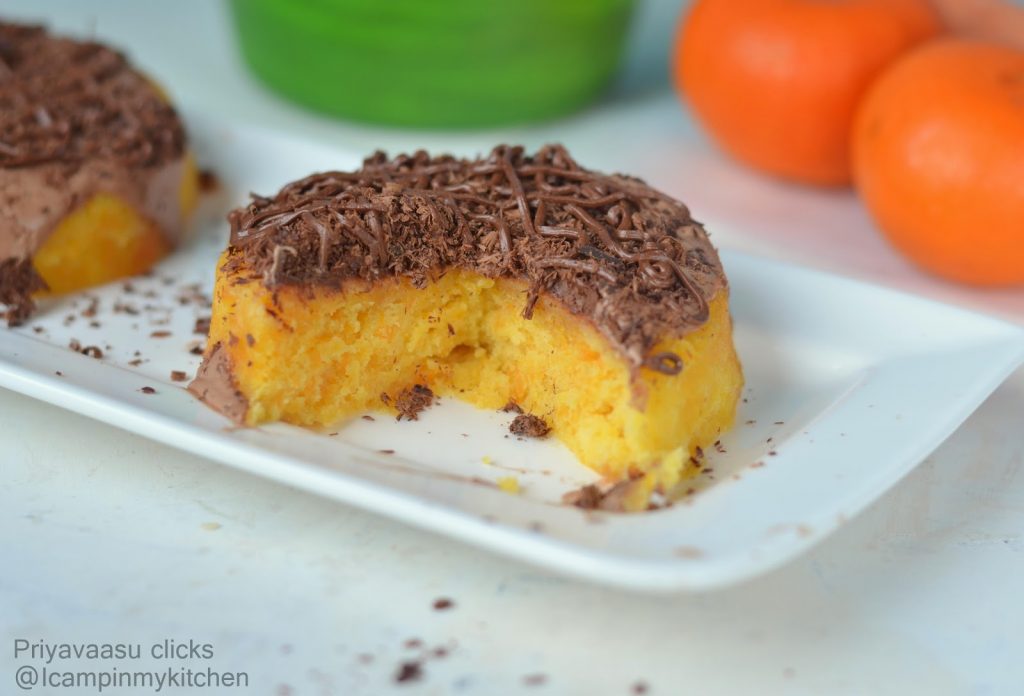 Take it out 10 minutes before serving, let it sit on the dinner table and may your guest make ohh, aahh sounds on the frosting on top, then cut and serve!!! 🙂
Check out the Blogging Marathon page for the other Blogging Marathoners doing BM# 53