Summer is here officially, it is tough to stay inside with out Air-conditioning. Outdoors are very sweaty and not to mention the crazy climate over here, Morning it was dusty, hazy Sand-storm and evening it is raining like crazy!!!! So, these days a raita or simple chopped cucumbers are sure in our daily meal. Made this Raita for my Hubby's Lunch-box last week to go along with Roti and Side-dish. An Easy to make summer coolant. A Perfect combo to One-pot meals and Stuffed Parathas.
1
medium-sized
onion
1
medium-sized Tomato
1 green chilli, Chopped fine
1 teaspoon shredded ginger
a pinch of red chilli powder
a pinch of cumin powder
few Coriander leaves for garnishing
Method
Wash, Peel and chop Cucumber and Carrot thinly. Chop Onion and Tomato Finely. Take all the veggies in a bowl.

To this bowl, add chopped green chili, shredded ginger and mix well.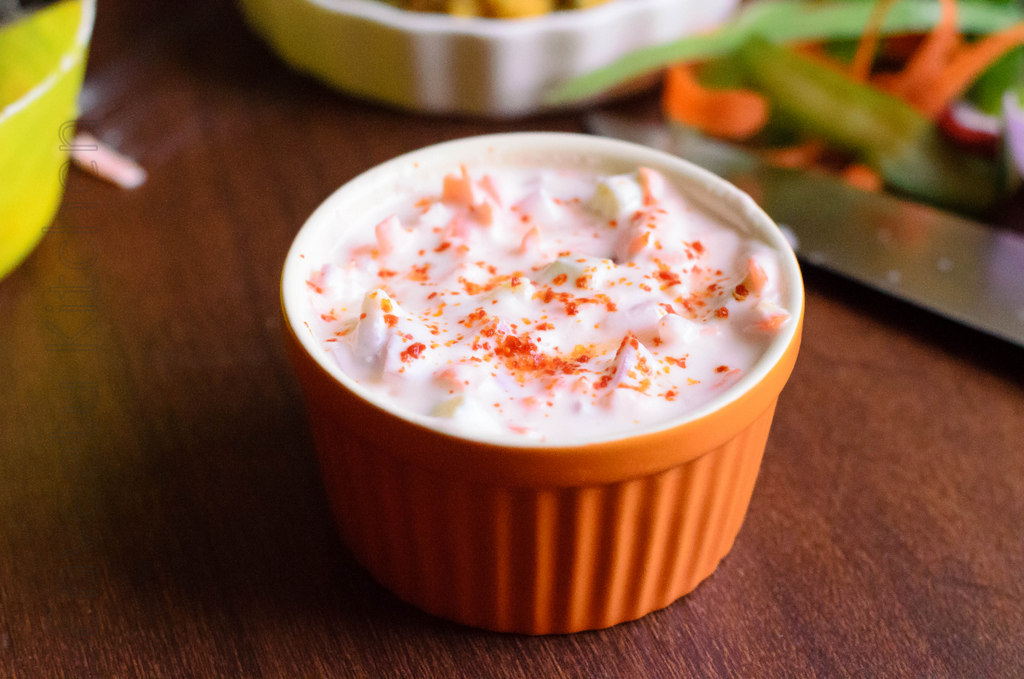 Whisk the Yogurt well, add it

to the veggie bowl

. Stir to combine. Refrigerate until use.

Add salt just before serving.
Notes
If packing this raita for lunch, make hung curd instead of yogurt. Take the yogurt in a strainer and leave it for an hour or two for all the whey to strain out. Then add the veggies n keep the salt separately.

You can Mix and Match your veggies here, the aim is to have Fresh/raw Veggies with all its Nutrients as such. You can even add Capsicum to this.