Green grapes raita , yogurt dip made with fresh yogurt, seedless green grapes, add a chili tempering for more flavor. This raita makes a great side for one pot meals.
Jump to Recipe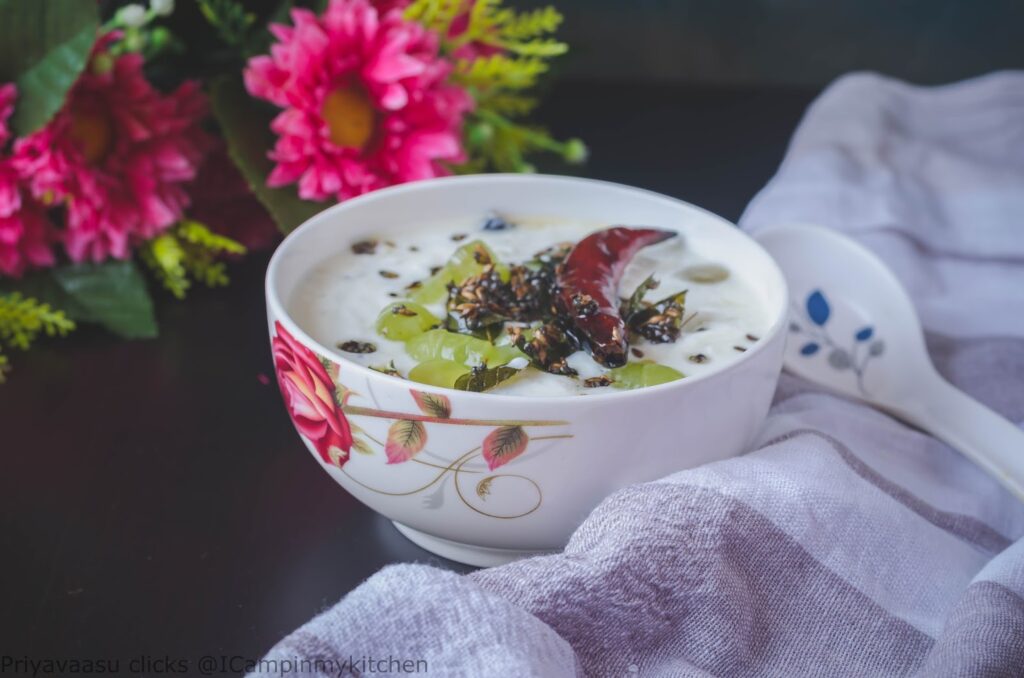 What is Raita?
Raita is a side dish made of yogurt/curd with raw or cooked vegetables, more seldom fruit, or in the case of boondi raita, with fried droplets of batter made from besan/gram flour. Raita has a cooling effect to contrast with spicy curries and kebabs, paired with main dishes like Biriyani, parathas, etc.
We are a big fan of raita's at home. A simple coriander & mint raita is our family favorite, and a must whenever I make a mixed rice/one pot meal like this cauliflower paneer rice.
My little one loves this beets raita, he doesn't eat beets otherwise. My favorite is this Gooseberry raita, made of Indian gooseberries, both healthy and tasty, for an extra dose of Vit C.
More Interesting Condiments
How this Gorgeous Green Grape Raita happened?
My in-laws came for a month-long vacation in 2017. They brought us a box full of Mangoes and Seedless grapes along with our favorites like dried lotus root, vepillai katti (lemon leaves condiment), naarthangai urugai etc. Though we get many of these here in all the Indian stores, but to get them from Chennai, has a different pleasure, un-explainable! 🙂
A box full of grapes, was too much to munch for us, so I tried making this yummy raita with it. Now this delish raita is part of our regular menu at home. Pair this raita with your spicy parathas and kebabs for a burst of freshness.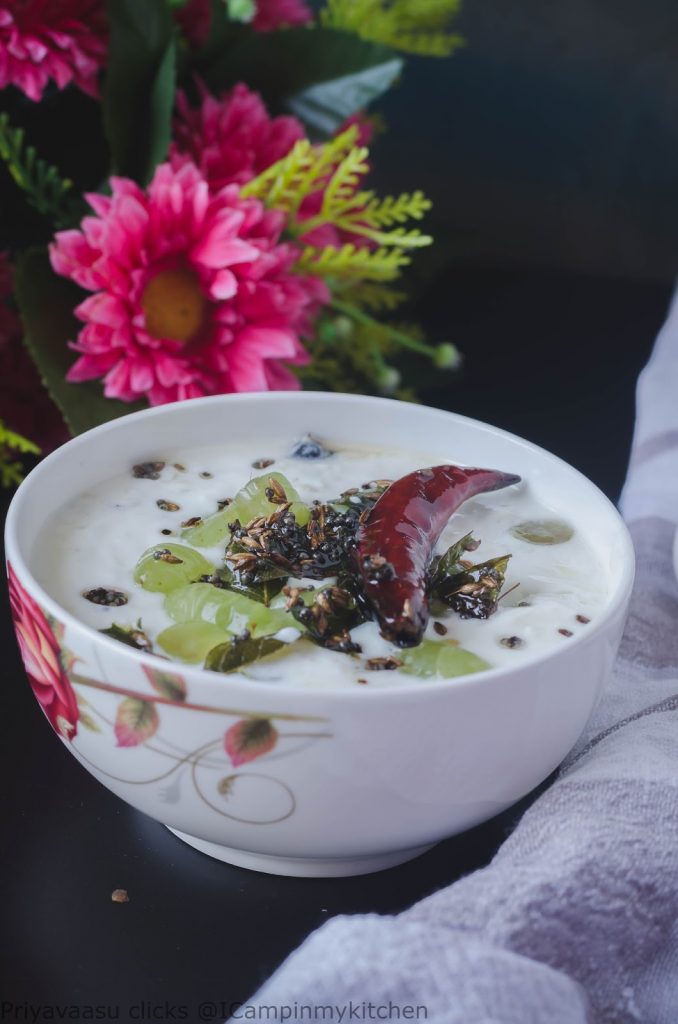 Some Interesting Raita recipes
As I mentioned earlier, raita offers a refreshing taste and pairs deliciously well with spicy rice and kebabs. For your next biriyani lunch, do try one of the following raita and enjoy that lingering coolness in your palate.
The Ingredients for Grapes Raita
Yogurt, i prefer using fresh, full fat yogurt and full fat buttermilk. if you are comfortable with low-fat yogurt, use it instead.
Green grapes, i have used seedless green grapes, you can also try using red/black grapes seedless preferably. De-seeding grapes is a pain, so i wouldn't recommend it.
Spices, i have used green chilies and ginger for the spice. Do not miss them. They add a great oomph to the plain yogurt
Tempering, though this is optional, but i would recommend adding a tadka of mustard seeds, with cumin and curry leaves and some red chilies. Cumin and curry leaves add great texture to the raita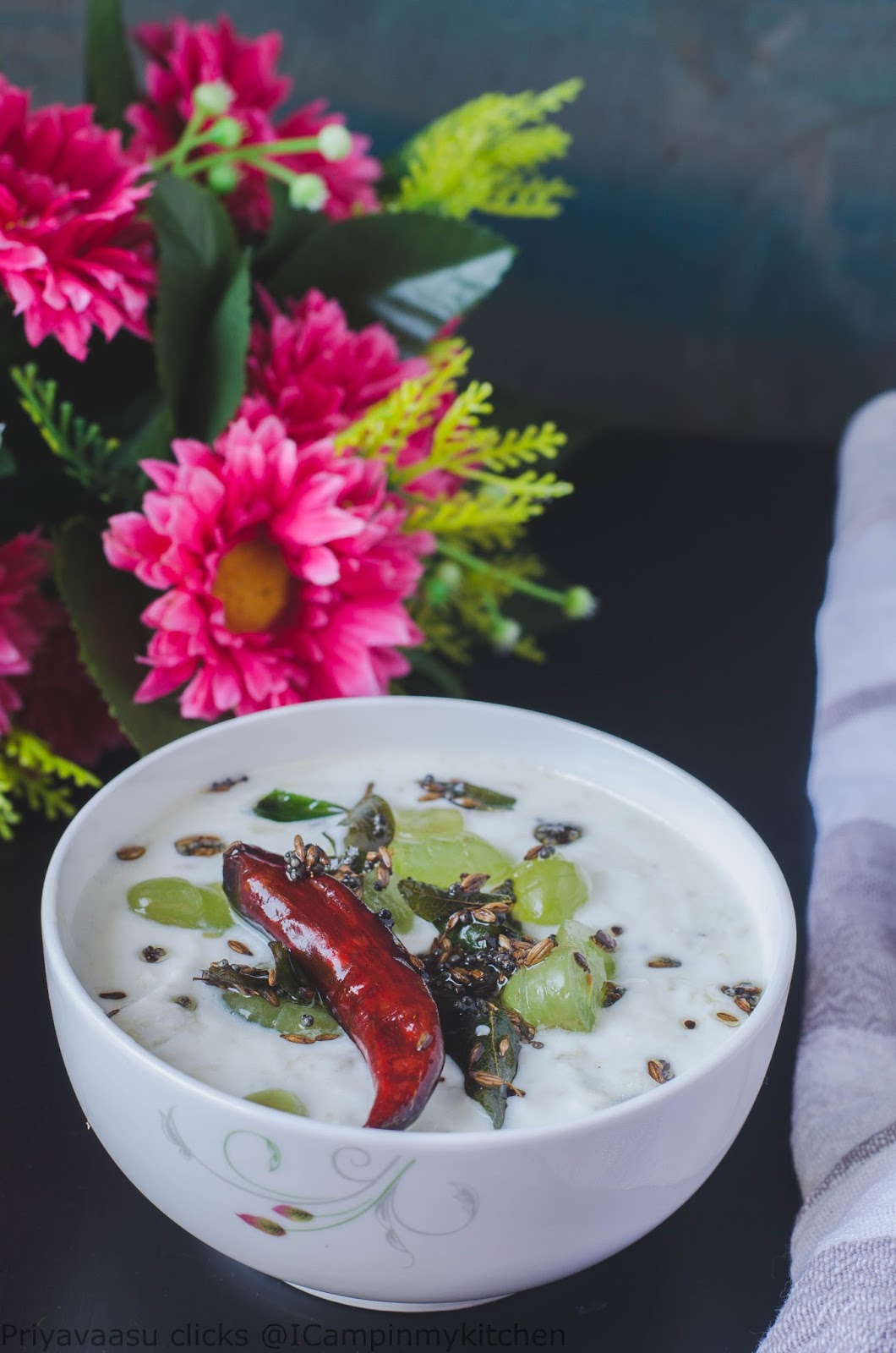 Green grapes raita, yogurt dip
Green grapes raita , yogurt dip made with fresh yogurt, seedless green grapes, add a chili tempering for more flavor. This raita makes a great side for one pot meals.
Print
Pin
Rate
Ingredients
½

cup

seedless green grapes

¾

cup

hung curd

1

no

green chili

½

teaspoon

shredded ginger

¼

teaspoon

cumin seeds

½

teaspoon

salt

to taste
Tempering
1

teaspoon

oil

¼

teaspoon

mustard seeds

¼

tsp

cumin seeds

2

nos

red chilies, broken into two pieces

a sprig of curry leaf
Instructions
Take 1 cup of yogurt, tie it in a muslin cloth and keep it over a tea-strainer and place a bowl underneath to collect the whey. Keep this inside the fridge. You can make this overnight, so you will have a thick, ice-cream like hung curd next day or at-least make it an hour ahead.

Take grapes, green chili, ginger and cumin seeds in a blender and pulse it 4-5 times. We don't want grapes juice, we just have to mash it.

Add this mish-mashed grapes to hung curd, mix well. Add salt and mix well.
Adding Tempering
Heat a small tadka pan, add oil given under 'Tempering', splutter mustard seeds, add cumin seeds, red chilies and curry leaves.

Pour this sizzling tadka over the raita. Serve it along with rice.
Notes
As we will be pulsing the grapes before adding it to the curd, we need to first make hung curd, so our raita doesn't go runny. 
So, before making the raita, first make hung curd, i made this an hour before i made the raita, you can even make it overnight. 
After adding the pulsed grapes to the hung curd, it will return to normal raita consistency.
Disclaimer
I m not a Doctor or a Nutritionist The Nutrition information provided above comes from the plugin and is only an estimate.
This vibrant looking green grapes raita has an amazing combination of sweet, sour and spice, a balanced dish of all 3 tastes. Pair this amazing raita with a spicy pulao/mixed rice. I served this along with a sumptuous south-indian lunch.
Do you like this recipe, PIN IT