Its been a long time since i baked a savory muffin. Last time i remember is last marathon, that too a savory bread and not a muffin. So, this bake-a-thon, i decided to bake one. The original plan for today was to make pizza muffins, but i had some leftover chopped veggies from the Tortilla pinwheels, so i made them into this yummilicious breakfast muffin. I added some cheese, not to dissappoint the kids. Both my kids had this as their after-school snack, i told them it is pizza muffins. My elder did question why i don't smell the pizza spices, i just gave him a look, he understood and went about minding his eating business.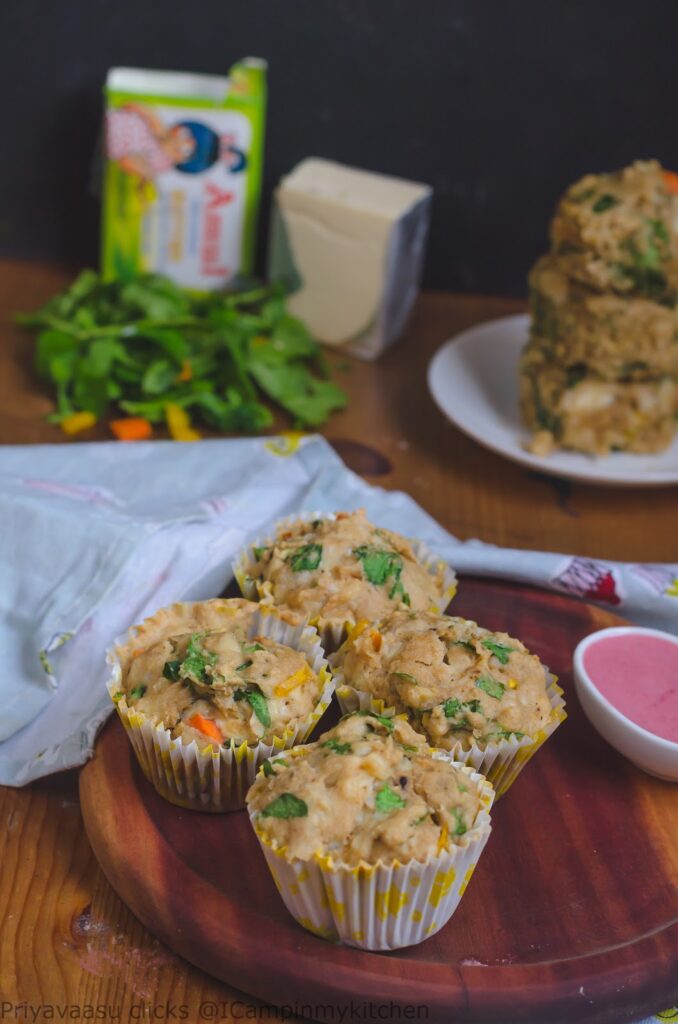 Thank god, my lil one didn't hear his words, or else he would start his question and answer session. These days he is full of question, too many. Today morning, he is asking "Why am i wearing underpants and baniyan inside my school uniform?" 😳I had to answer it in such a way he is satisfied, or else the whole day he will yell at me,"katti amma, you didn't know" Thank god, for the my little brain, that hasn't drained fully yet, he was happy with my answer😇 and he even taught his daddy, the reason behind underwears😃.
Ok now coming to the recipe, simple recipe, perfect when served warm with your morning cup of coffee/tea.
Ingredients (Makes 12)
1.5 cups Whole wheat flour (i used Aashirwad Chakki Fresh Aata)
1.5 teaspoon baking powder
¾ cup of Shredded Cheddar cheese
¼ teaspoon freshly pounded pepper
½ Cup Mixed vegetables, chopped into small cubes ( i used red, orange bellpeppers and carrots)
Method
Grease a muffin pan with oil and lay it with muffin liners. I used my silicon muffin moulds, so i just lined them with liners.Preheat the oven to 170C.

Take flour,baking powder, baking soda, pepper and salt in a wide bowl. Whisk well to combine.

Heat milk in saucepan or in a microwave. When it is hot, take it off the heat, add the butter and let it stand for 10 minutes for the butter to melt in the milk.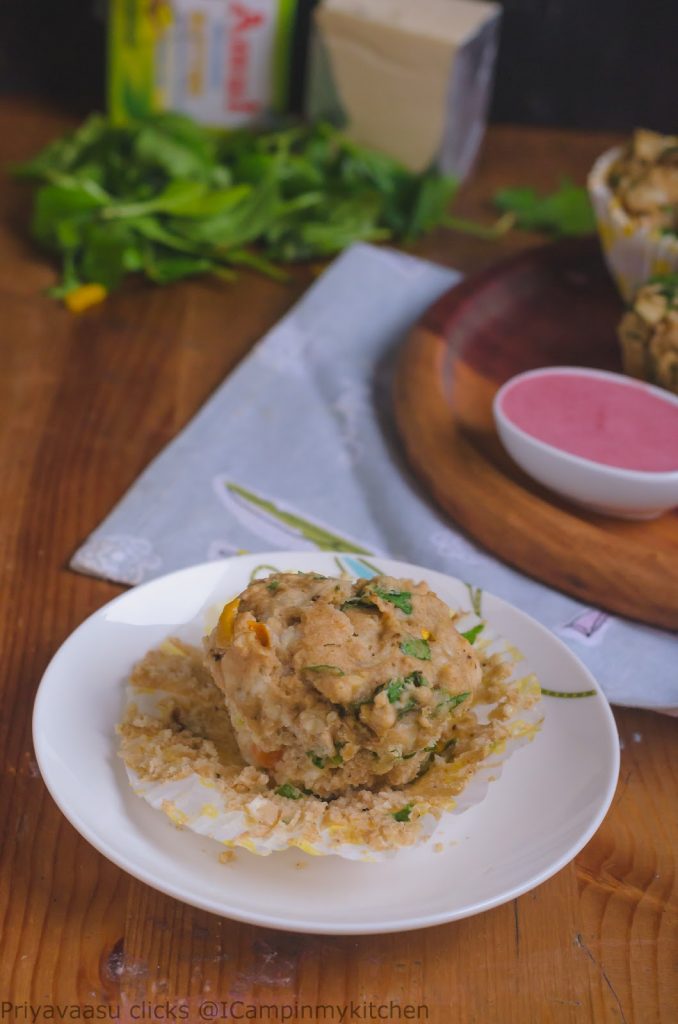 Add chopped veggies, spinach to the flour mix. Add milk and butter to the flour and mix with a spatula to combine. Add the shredded cheese and mix. The batter wouldn't too loose nor too tight.

Fill the muffin moulds with ¾th of batter. Bake them for 25-28 minutes or until done, when a toothpick inserted in the center comes out clean, they are done.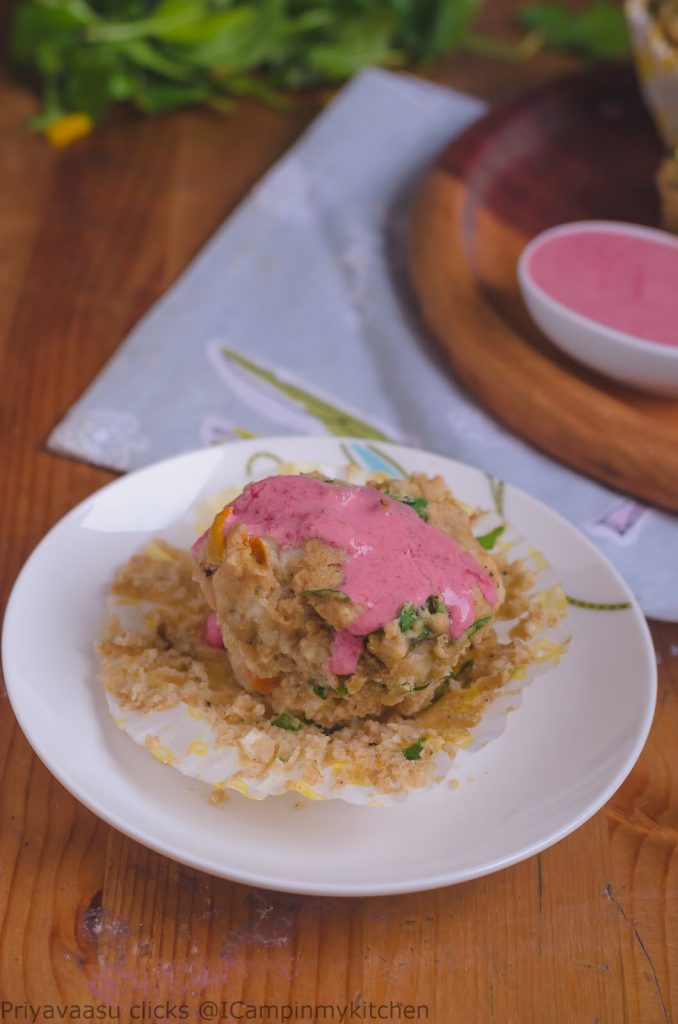 Remove muffins to a wire-rack and let it cool a bit. Serve them warm with your favorite dip or just a spicy sauce. I served them with Beetroot and spices whisked yogurt dip.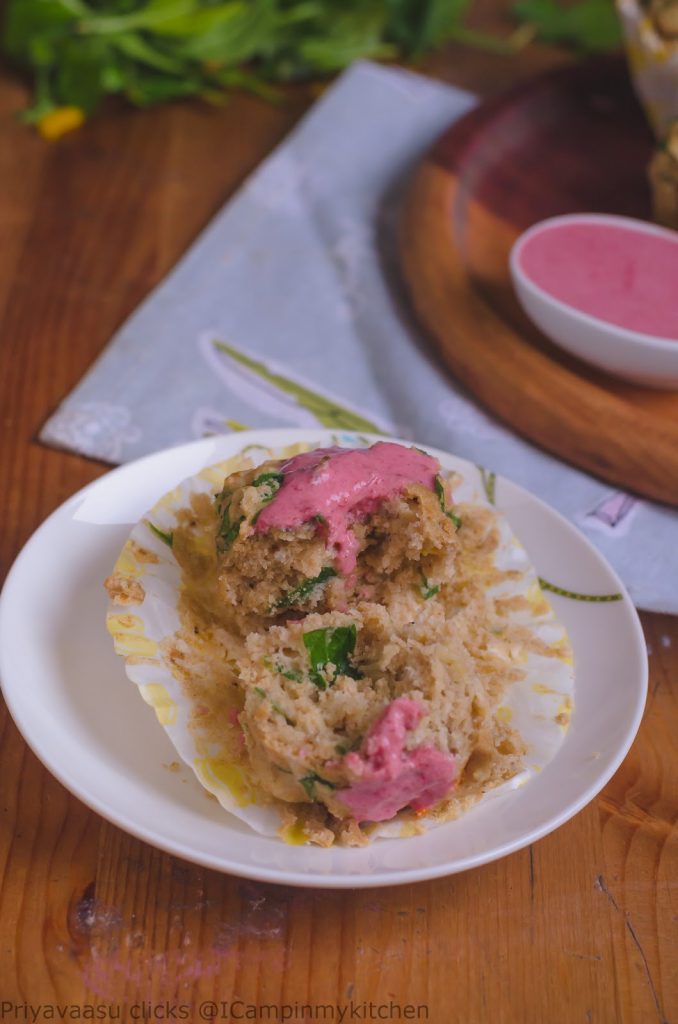 https://static.inlinkz.com/cs2.js" type="text/javascript">