I was not sure whether i would be able to do publish today's post on time, but thankfully here i am! I totally enjoyed this week's morocco theme, thought we did only 3 simple recipes, but i have bookmarked loads, and i m sure our boss +srivalli jetti will definitely give us this theme again in the coming months. 
Today's recipe Moroccan Carrot salad, was done in flat 15 minutes.  I started around 4:30 pm and i clicked it at 5:00, as my daylight was fading fast, i just propped my board on my cloth dryer and used my phone camera to click these pictures. I m pretty happy with the pictures too. (pictures updated on November 2019).
The story above was to state how easy is this recipe. This Moroccan carrot salad would be a great addition to your party table, if making ahead, just parboil the carrots and keep it refrigerated and on the day of serving, toss it with the seasoning and let it sit for 30 minutes for the flavors to mingle, just before putting it on the table garnish it with nuts and raisins. Do not miss that garnish, those toasted nuts add a great texture to the salad.


Here is the video 
Do try this recipe and let me know how you liked it!
Ingredients (serves 1)
2 medium sized carrot/around 200 grams, chopped into chunks/roundels
1-2 teaspoon toasted, silvered pistachios/walnuts
Seasonning
1 fat clove of garlic, minced 
a 2 pinches of cumin powder, paprika powder and pepper powder tossed together
Wash and peel the carrots, chop them into chunks, take them in a sauce pan, add water to submerge the carrots and let it sit on heat until it starts to boil. Once it starts to boil, take it off the heat, drain and set aside until it cools down.

While it is cooling, whisk the seasoning together. I had the spice oil from yesterday roasted potatoes, i have used the same. If you don't wish to use ras el hanout, you can use paprika/red chilli powder, cumin and pepper powder, lemon juice and add it to the oil, adjust it as per your taste and use it for spicing the salad.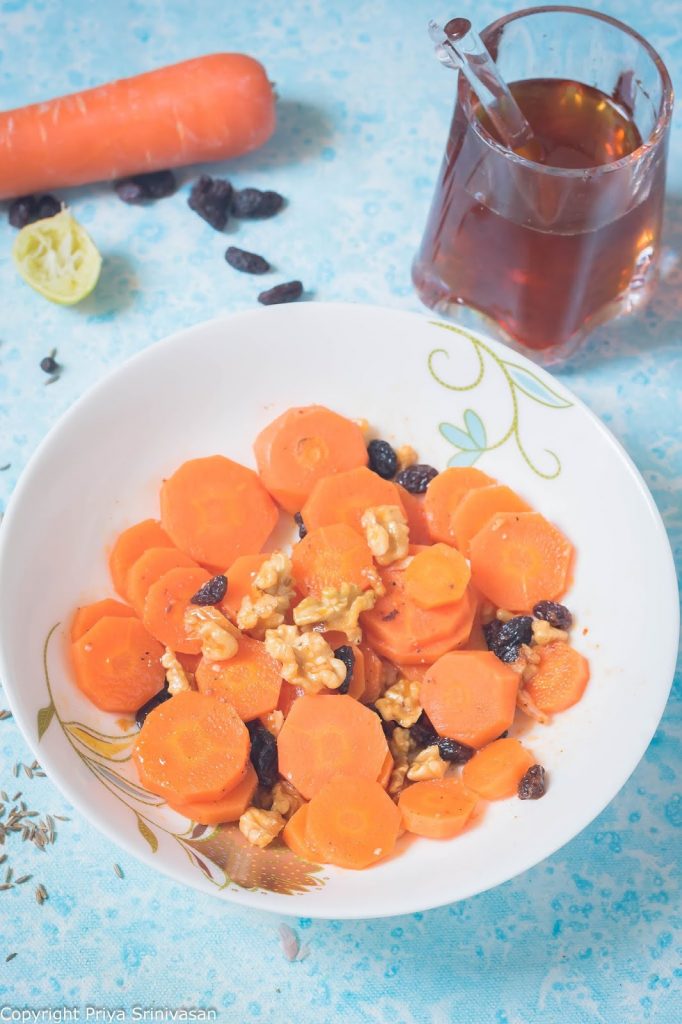 Once the carrots are cool, take in a salad bowl, add the seasoned oil,  drizzle honey over it,  check the salt and toss together. 

Just before serving, add the toasted nuts and raisins to the salad and serve.