Life Post-Delivery, is hectic. Mom and Dad returned to India, even before their scheduled return. So, it is like Suddenly left out in a Big Jungle with eyes-closed!!!. Slowly reeling back to normal routine. Kuttu School re-opened this week, Bala in one hand and kuttu on the other, Cooking inbetween,uffff!!!!!! Thank God, V is taking care of Kuttu or else i will be running mad out in streets!!! 🙂
With this Lunacy around, Blogging has taken a back seat, Leave Blogging, i m not even touching my Laptop!!! This Delicious Middle-eastern Pudding, i made it last month, since then it is sitting in my computer, waiting my attention. Even today, i am drafting this post from morning, hope to finish before midnight!!! Ok, enough of my Laments!!! Lets come to the recipe.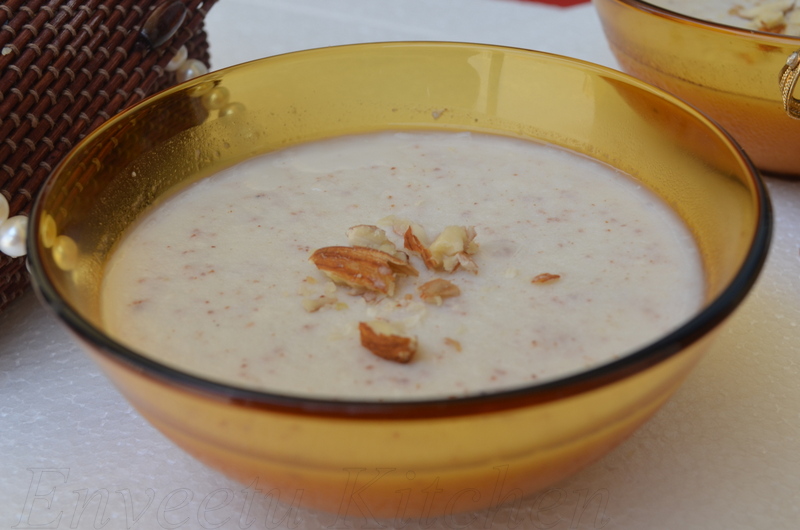 Muhallabia/Mouhalabieh is an Middle-Eastern Pudding made using Ground Rice. This Dessert is so Versatile, that you can experiment with different flavors in it, Like Chocolate or with any Fruit Puree. I myself tried it with Coconut Milk, it was delicious. This is a Simple Muhallabia recipe, Easy to make, yet, great on taste!!!!


Ingredients
1 Litre Milk (I used Low-fat)
Chopped almonds garnishing
In a Small Bowl, Mix both the flours and 2-3 tablespoon of milk and make a smooth paste.

In a Saucepan, heat milk and sugar together, Stirring constantly. When the milk starts boiling, reduce the flame and Add the paste to the milk. Keep stirring until the mixture thickens, takes about 12-15 minutes.