Today was a bit busy. In another two weeks i m leaving to india, for a two month bindaas vacation. So a bit of cleaning up started. And also, I met Nalini Suresh of Nalini's Kitchen in my home. It was such a pleasure meeting.  She came home with her hubby Mr. Suresh and her two Kiddo's. The Little one was still in Jet Lag and didn't open a eye-lid!!! We had a nice chat for some time and didn't know how the time flew. I felt like we knew each other for a long time ,would love to have such pleasured company and thanks to this Blogging World, for bringing us together as family and friends.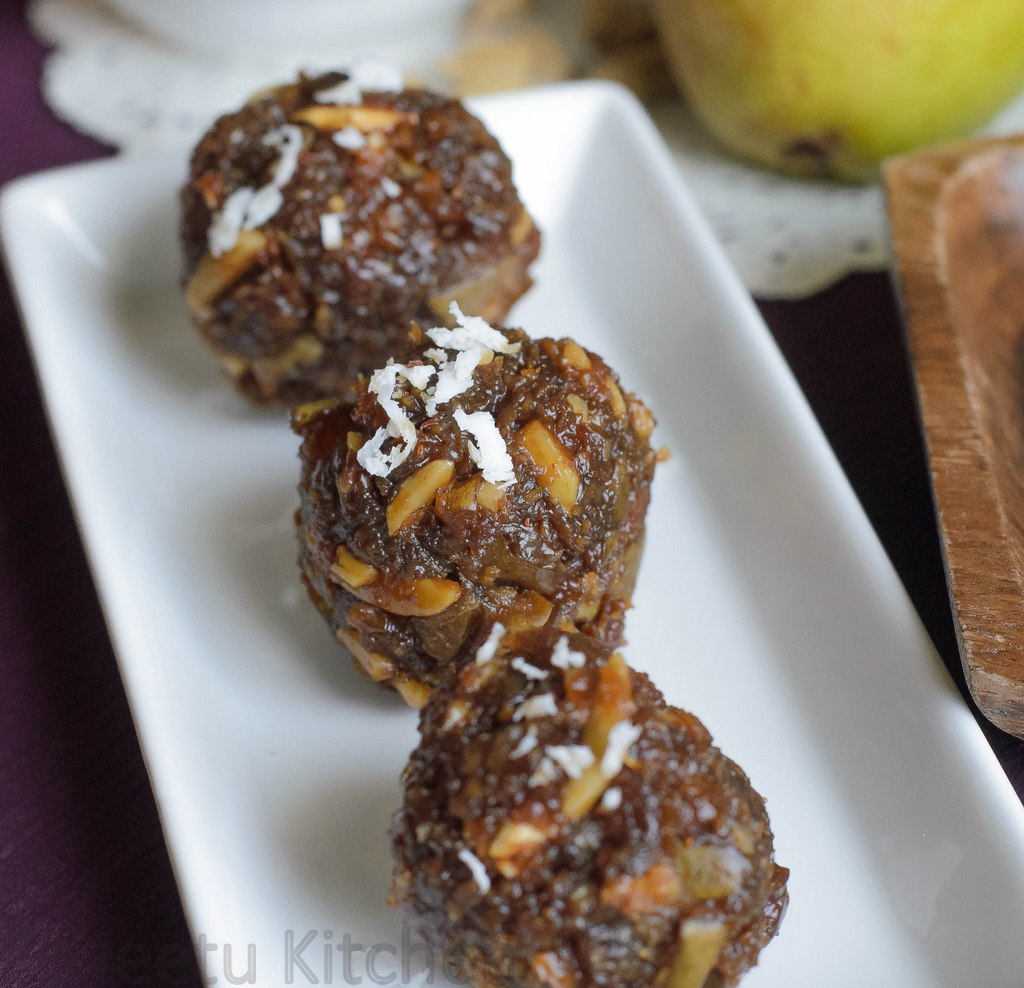 Coming to today's recipe, these truffles i made long ago, not knowing, that they belong to Bengali Cuisine. Originally thought of posting it for Next week's theme. While Blog-hopping, looking for Bengali Recipes, i came across these truffles @ Ishita's Space. Since today i couldn't manage to do what i intended to do, i thought i will post this today!!! Sigh!!!
So, let's talk some history about these truffles Traditionally this is made using Notun Gur/Nolen Gur/Date Jaggery, Nolen/Notun Jaggery literally means New Jaggery, which is available during Winter season. But here, i get the normal jaggery, but i m not sure of Date Jaggery. But , we do get, a lot of Date Syrup, fresh, thick and tasty, aromatic Date Syrup!!! I have made this using Date syrup. 
As i said, i didn't know this belongs to Bengali Cuisine, if known i wouldn't added Pear. So, if you guys want an authentic Bengali Delicacy, try without adding pears.!!!But i don'
t
  regret adding Chopped pears to these truffles, Happy that  one way or the other some fruit is getting into their diet!!! 🙂
You can read some more about this Wonderful Cuisine @ Kolkatta's Sweetest Season
1 Cup Freshly Grated Coconut
2 Rosemary Pears, Finely Chopped (optional)
2-3 pods of Cardamom, Crushed
2 tablespoon Roasted Almonds, Silvered (optional)
In a Microwave Safe Pan/Bowl, Take the Almonds Silvers, add a drop of oil and Cook @ Microwave for a minute or two, for it to roast. In my Microwave, for this amount it takes a Minute to roast. Every Microwave works different, so cook accordingly.

In Another Microwave Safe Deep-Bowl, Take the Coconut and Date Syrup.  Cook @ Microwave High for 6 minutes. Taking the Bowl out. after Every 1 minute and Stirring well. After the first 3 minutes, the mixture might look runny, don't worry, Keep Cooking, it will start thickening.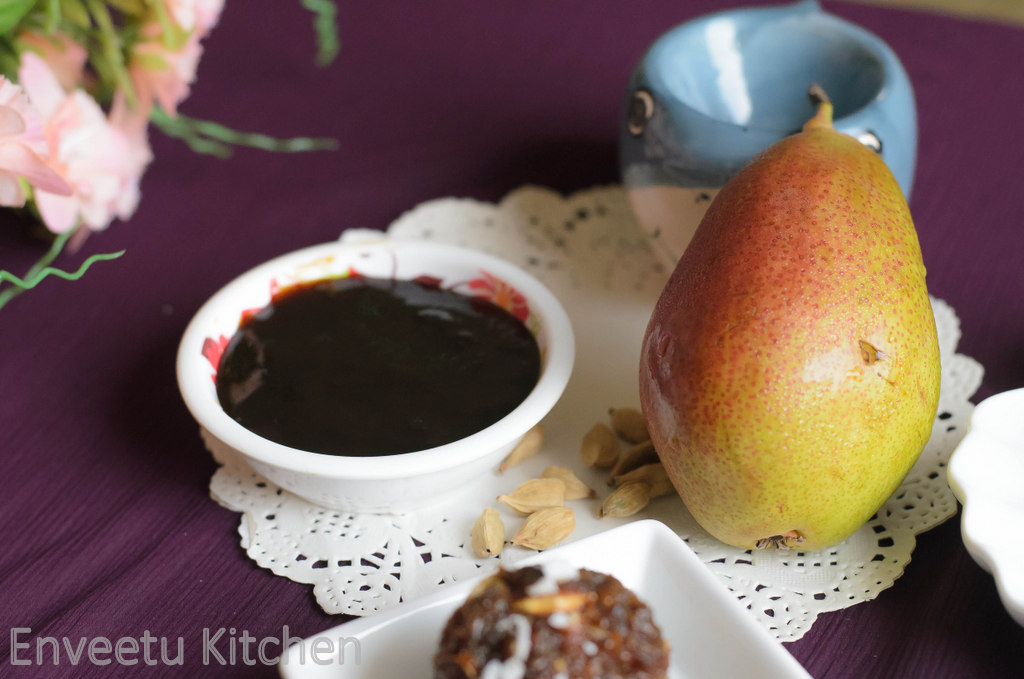 After the first 6 minutes, the mixture will be medium thick, now add the chopped pears to this and Mix well. Cook @ Microwave high for another 3 minutes, taking out after every 1 minute and stirring.

After this add Crushed Cardamom and chopped almonds, Cook @ Microwave high for another 2-3 minutes, for the mixture to come together.
Take it out of the oven, let it sit for 4-5 minutes and Cool. Make Golf-size balls out of it and if needed you can roll it on some fresh coconut. But i skipped that, as such they tasted Good.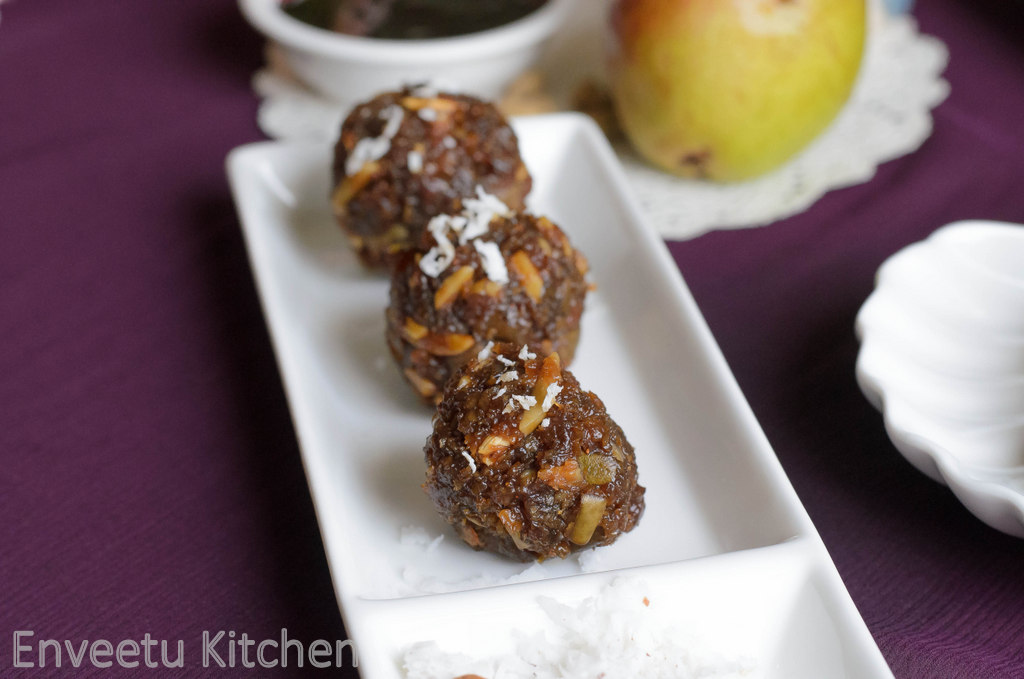 Store it in an Air-tight Container in the Refrigerator. It will stay good for a week, mine got over in 2-3 days.
Check out the Blogging Marathon page for the other Blogging Marathoners doing BM#29