When i did my Amla in Brine/Uppu nellikaai recipe, i promised to post gooseberry recipes during the weekend for this whole month. But some other situation happened at home and i couldn't really concentrate on that. So this week, i m planning to clear that backlog and fulfill that promise.
Today i m giving you a yogurt smoothie, nellikaai more/smoothie. The benefits Gooseberry/amla/nellikaai are well known. They are abundant in Vitamin C and are said to be useful in treating high cholesterol, "hardening of the arteries" (atherosclerosis), diabetes, pain and swelling of the pancreas (pancreatitis), cancer, upset stomach, eye problems, joint pain, diarrhea, dysentery, obesity, and "organ restoration." It is also used to kill germs and reduce pain and swelling caused by the body's reaction to injury or illness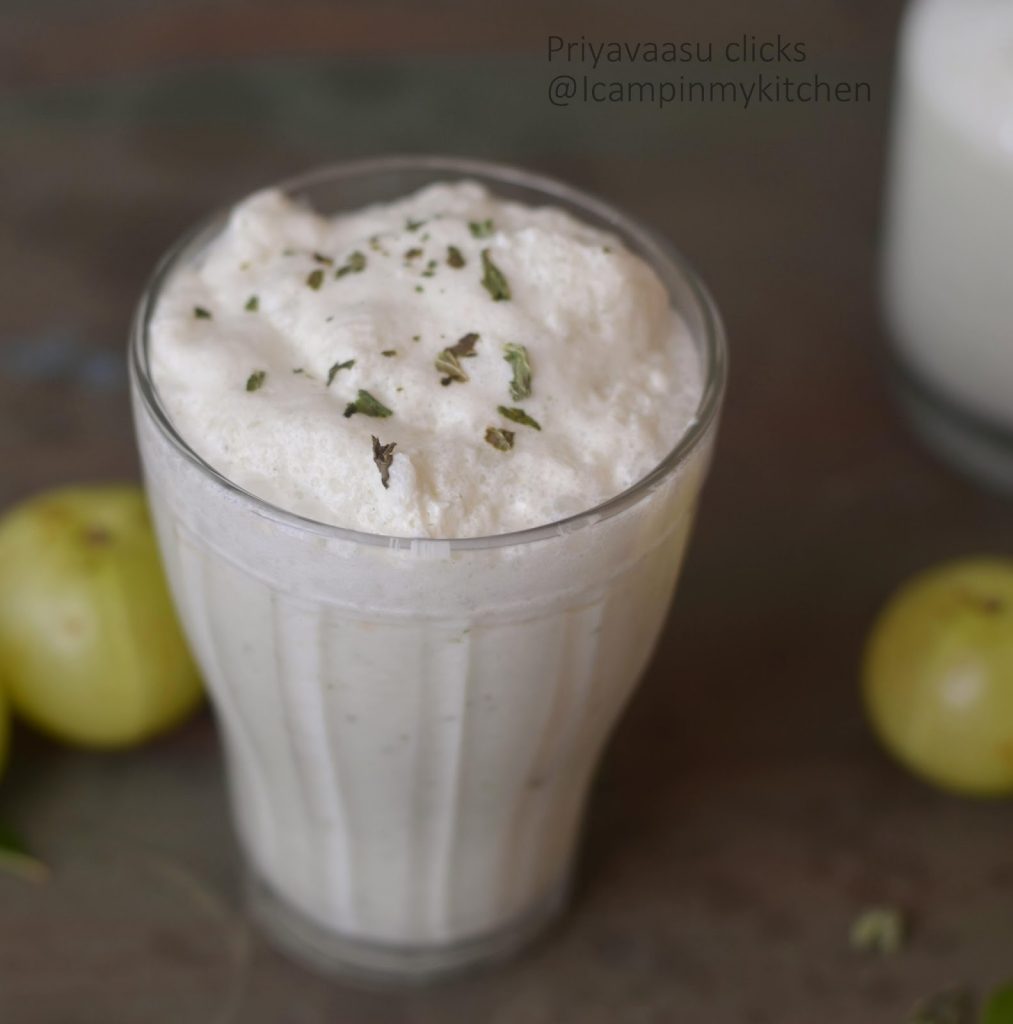 Maybe all these information was well known to The Tamil King Adhiyaman Neduman Anji, one of the 7 great patrons of art and literature(
கடை ஏழூ வள்ளல்கள்
). Once. a rare variety of gooseberry that grows on a cliff in his country, that is almost unreachable to any human and said to extend one's life expectancy, was gifted to him by a hunter. But such a great lover of Tamil he is, instead of having it for himself he gifted it to Tamil Poet Avvaiyaar, saying Many kings come and go, but a great poet like her should live and do more do the language and in turn to its art and literature.
I m not sure, is Tamil as a language seeing that prosperity and cherished for its richness, but the gooseberry as a fruit to improve one's overall good health, is definitely the same.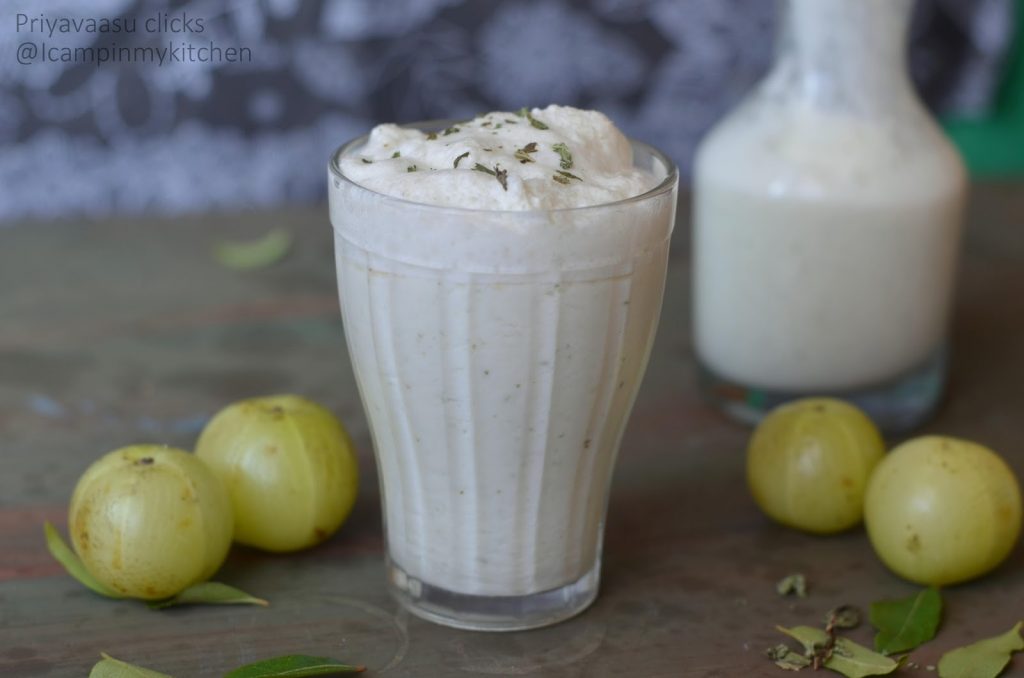 Ok, enough of history,lets get to the recipe. This recipe, i actually got from my friend Gayathri. Thanks to her, me and hubby are having this smoothie almost 3 or 4 day in a week.
Ingredient (Serves 3-4)
1/2 tsp dried mint or 3-4 fresh mint leaves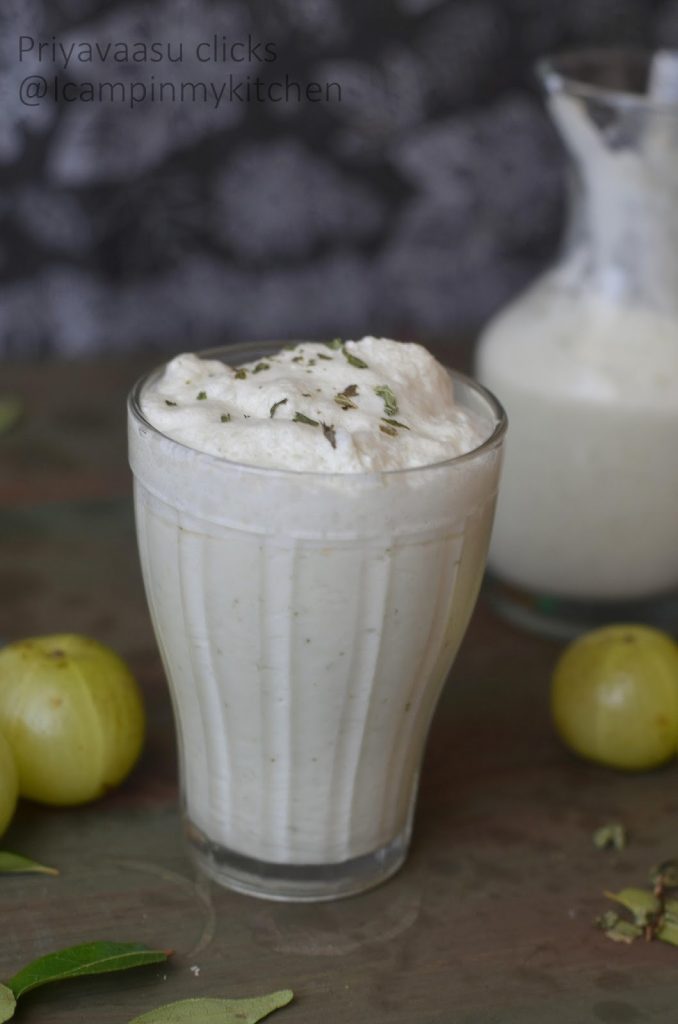 Method
Wash the gooseberry/amla well in water. Chop them, removing the stone/seed inside. I just cut them along the wedges.

Take the chopped amla, curry leaves, chili, mint leaves together in a mixer. Grind well to a paste. If needed add 2-3 tbsp of water and grind well.
Take the ground paste along with yogurt, water, and salt. Blend well using a hand blender until nice and frothy.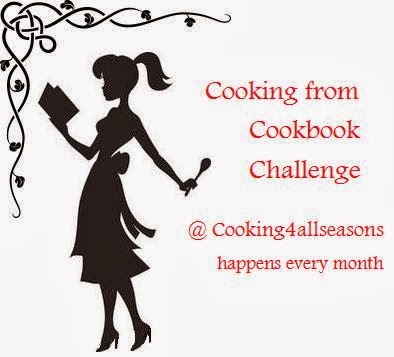 Sending this to Cooking from a Cookbook challenge, a weekly event happening @ +srivalli jetti's space.