A simple dessert that looks pretty and also tastes delicious. A dessert that can be made without any sweat in the kitchen. No bake cheesecakes, an elegant dessert that will look pretty on your dining table and will get you all the praise.
When i planned the menu for this week's Thankgiving meal theme, i wanted to have a main, side and a dessert. Thank god, i was able to make all the 3 dishes and click them together, for the fesive look.
Lime and sesame seeds rice and cauliflower tikka masala were made the same day and whereas this cheesecake was made a day earlier, so it sets well and is ready for the dinner next day.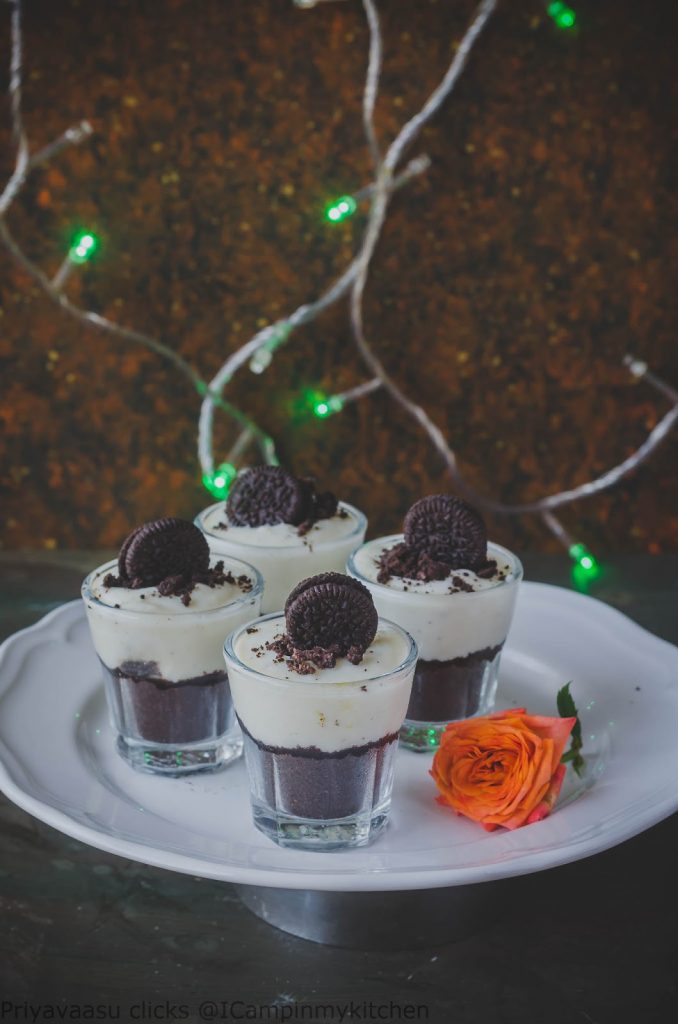 I have used labneh or curd cheese to set the cake. It didn't need any sort of setting agent, as it is curd cheese, it will set the cake well after 4-5 hours of refrigeration. Since i have use shot glasses, the cheesecake sets pretty fast. If using a tart pan or a larger base to set the cake, do wait for 6 hours for it to set well.
I have also removed the cream part of the cookies and added it to the cheese, so you will get the taste of cookies and cream in the cake. To make it more alluring, i have also added a teaspoon of instant coffee! hmmm, the aroma of mesmerizing coffee in the base and creamy cheese, makes this dessert, more tempting!
Ingredients
1 tablespoon butter, melted
1 teaspoon instant coffee
mini oreo cookies for garnish
Method
Remove the cream in the oreo cookies separately using a blunt knife. Keep it aside. Take the oreo cookies in a blender, add butter ,coffee powder and pulse to get a fine powder

I have used 6 shot glasses and one muffin cup to set the cheesecake. If needed you can use a tart tin with removable base also.
Divide the cookie crumb amongs 6 shot glasses. I have used about 2 tablespoon of crumb for each glass. There was about 3-4 tablespoon crumb leftover, which was used in the muffin cup. If setting in a muffin cup, lay the cup with cling wrap, see to that some of it, hangs outside the cup, so it is easy to pull the cheesecake out after it is set.
Let the base rest in the fridge, while we make the filling. In a wide bowl, add labneh, the cream of the oreo cookies, and condensed milk. Using a electric beater, whisk it all together. It wont be fluffy, it will be like a thick cream. Do not worry, the curd will set the cheesecake well.

If you prefer u can add some crushed oreo cookies to the cream mixture. Add 2-3 tablespoon of this cream on top of the cookie crumb set in the shot glasses. After filling the 6 shot glasses, there was about ¼ cup of cream leftover, which i filled in the muffin cup.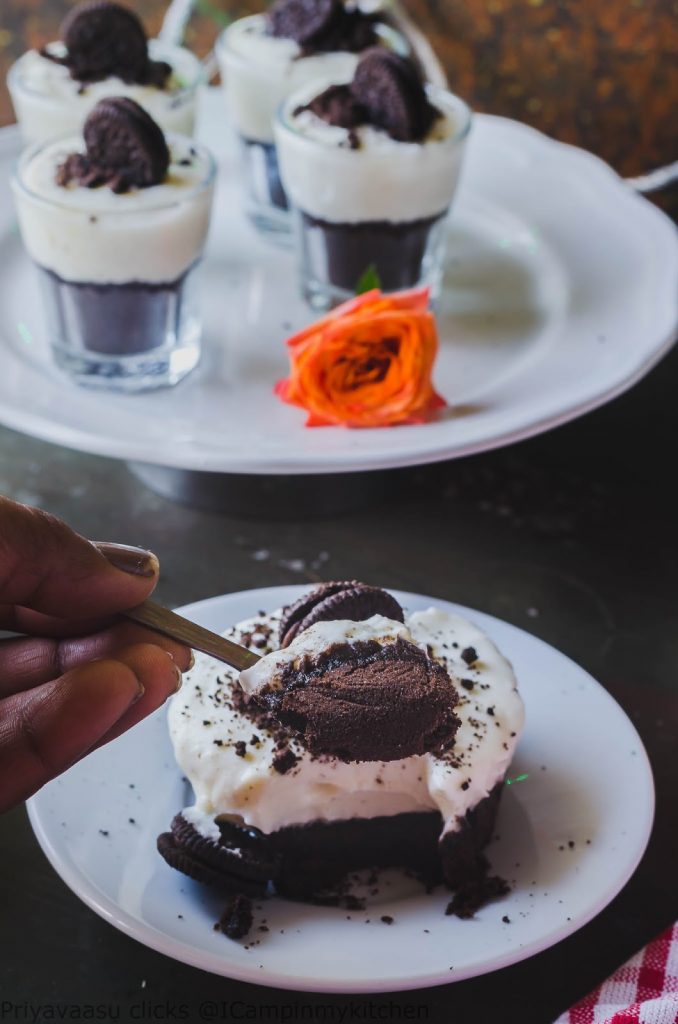 Wrap the individual shot glasses with cling wrap and let this cheesecake sit in the refrigerator and set for atleast 5-6 hours minimum. Since it is set in shot glasses, it will ready in 3 hours itself, but if setting it in a big tart tin as one cheese cake, leave it to set for a minimum 6 hours.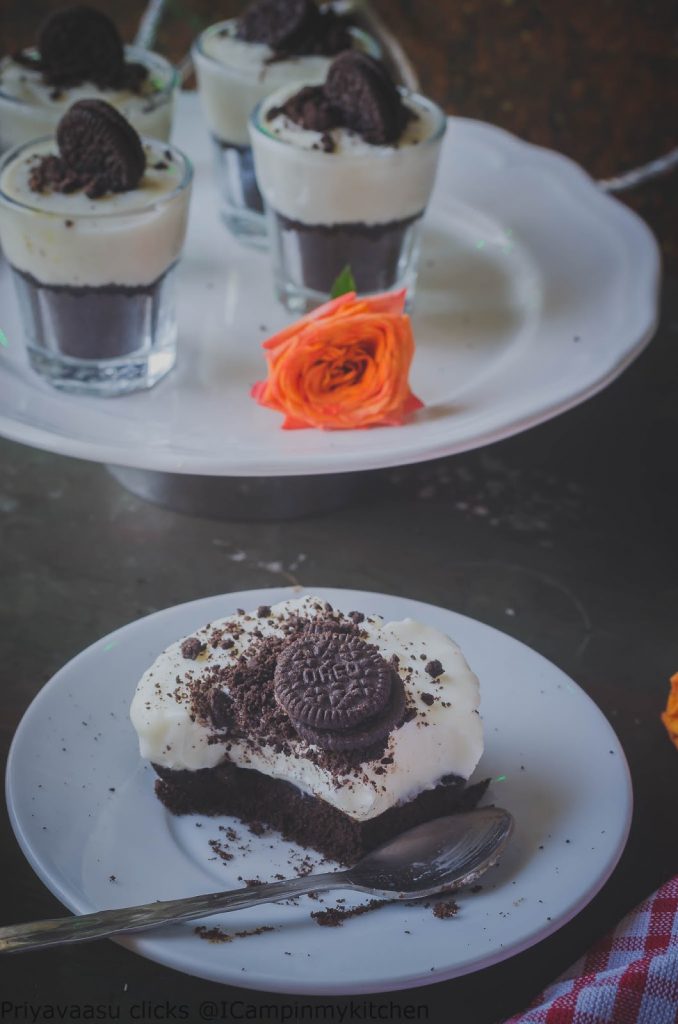 To serve, remove the cling wrap, garnish it with little cookie crumb and mini oreos on top and serve immediately.