It is so good to be back @ BM. For the first week, i have chosen the Theme : Kids Delight - Party Special. Nutty Chocolate Squares, i first saw the recipe @ Nestle Website. Loved the Simplicity of the Dish.
I have tweaked it a bit to my liking.
Kuttu Enjoyed these Slices a lot, with Crunchy Nuts on top and Delicious Chocolate Coating, he was totally happy to indulge in to his favorite Chocolate with Mommy's Permission!!!!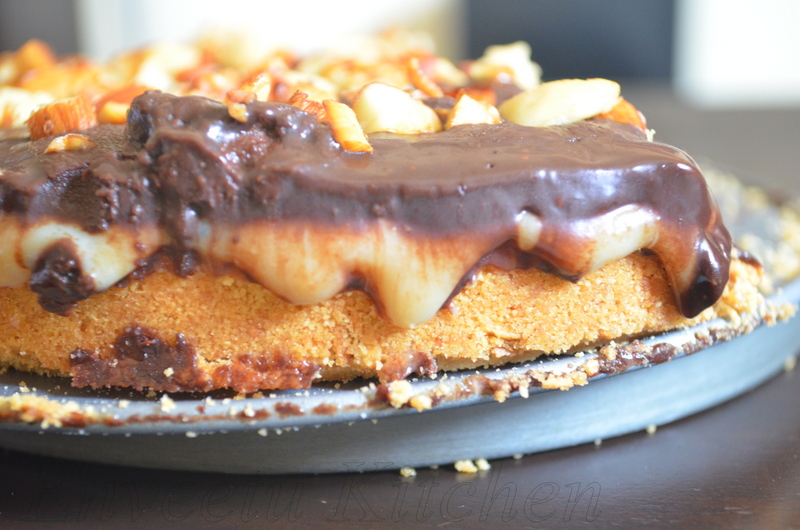 Ingredients
2 cups tea biscuits, crumbled
¾ cup butter or 150 g, melted
Caramel topping
1 tin Sweetened Condensed Milk (400gm)
Chocolate Topping
100 g plain chocolate, chopped
100 g Dark Chocolate , chopped
2tbsp Milk



Garnish
½ cup Roasted Mixed nuts, chopped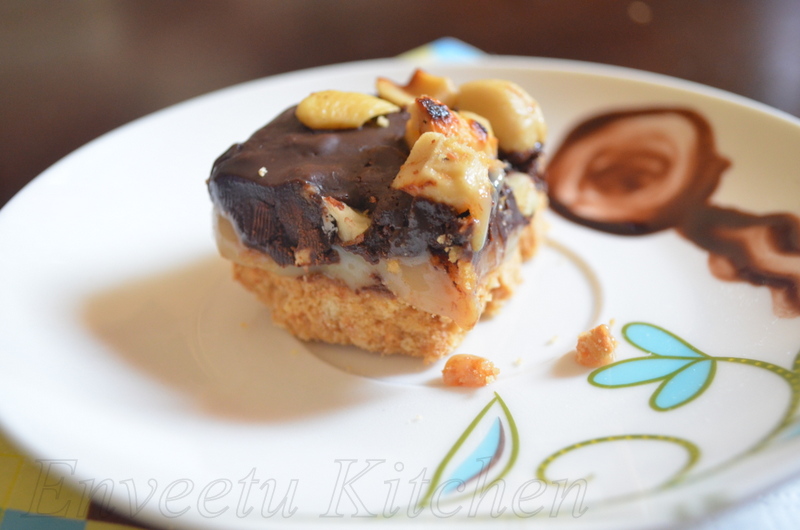 Method
Preheat the Oven to 190C.

Take the biscuits,in a ziploc cover and use a rolling pin to crumble them.

Combine biscuits and butter then press the dough into a cake tin and bake in a 190°C preheated oven for 10 minutes. Remove from oven.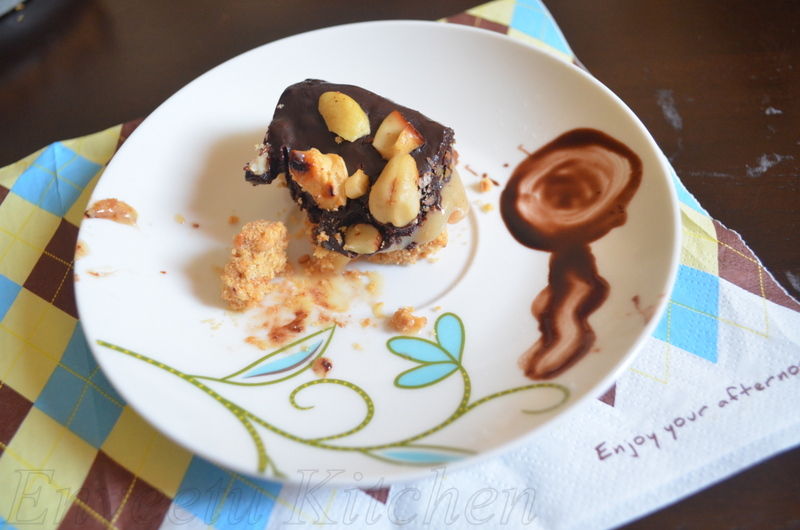 Place Sweetened Condensed Milk , butter and sugar in a nonstick saucepan. Cook with stirring over low heat for 5-6 minutes or until the caramel is light golden color and thick.

Remove from heat and pour the caramel over the dough in the tin. Set aside to cool completely.
Melt the chocolate and butter in a bowl over simmering water(double-boiler method), add milk little by little and stir. Let it Cool for 4-5 minutes. Then Spread the melted chocolate over the caramel topping, Garnish with nuts on top and allow it to set completely in the fridge.

Cut into desired shapes and Serve. Once they are out, the chocolate will started melting, so take them out only while serving.
Sending this to Kids Delight - Potluck Party, happening @ Srivalli's.What's with my Cuppa?? happening @ UK Rasoi.



Note:
Baking the biscuit base is optional.

I have actually used a Loose-base round 8-inch Cake tin. So, i couldn't get a perfect squares. If you are using a Rectangle Tin, you might get a proper square.

Instead of the caramel Sauce, you can even try using

Dulce de leche.