This recipe is inspired from Madhuram's. I have halved the recipe and omitted cocoa.And Also, used oats flour instead of whole oats. So, for the original recipe please follow the link.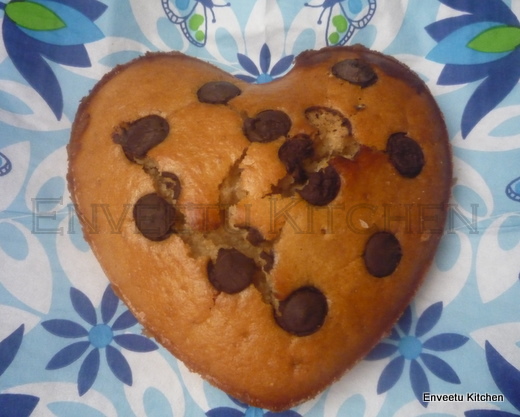 Ingredients
½ Cup All Purpose flour
⅓ Cup Oats flour
4 tablespoon Sugar
½ tablespoon Baking Powder
1 tablespoon Peanut Butter
½ Cup Milk
1 tablespoon Choco chips


Method
Sieve together All Purpose Flour, Oats flour, and baking powder. In a Saucepan, melt peanut butter with milk, stirring constantly. Take it off the heat and let it cool completely. Now incorporate the dry and wet ingredients together. Take care, not to over-mix. i used two small silicon palm-sized, heart-shaped moulds to get two flat cakes. Grease the mould and pour the batter to half its level. Arrange the Choco- chips on top.
Bake in a pre-heated Oven @ 180C for 20-25 minutes. Baking Time differs from oven to oven. so, please do the Tooth-pick test to check the done-ness of the cake.


Check out my Blogging Marathoners doing Group 3 BM#4 along with me
Diabetes Diet/Management: Kamalika, Smitha, Suma
Kid Friendly Recipes: Anusha, Cool Lassi(e)
Seven Days of Soup: Priya Suresh
Seven Days of Indian Bread: Jayasree, Pavani
Seven Days of Cakes: Me
Seven Days of Preserves: Gayathri Kumar, Vaishali
30 Minutes Meals: Priya Mahadevan, Srivalli