Today's recipe is a very simple Lentil Soup. We make it every day @ home,but never knew it has got a name and is also called a soup, not until i got Sanjeev Kapoor's Dal and Kadhi CookBook. Osaman, Clear lentil soup, which can be made from both Tuvar Dal and Whole Moong dal. Today i have made it with Tuvar dal. Thin and Watery, with the taste of lemon,it is soothing for both throat and stomach.
Ingredients
1 Cup Tuvar Dal/Pigeon pea
1 tablespoon lemon juice
1 tablespoon freshly chopped coriander
Salt to taste
Tempering
2 tablespoon oil
a large pinch of hing/asafoetida
½ teaspoon turmeric powder
Method
Wash tuvar dal and soak in 2 cups of water for about an half an hour. Drain, add five cups of fresh water and salt and pressure-cook for 3-4 whistles or until done.

Strain the cooked dal and reserve the stock. Use the dal to make some other dish. I used mine with little more water to make rasam.

Grind ginger and green chilies to a fine paste. Stir one tablespoon of water into the paste.

Heat oil in a pan, Splutter mustard seed, add hing, cumin, cloves, cinnamon, pepper corns, curry leaves, ginger-chili paste.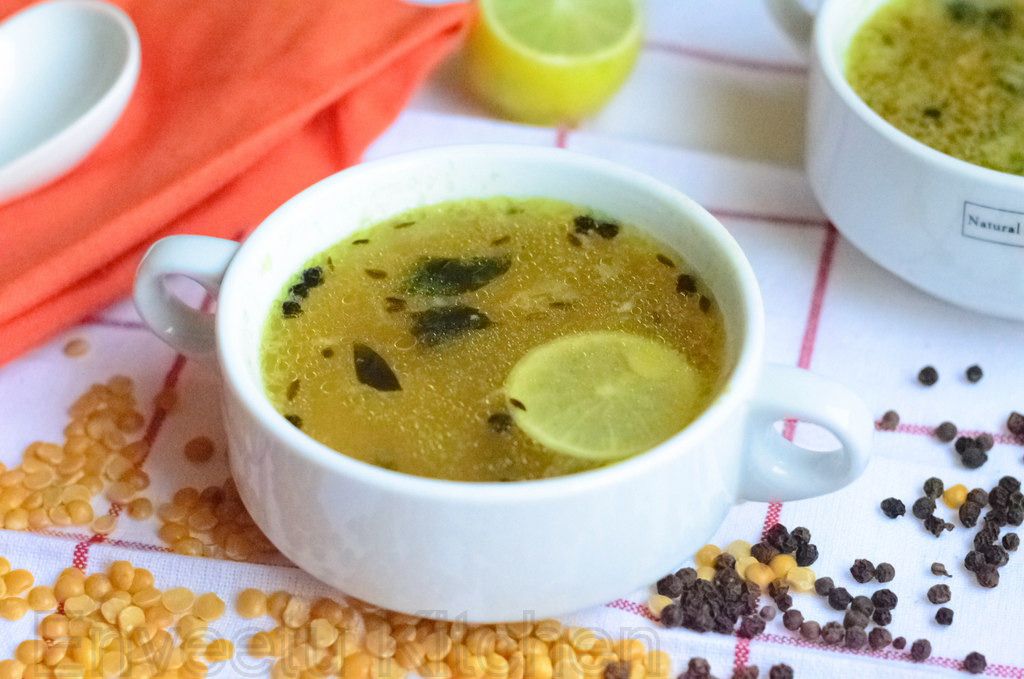 Next add the dal stock and stir. Add the turmeric

powder and stir again. Adjust salt and add jaggery

Just before serving, add lemon juice or cut a small rind of the lemon and add it to the soup and garnish with coriander leaves

and Serve Hot.