I m baking for #BreadBakers after a very long time. Since i m already doing Bake-a-thon along with some fellow bloggers, i didn't want to miss this month's Bake for #BreadBakers too. This month's theme was Overnight Breakfast Breads, hosted by Holly Baker. Overnight bread's are a blessing when you have a family that is always hungry when they wake up and want a delicious breakfast right in the bed. Mine is one such family. They are voraciously hungry on weekends, so the moment they are up, they come to the kitchen like a jerry mouse smelling its cheese, asking me "What is for Breakfast amma?".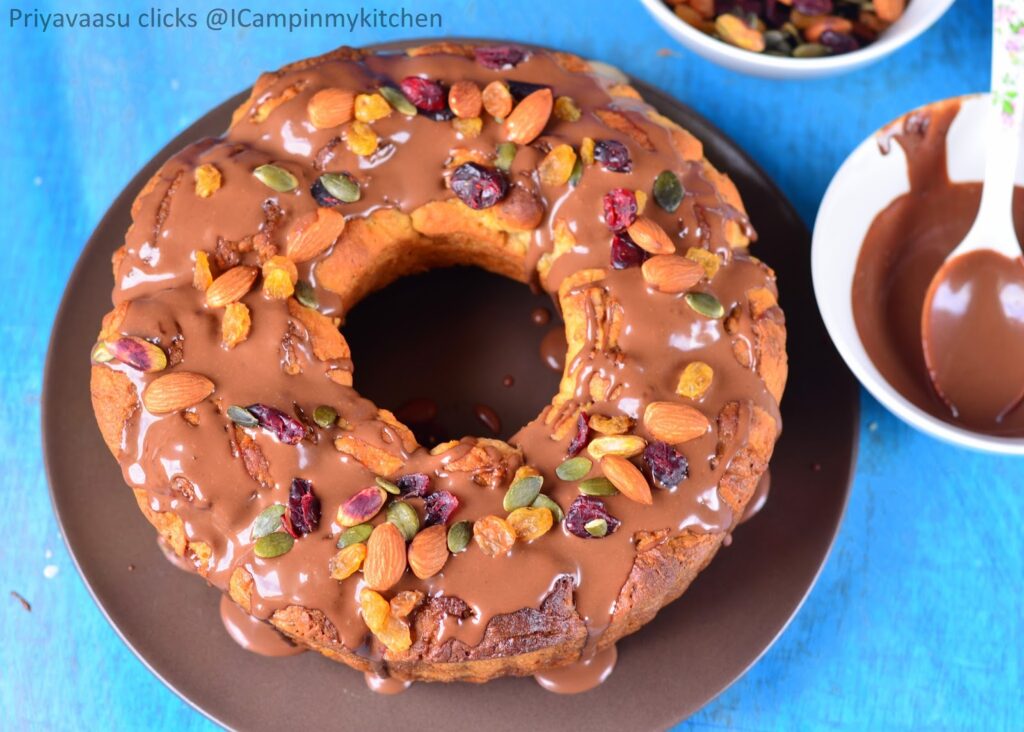 Mommies too need their equal share of weekend, what say? Overnight breakfast bread, can be prepared the previous day, kneaded, shaped, and left it the fridge to proof. Next day morning, you just need to keep them out for an hour and bake. I already have an overnight No Knead Bread, both sweet and savory.
While looking for some interesting bakes, i came across this Apple Fritter monkey bread from Barbara bakes. Oh i just loved the look of it, made it immediately this weekend, ohh we loved it totally. The whole house smelled delicious with cinnamon and apples, something which no air freshner can match.
I have altered the recipe a bit, to suit our taste. I served it with generous chocolate sauce and some toasted seeds and nuts. It was one awesome breakfast.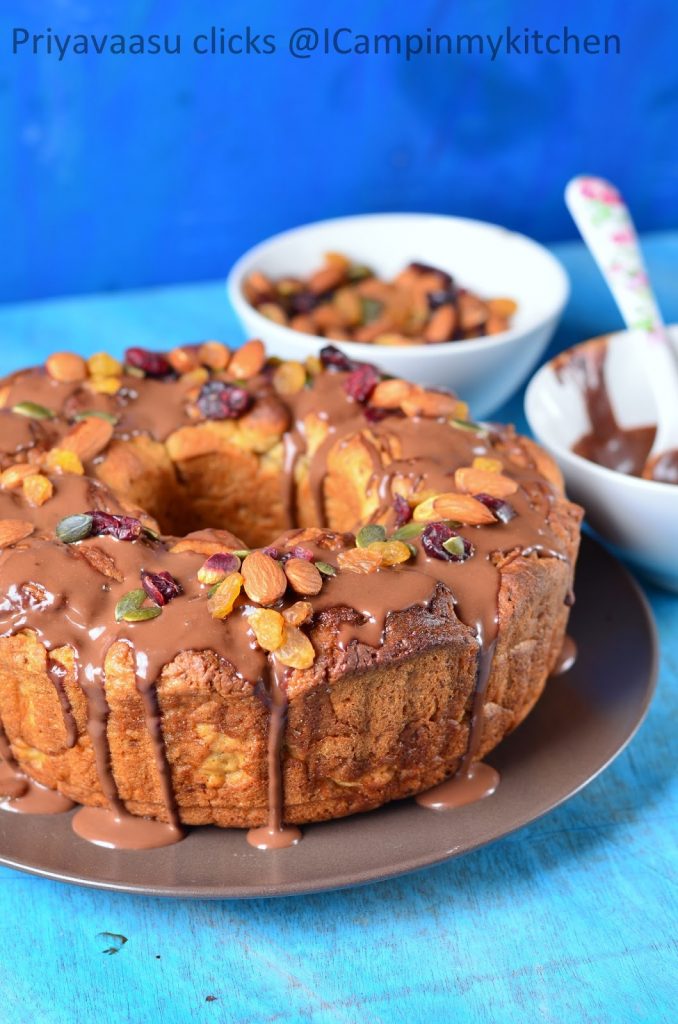 Ingredients
2 & ¼ teaspoon instant yeast
⅓ cup of fruit juice( i used store-bought peach-pineapple juice)
2 tablespoon of chia seeds or ¼ cup of flax-seed meal
2 teaspoon cinnamon powder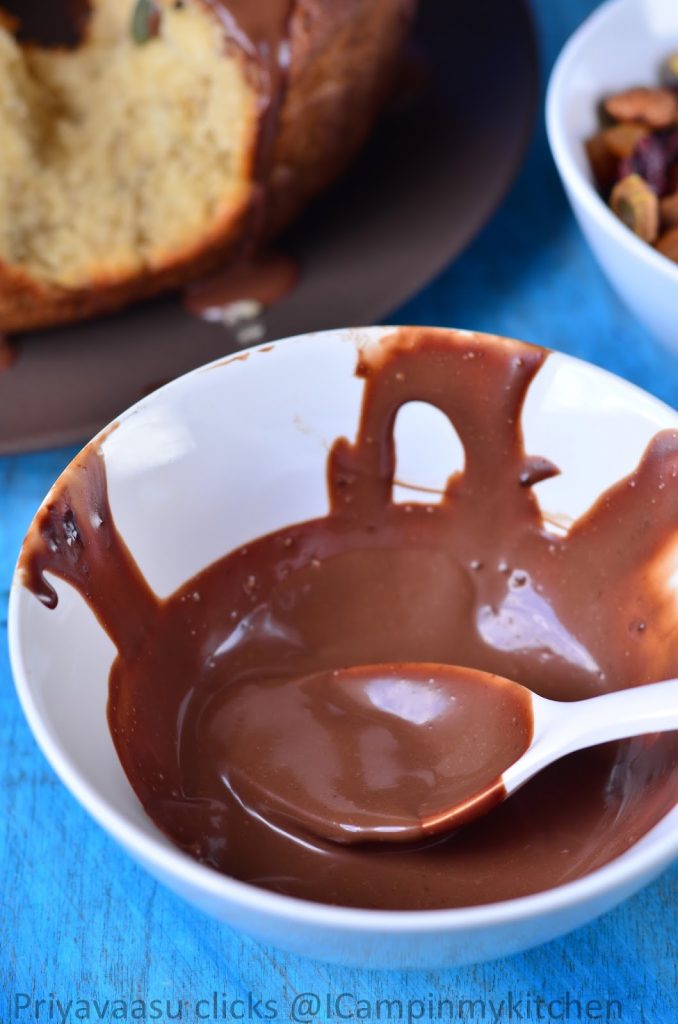 Method
Let's make the apples first.
Wash, peel and core the apples. Chop them into small cubes. In a sauce pan, melt butter, add chopped apples, sugar and cinnamon to it.

Cook in a slow flames, until apples are cooked soft and almost all the liquid evaporates. Let it cool completely.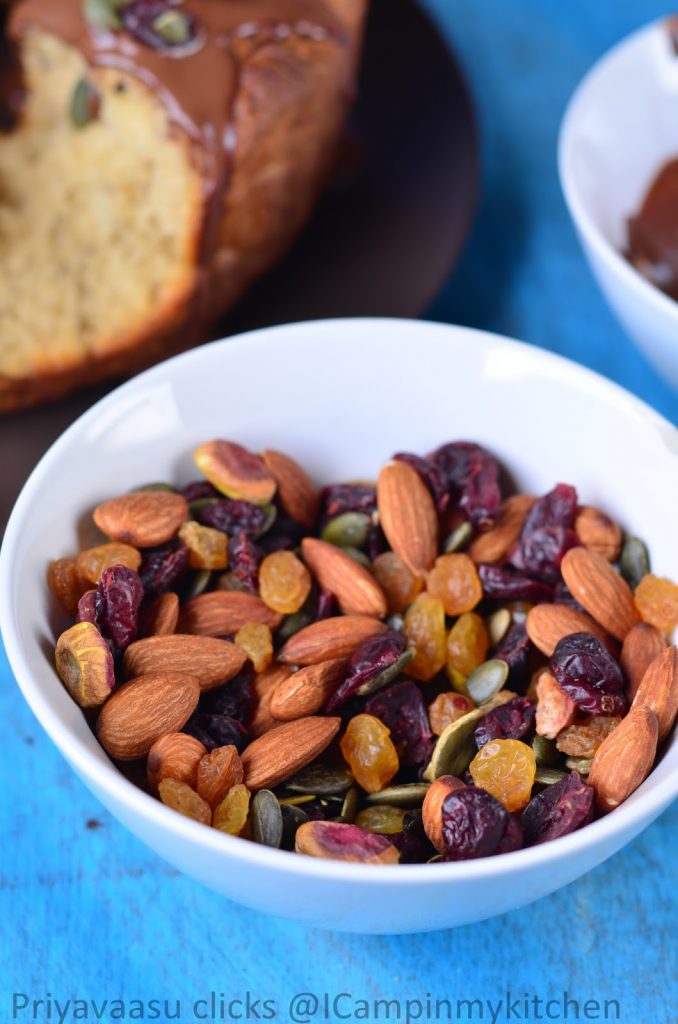 To Make the dough
Add the chia seeds/flaxseed meal to the fruit juice and let it sit until used .

Take both the flours, yeast, sugar and salt together in a food processor bowl. Run the processor to mix the flours well.

Add chia seeds infused fruit juice to the flour mix and start kneading. Now slowly add warm milk to it. Kneading as you add. Do not add all the milk at the same time. I made this mistake and ended up having the shaggiest dough everrrrrr!!.

Add around ½ cup milk to the dough and knead the dough. When it comes together as a ball, add the cooked apples to the dough and continue kneading to a soft dough.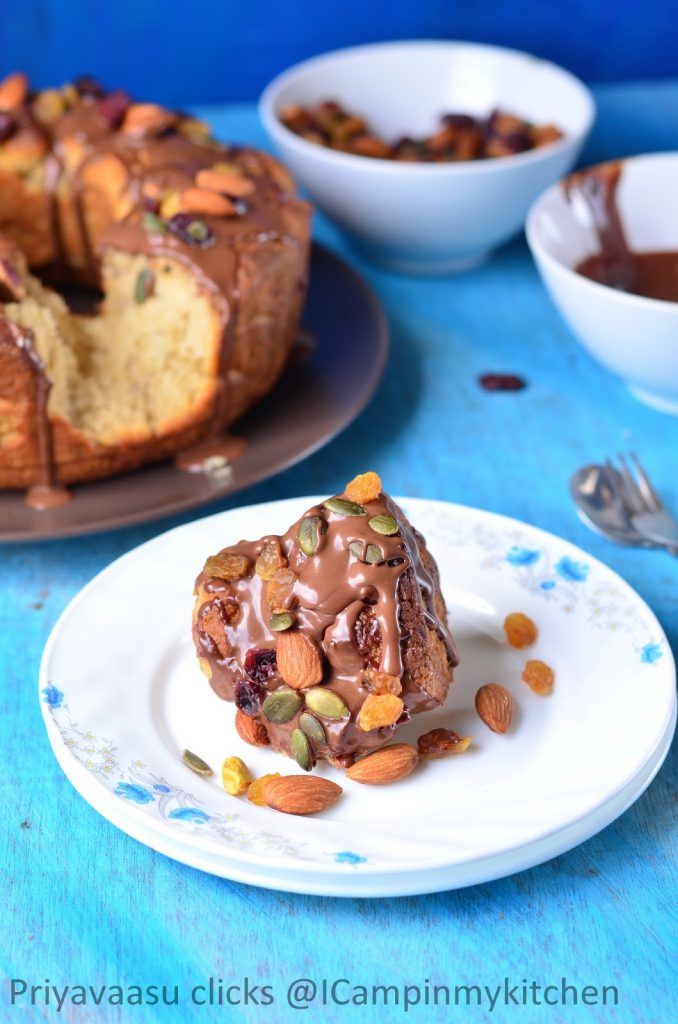 Once done, remove the dough on to a floured kneading surface and knead well to a smooth and soft dough.

Let the dough rest in a well-oiled bowl for 90 minutes. Since the climate here is a bit cold these days, i allowed it to proof for 90 minutes. If it is warm in your place then 1 hour would be more than enough for the dough to double up.

Once the dough doubles, remove it on to a floured kneading surface, punch it down to remove the excess air. Knead a couple of times. Divide the dough into 45-60 small portions. I baked the bread in two different pans. If you have a 12 cup bundt pan, then you can make it as a single bundt.

Grease the pan liberally with melted butter, layer the balls in the pan. Original recipe, dipped the ablls in butter and coated with some cinnamon sugar, that would way tooo much calorie for my family, so avoided doing that.

Once the balls are layered in the pan, brush the top liberally with melted butter and spread some sugar. Cling-wrap the pan and let it sit in the fridge overnigt or atleast 6-8 hours.
Next day morning, an hour before you bake, take the pan out and let it sit on the counter for an hour or until it reaches room temperature.

Preheat the oven to 200C and bake the bread for 30 minutes. Once out, remove the bread to a cooking rack, brush again with melted butter and let it cool compeltely before you rip it apart!!! 🙂

While serving, pour a liberal amount of chocolate sauce and sprinkle roasted seeds and nuts and eat like a royal. After all you should eat breakfast like a King!!! 🙂
#BreadBakers is a group of bread loving bakers who get together once a month to bake bread with a common ingredient or theme. Follow our Pinterest board right here. Links are also updated each month on this home page. We take turns hosting each month and choosing the theme/ingredient. If you are a food blogger and would like to join us, just send Stacy an email with your blog URL to foodlustpeoplelove@gmail.com.
December is a busy time for celebrations and getting together with family and friends. It is always nice to think ahead and to make dishes ahead of time so that you-- the baker-- can enjoy the fruits (or breads!) of your
labor with your loved ones.
Here is what the group is sharing today, enjoy!