This is actually a late post for the theme : Desserts using vegetables. I should have posted this yesterday, but while trying make something with potatoes i goofed up and it was a total disaster, had to trash it. To my luck, i had pumpkin puree stashed in my freezer, that came to my help. But, when the dish was done, it was almost 6 in the evening, and as winter is setting in, the sun is down by that time. I tried some clicks with artificial light, but wasn't satisfied with them. So, postponed the post. Here is another delicacy using humble pumpkin/parangikaai.
Ingredients (makes 4 servings)
2 pinches of Clove Powder
1 teaspoon cinnamon powder
¼ Cup of Silvered almonds
2 tablespoon Chopped Cashewnuts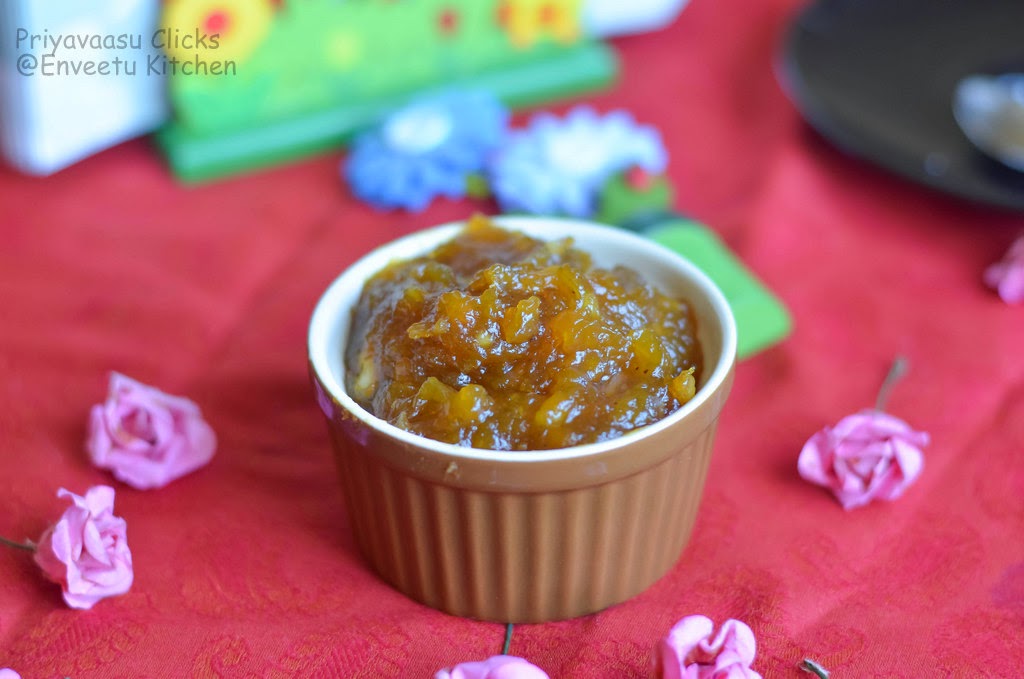 Method
To Make Pumpkin Puree.
I have used the Oven to make the Pumpkin Puree, you can even use the pressure cooker to do that. Take ½kg Pumpkin. Remove the pith. Save the seeds, wash and sun-dry and save it in an air-tight container to be used as toppings.

Chop the Pumpkin to into large pieces and place it in a baking tray, Bake in an preheated Oven @ 180 for about 40 minutes. Try poking the flesh with a fork, it should slide in and come out easily, that shows the doneness of the pumpkin.

Remove from the oven, let it cool completely. Scoop out the flesh using a spoon, run it in a blender to puree and freeze them in zip-lock covers.

If using the pressure cooker, chop the pumpkin into cubes and steam cook and puree them.
To Make the Halwa
Heat 3 teaspoon of ghee in a Non-stick pan. Add the chopped nuts and saute till they change color. Take care not to burn them.
Next add sugar and mix well. After adding sugar, the mixture will turn a bit watery again. Not to worry, it will dry up.

Keep stirring on and off, after 8-10 minutes the halwa will start turning glossy. Now add the remaining 2 teaspoon of ghee and mix well.
After 10 minutes, the halwa will start coming off from the sides and follow the laddle as you stir and would be nice and glossy.

Take it off the flame and serve warm.