I have this Non-fried Snacks Cookbook from Tarla Dalal, since 3 years and i would have cooked maximum ¾ recipes from it. So, for this week's Cook from Cookbook Challenge, i chose to make this Quick to make Khichu from that book.
Khichu is a
simple Gujarati snack made of Rice flakes cooked with spices. You can even make the khichu ahead of time and steam it for 4 to 5 minutes just before serving. Khichu can even be made with Rice flour. It takes maximum 10 minutes to make this delicious snack.
The original recipe doesn't include Coconut, coriander powder and ghee. I have adjusted the recipe to s uit out taste-buds, since i was making this for Bala and Kuttu, i wanted it tobe more kid-pleasing in taste.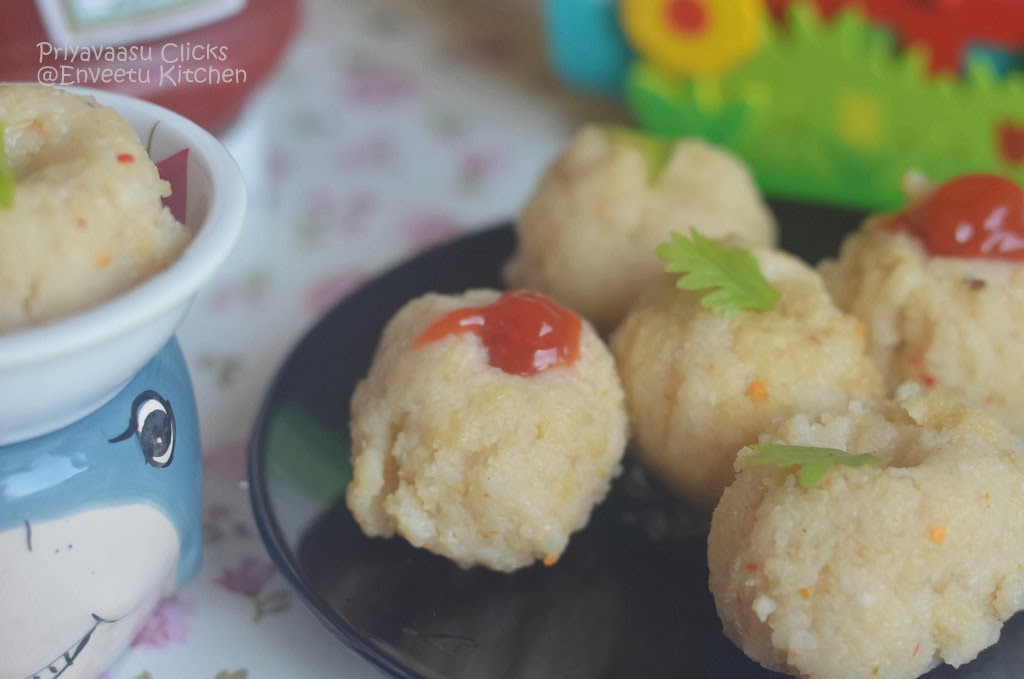 Ingredients
1 Cup Poha/Aval/Rice Flakes
½ teaspoon Cumin seeds/Jeera
1-2 tablespoon Coconut, Fresh/Dessicated (optional, not in original recipe)
¼ teaspoon Red Chili Powder
½ teaspoon Coriander Powder (optional, not in original recpipe)
2 tablespoon of ghee/Gingely oil
Fresh Coriander for garnishing
Method
Take Poha/Rice Flakes in a mixer and Grind it to a coarse powder. It shouldn't be fine powder, should resemble rawa/sooji/semolina in texture.

Bring Water to a boil, add red chili powder, coriander powder, salt, cumin, coconut and baking soda.
Simmer the boiling water and add the coarsely ground poha/rice flakes to it and mix well. Poha/Rice Flakes will absorb all the water and will come as a mass. Add a tablespoon of ghee, close and cook for 2 minutes.
Take it off the flame. While it is still warm, shape them into balls. I used my ice-cream scoop for shaping. Place it on a serving plate, make a small dent, pour some ghee into it, garnish with coriander leaves and serve immediately.

It can be served as such or with little tomato sauce or Mint chutney. A Good evening snack for kids and toddlers.