Last 2 weeks has been terrible. First kuttu was down with Viral fever, it went as high as 103/104 sometimes,  Nights were even more worse!! It took 5 days for the fever to come down. I was just happy and relieved to see him rolling back to normal. But, guess what, nature thought otherwise. Bala got sick this week, same again, 103 fever, rushing to the bath tub, poor kiddo couldn't take that hot and cold at the same time. Even after 5 days the fever didn't come down, so we did a blood test and found out mycoplasma infection and started with anti-biotics from yesterday!! Life was horrible for the past 15 days, when kids are sick, you automatically become sick!!!  Didn't feel like cooking, eating, but what to do, there is one more kid to look after so managed with Dal and rice most of the days.  Dal, Rice Jindabad!!!!! 
After 2 weeks of dal and rice, made something spicy and tangy yesterday. Tangy Lapsi Puliyodharai and some Potato Raita, will post the puliyodharai next week, now here is the simple potato raita recipe. 
Source : Chandra Padmanabhan's Simply South
Ingredients
2 Medium sized Potatoes
1 cup yogurt
salt to taste
Tempering
1-2 teaspoon oil
½ teaspoon mustard seeds
¼ teaspoon cumin seeds
2-3 nos red chilies
2 sprigs curry leaves
a pinch of turmeric powder
Wash and peel the potatoes, cut them into cubes. Take them in a /microwave safe bowl, add water just enough to immerse the potatoes. Cook @ Microwave high for 7 minutes. Let it sit for 2 minutes in the oven. Take it out, drain and keep aside until use.

If cooking on stove-top, let it boil for 5 minutes, take it off the stove, cover and keep for 10 minutes. Drain and keep aside until use. The potatoes must be fork-tender not mushy.

Heat oil given under tempering in a kadai, splutter mustard seeds, add cumin, curry leaves, turmeric red chilies and saute for a minute or two.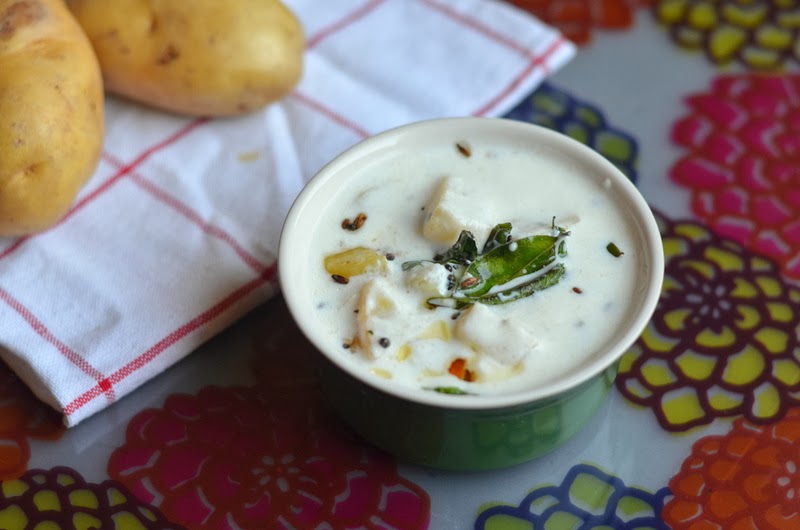 Next add drained potatoes, add salt, and saute until the spices are well blended with the potato. It might take around 5-8 minutes.

Take it off the stove, let it cool completely. Take Curd/yogurt in a bowl, add salt to it and whisk well. Add the cooled potates to this and mix well. Serve as a side to Mixed Rice or Roti's.