Q is the alphabet for which i decided the ingredient even before deciding the dish. I decided to make something with quinoa, then started thinking what to make.I came across a peruvian quinoa salad, which actually is a street food! But then i was not sure whether my people at home would like to eat it! Since i m on a low-carb diet, i cannot eat everything i cook, i need people to eat!So , dropped i idea of salad and settled for this tikki. Glad, i did, the tikki was enjoyed with tea and the leftovers were gobbled for breakfast today. Both the kiddos enjoyed the flavors.
I have used chili powder here for the spice, if you like green chilies, go ahead pound and use chilis along with some coriander and mint, you will love the flavors. Serve it warm along withsome chai and ketchup or you can jazz it up with some chole and chutnies for a yumm tikki chole!
Ingredients
⅓ cup of quinoa
3 medium sized potatoes
3 tablespoon corn flour
3 tablespoon bread crumbs + 3 tablespoon for coating
½ teaspoon red chili powder
½ teaspoon coriander powder
¼ teaspoon cumin powder
¼ teaspoon garam masala powder
½ - ¾ teaspoon salt or to taste
3 tablespoon freshly chopped coriander leaves
¼ cup of oil for shallow frying

Method
Rinse and wash the quinoa once or twice. Since they are very small, i use my tea strainer while straining the water.

Add double the amount of water to the quinoa, take it in a microwave safe container and cook at high for 12- 15 minutes, until they cook well. They will leave a white tail once they are cooked. The amount of water added is perfect for cooking them well. Incase there is much water left in the cooked quinoa, drain it completely.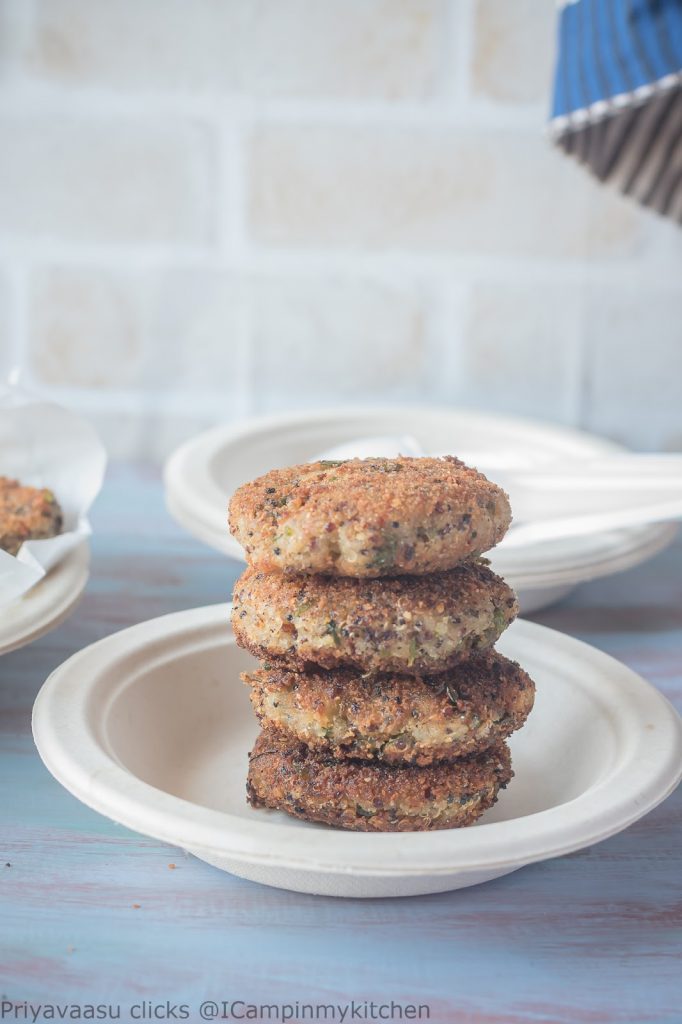 Wash and roughly chop the potaeos and cook them until soft. I cooked them in microwave for 12 minutes. Drained the water, peeled and let it cool completely.

I cooked the quinoa and potates previous day night and let them cool completely, then made the tikki the next day. It was a breezy job.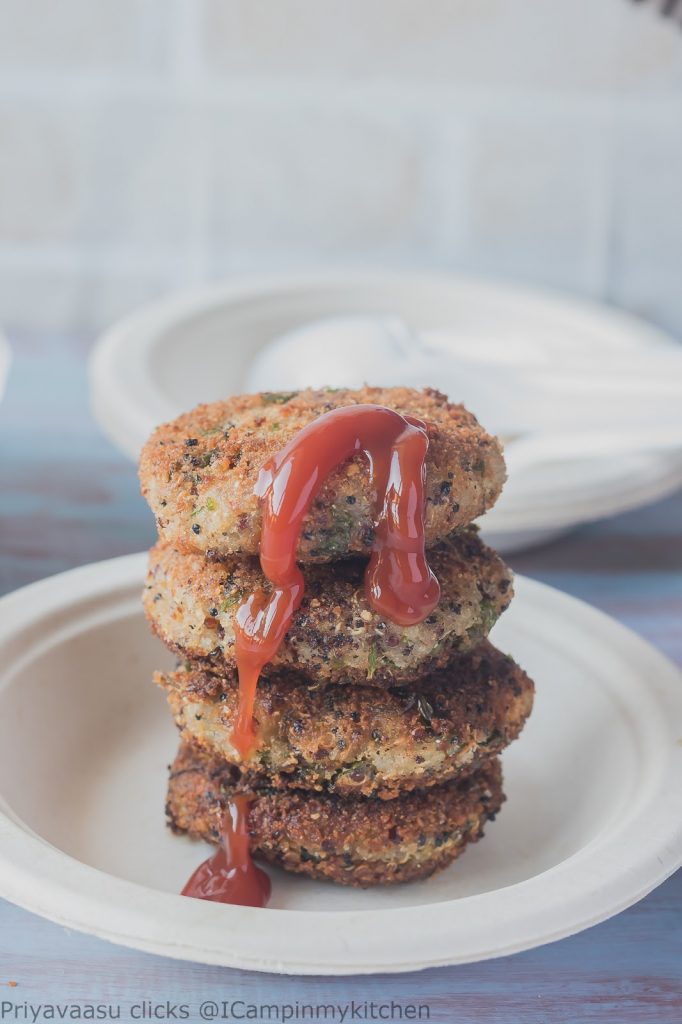 In a large bowl, add cooked quinoa, potatoes and mash and mix them thoroughly. Now add corn flour, red chili, coriander, garam masala and cumin powder to it. Add bread crumbs, chopped coriander and salt and mix it all together.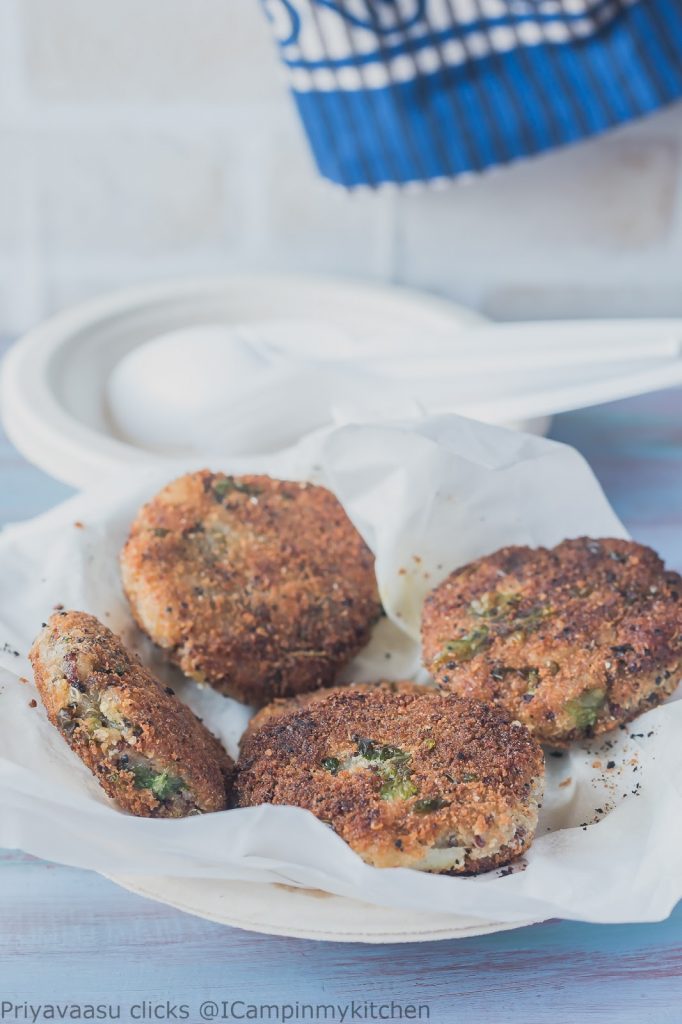 Now divide the dough into 9 equal parts and make flat patties. Let the patties rest for 15 minutes. Once they are rested, coat each patti with bread crumbs.

In a flat pan, heat oil. Cook 3-4 patties at time.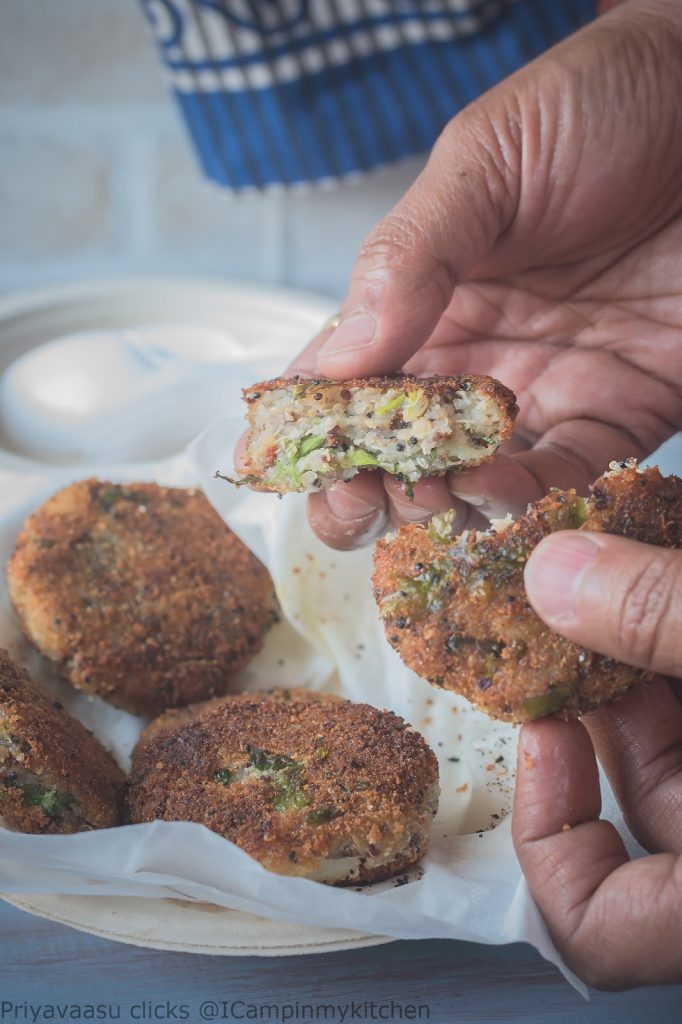 Keep the flame at medium, flip and cook both the sides until golden brown. Drain the patties with a slotted spoon onto a kitchen towel. Serve it warm with some ketchup.