The last recipe in the series of Salads, for Cooking Carnival 2016 is yet another quinoa recipe. This salad is something i didn't plan at all. i was about to do Khamang Kakdi, another cucumber salad. I bought fresh cucumbers, peanuts and kept everything ready. But then changed the decision at the last minute. I needed something filling for our dinner, so i made this mixed herb and quinoa salad, tossed it along with chickpeas. The salad was so delicious and peppy, hubby has requested me to make it again when we guests for lunch or dinner.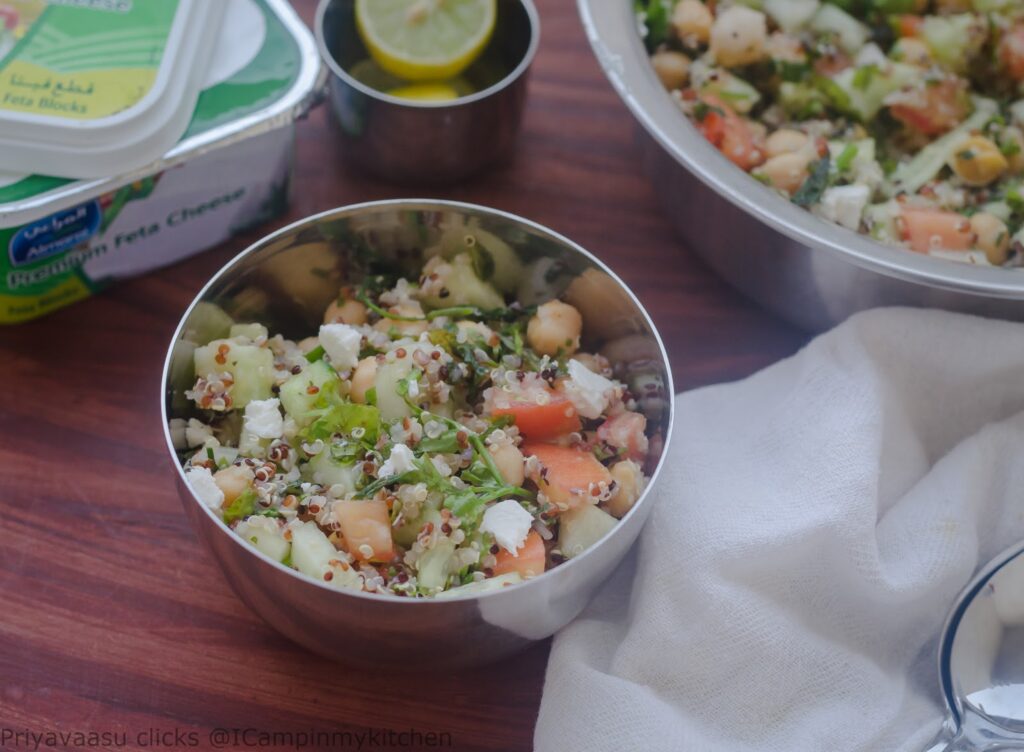 Ingredients
1.5 cups cooked quinoa (i used tricolor quinoa)
1 cup cooked chickpeas, ( i used canned ones)
2 Lebanese cucumber, peeled and chopped fine
1 large onion, chopped fine
1 large tomato, chopped fine
handful of coriander leaves, chopped fine
handful of mitnt leaves, finely chopped
½ teaspoon freshly pounded pepper
3 tablespoon crumbled feta cheese
Method
I used ⅓ cup of uncooked quinoa, cooked it with ¾ cup of water and i got 1.5 cups of cooked quinoa. Drain the quinoa well. Take the drained quinoa in a large bowl.

I used canned chickpeas, drain the chickpeas well, rinse it with running water . Add the drained chickpeas to the quinoa bowl.

Add the rest of the veggies, chopped cucumber, onions, tomatoes, chopped mint and coriander leaves. Toss well to combine.

Squeeze juice out of 2 lemons, drizzle it over the tossed salad. Add pepper powder and salt. Toss to combine.

Let the salad sit for 20 minutes, for the flavors to combine. While serving, serve it garnished it with feta cheese.