Wishing All My Readers a Very Happy and a Prosperous Harvest Festival!!!!
Ragoon Puttu is same as Rava/Sooji/Semolina Kesari, except for its made using Jaggery. I saw this recipe in a TV Program , have tried it twice. A Very Easy, Tasty and a Healthy Recipe.
Ingredients
¼ Cup Sooji/Semolina/Rava
2-3 Cardamom Pods, Crushed
2 tablespoon Ghee/Clarified Butter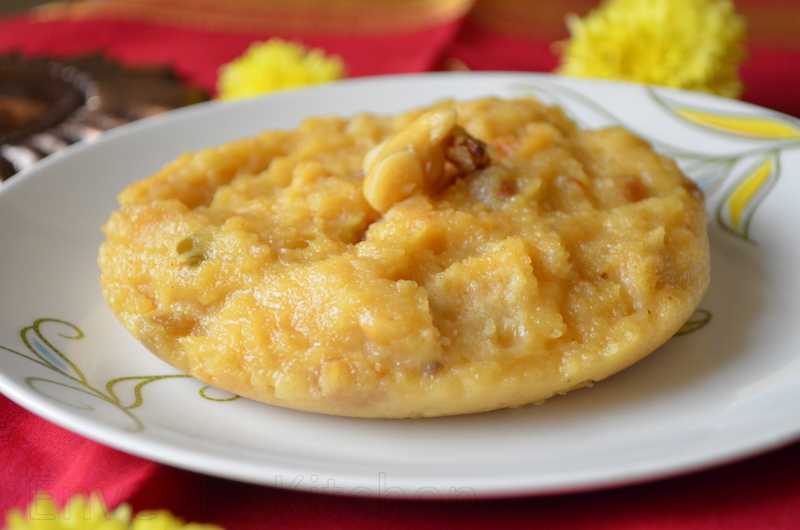 Method
Dissolve Jaggery in Water, Strain impurities and Keep it aside.

In a Non-Stick pan, add a teaspoon of Ghee, Add cashewnuts and raisin, roast them, then add the Sooji/Semolina/Rava and roast it until golden brown. Take it off the Stove.
Keep the flame Low and roast. Even though you are using roasted rawa/Sooji/Semolina, i would recommend roasting it again.

Heat Milk in the Same pan,When it starts boiling add the roasted nuts, Crushed Cardamom Pods and Sooji/Semolina. Do not reduce the flame while adding Sooji/Semolina. The Sooji/Semolina will not form any lumps. It will form lumps only when you reduce the flame and add Sooji.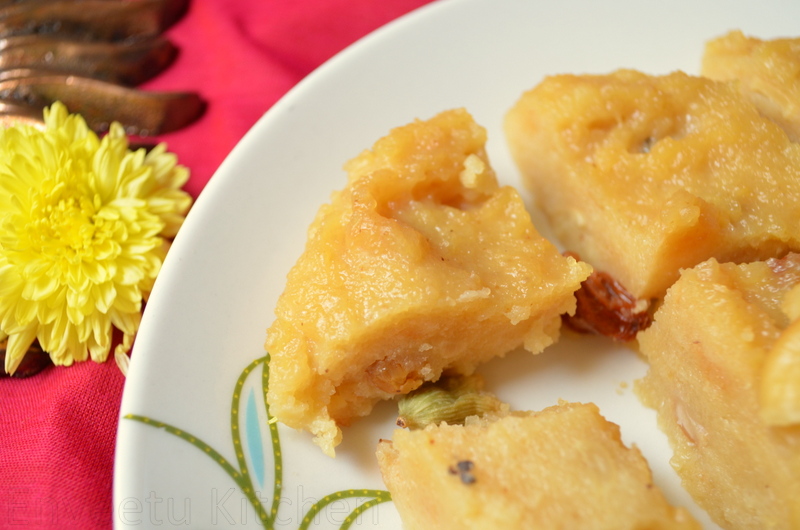 Reduce the Flame after, and allow it cook for 5-10 minutes. Stir frequently. By this time, Sooji/Semolina would have cooked. Now Add the strained jaggery water. Allow the liquid to be absorbed.

Add Ghee little by litte and Stir. When the Mixture comes together without sticking to the pan. Take it off the Stove.Serve Warm.