Diwali Preparations must be in full swing in all places, where they celebrating. I heard from mom and dad, that it is raining cats & dogs in chennai, and it is going to be a wet diwali there!! hmm, whatever it is the festive mood will be on a high whether it is wet or a dry Diwali!!! I repeat this every Diwali, we miss that noise and the spirit here in Dubai. Being away from your homeland during festivities is such a bummer, but what to do that is Life!!!
Ok, now coming back to the recipe. A very simple recipe to try, is this Ribbon or Ola Murukku. The dough when pressed into hot oil falls like a ribbon, so the name Ribbon Murukku. It is actually made as a whole Murukku, then broken into pieces while storing. These make a crunchy snack for your evening tea/coffee or in your kids lunch box as a break-time snack.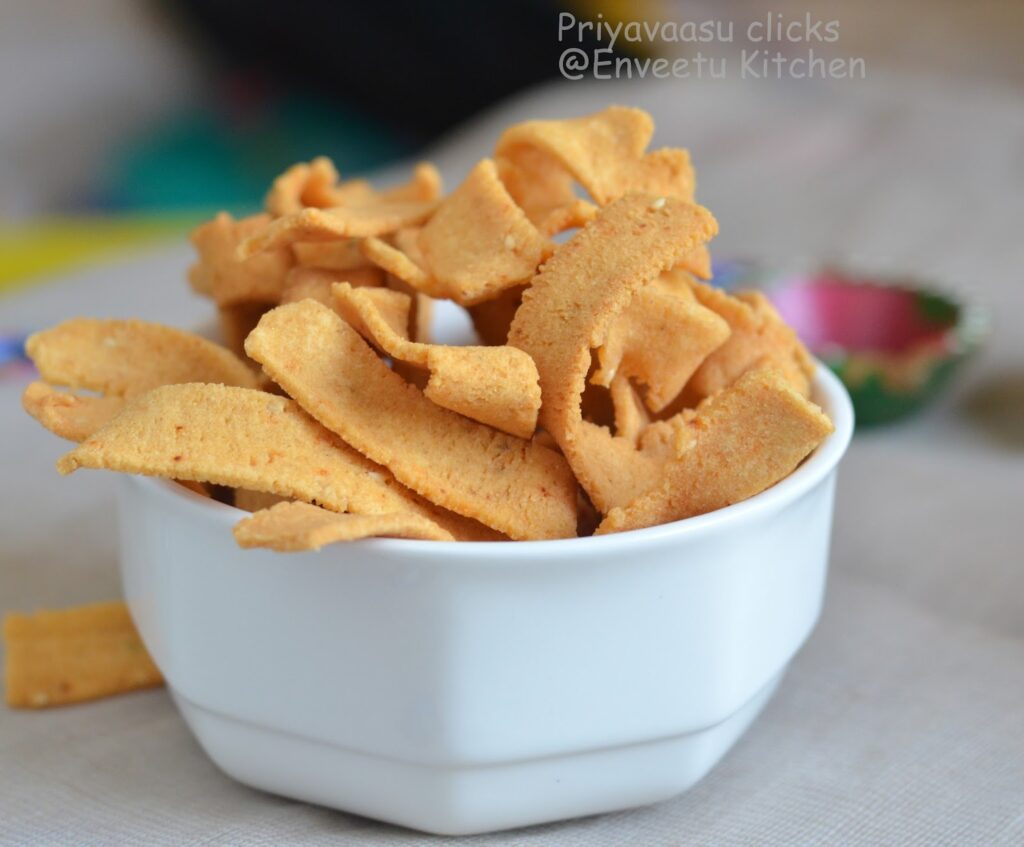 Ingredients (Makes Approximately 450 grams of Murukku)
2 cups besan / gram flour
1 cup rice flour
2 teaspoon red chili powder
3 tablespoon butter, @ room temperature
2 tablespoon white sesame seeds
3 / 4 cup - 1 cup water
1 teaspoon salt
1 / 2 teaspoon hing / asafoetida
Method
Take both the flours in a wide bowl. Whisk well to combine. Add red chili powder, hing, sesame seeds and salt mix well to form a uniform mixture. Now rub the butter into the flour mix.

Slowly add water to this and form a soft dough. Since it is besan, there is a chance, the dough might turn dry while resting.So, for such cases, keep ½ cup warm water by the side and while using the dough just sprinkle 2-3 tablespoon water and knead the dough and use.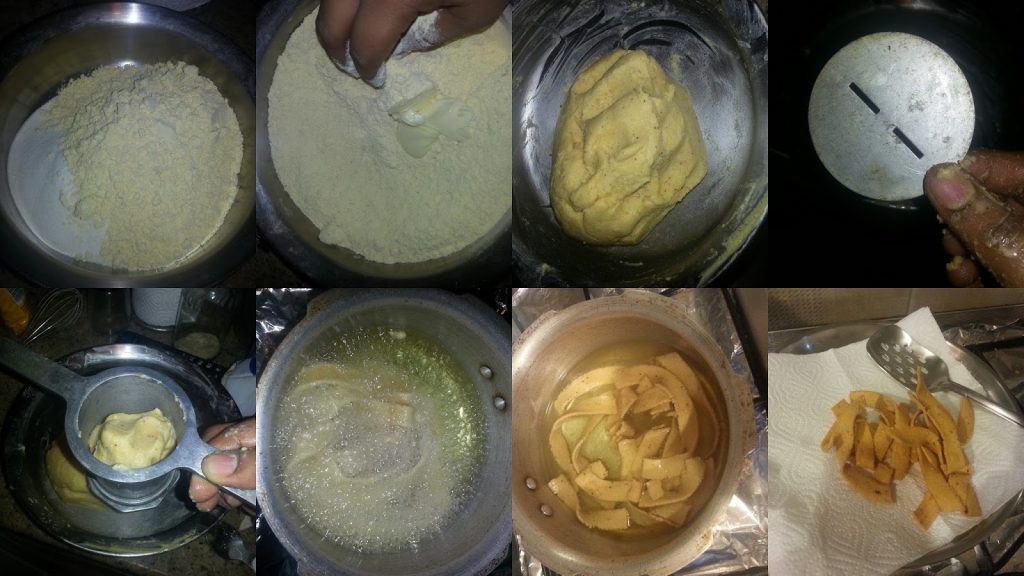 You will be needing a murukku press with ribbon mould to make this. Heat oil for deep frying in a wide kadai/pan. When a piece of dough dropped into the hot oil sizzles up immediately, then it is ready to deep fry.

Take a orange-sized ball of dough and put it in the murukku press. Press it directly into the hot oil in a circular motion. Just make 2-3 circles of dough continously to ease even cooking.

Flip and cook both sides until golden brown in color. While cooking, try to break the circle in ⅔ places to get individual ribbons. When the sizzle seizes, it indicates that the ribbon is cooked.
Remove using a slotted spoon onto a kitchen towel. Let it cool completely, then store it in an air-tight container at room temperature. Stays fresh and good for 2 weeks.