Kheerni is a Sindhi Kheer made using Vermicelli/Seveiyan or Rice. I chose to make a Dessert for the Last day of Week 3 and was going through some blogs for a Sindhi Dessert. Guess what, i found a Copy-Cat Blog and informed Shobha Keshwani and some other bloggers whose recipes and pictures were copied, An adventurous Sunday i would say.
After all these, i thought of two sweets, kind of stuck between them. Again i checked(read troubled) Vaishaliji for some Clarification and then i thought it would be safer to make Kheerni, instead of making something else that is not Sindhi!!! 🙂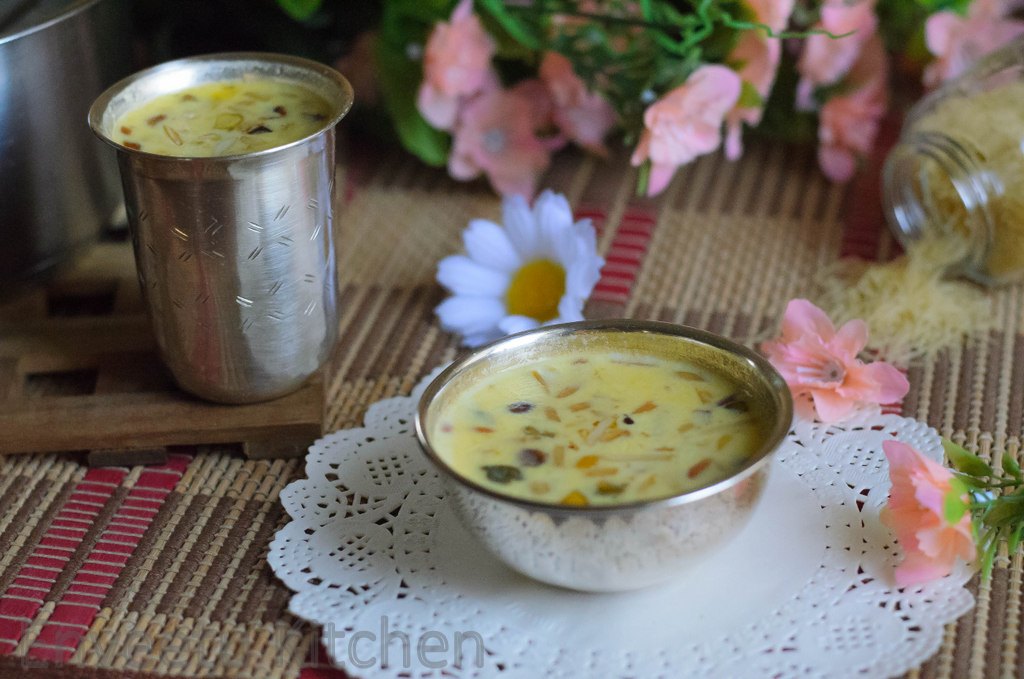 Ingredients
1 tablespoon Thin Vermicelli,Crushed a little
2 Cups Milk
2 tablespoon Sugar
2 pods of Green Cardamom, Crushed
1 tablespoon Silvered Almonds
1 tablespoon Silvered Pistachios
Generous pinch of Saffron


Method
Heat a Pan, add a spoon of Ghee, add the silvered nuts and roast them until brown. Drain on a Kitchen Towel, Keep Aside.

In the Same pan, add the Crushed Vermicelli and roast in a Slow Flame until golden brown. Take care not to burn it.
Once the Vermicelli Turns brown, take the pan out of the flame, add the milk and return it back to the stove. This is because, the pan will be very hot and adding milk to it might cause the milk to sizzle and spill out, Why unnecessary accident while making something sweet!!!! So, take care while adding milk to the hot pan.

Let the Milk Boil in a Medium Flame, Once it boils, reduce the flame. Allow the vermicelli to cook, it might take about 5-10 minutes depending upon the thickness

 of the vermicelli used.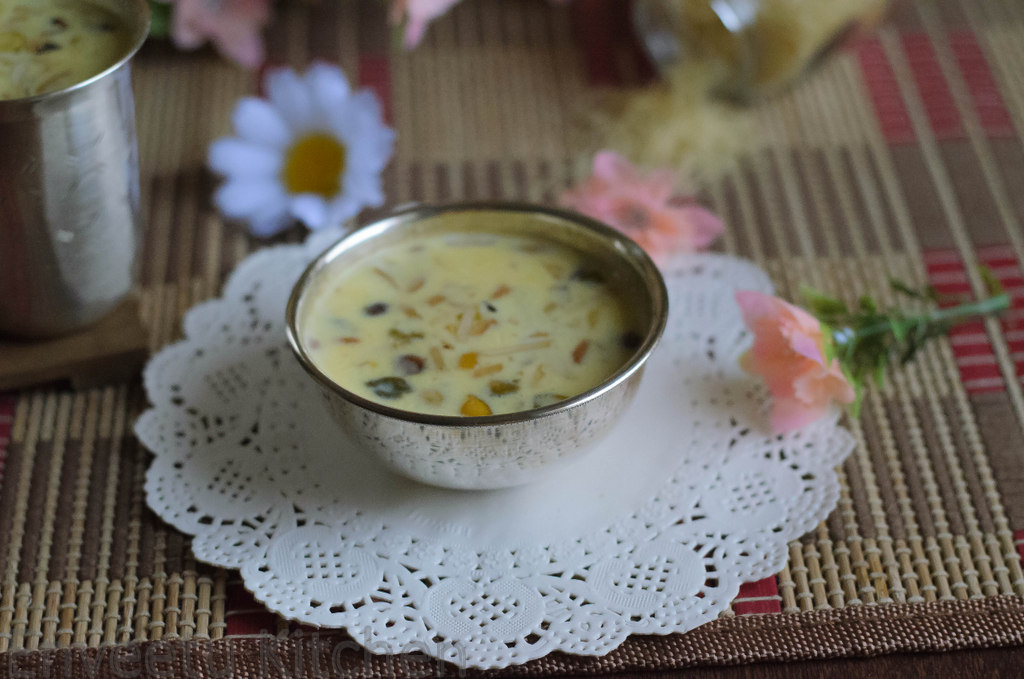 Once the vermicelli is cooked, add Sugar, crushed cardamom, saffron to the milk. Let it Cook again for 10-12 minutes for the flavors to infuse well. Keep Stirring frequently or else the milk might burn 

@ the bottom and will spoil the kheerni.

When the Milk reduces to almost 1 Cup, add the roasted nuts, Stir well and take it off the stove.

Serve it Warm or Refrigerate and serve it Chill, either ways it tastes yum!!!
Sending this to Kids Delight – Sweet Treats, happening @ Nivedhanams, Event by Srivalli
Check out the Blogging Marathon page for the other Blogging Marathoners doing BM#28