Sesame and mawa ke ladoo, a combination of earthy sesame and sweet mawa, beautifully flavored with a pinch of saffron and punchy cardamom. A sweet, perfect to celebrate any special occassion. I chose Festival theme for this BM, with Holi in mind, i m making some quick treats to share with your friends and enjoy this joyous colorful festival.
If you read my Sesame and nuts ladoo, you must have known my love for ladoos, i have around 25 ladoo recipes in my kitchen. This one too, joins that band of quickie recipes. Today's recipe took just 15 minutes to make and i took more time to click them and was resisting myself from nibbling everytime i re-arranged it for a better click.
Unsweetened mawa renders that rich and royal taste and texture this cute ball needs to be called as a festive treat. A wonderful gift for your friends and family. For those who are particular about hand-made edible gifts and are not ready to sweat in the kitchen, this recipe is a perfect choice. Go on, try it and let me know how you liked it.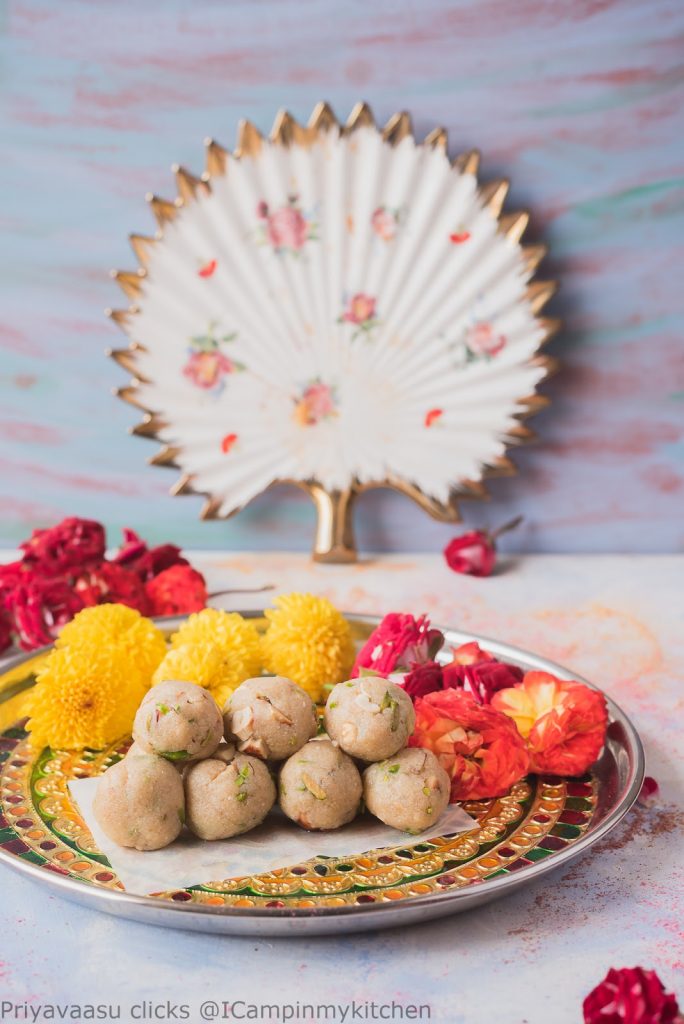 Ingredients
125 grams white sesame seeds
125 grams mawa/unsweetened khoa/Milk solids
a generous pinch of saffron
20 grams of cashewnuts, roasted and chopped roughly
3 tablespoon of silvered pisatchios, roated

Method
In a wide pan, take the sesame seeds and dry roast in a medium flame. The seeds must get nice and toasty. Keep the flame simmer while roasting. Take care not to burn them.

Remove the roasted seasame seeds into a flat plate.

Take the roasted sesame seeds in a mixer, add cardamom pods and sugar to ti and pulse it to powder.

Heat a wide pan,heat a teaspoon of ghee and roast the cashewnuts until golden brown, once done, remove it from the pan and set aside until use. In the same pan, roast the silvered pistachios for 30 seconds and remove it along with cashewnuts.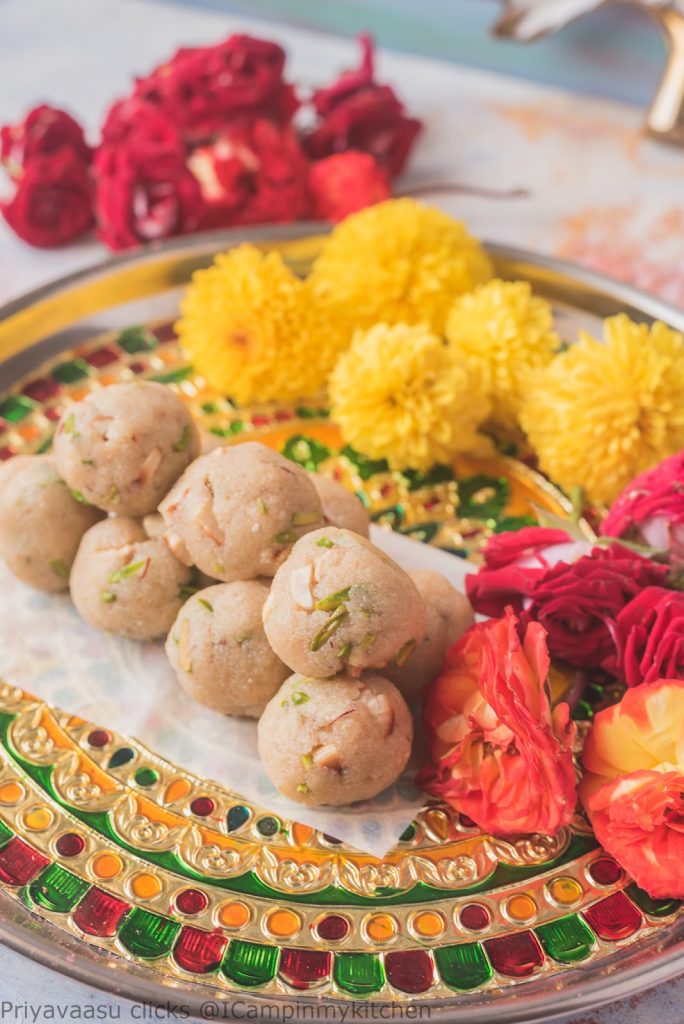 Now in the same pan,add another teaspoon of ghee, add crumbled mawa and saffron to it and saute until it turns golden. Keep the flame simmer and keep stirring or else the mawa would stick to the pan and burn. This will take around 5-8 minutes.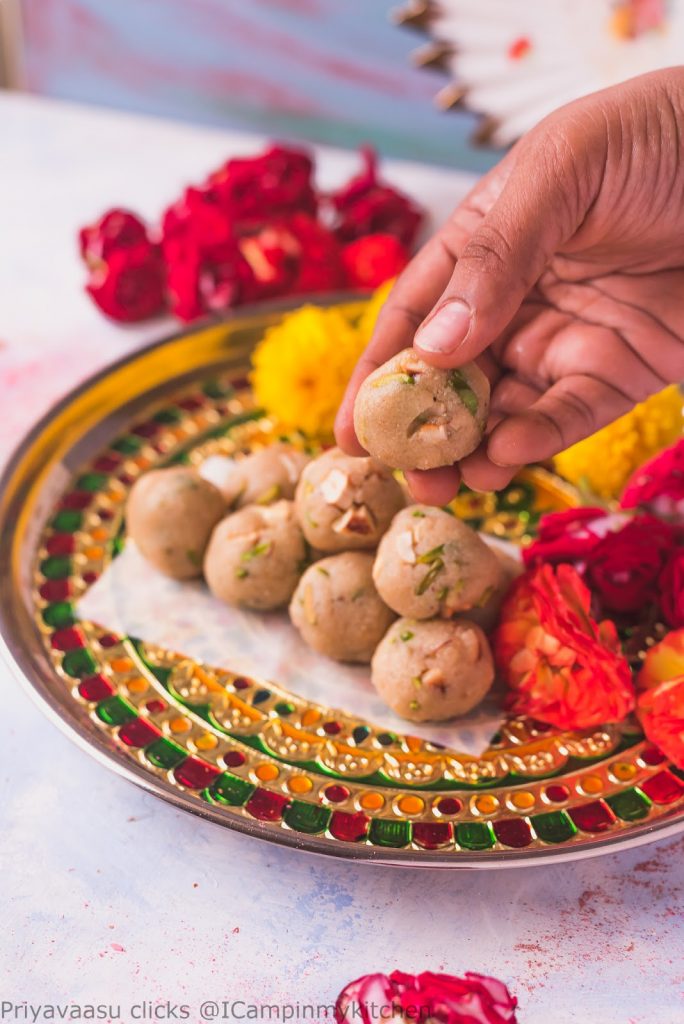 Once the mawa turns golden brown, take it off the stove, add the sesame-sugar mix to this. Add the chopped cashewnuts and pistachios too and mix it well with your hands. Mawa would be still hot, so take care while mixing with hands.

While the mixture is still warm, coat your hands with little ghee and start making small balls out of the mixture. Enjoy your til mawa ladoo garama garam.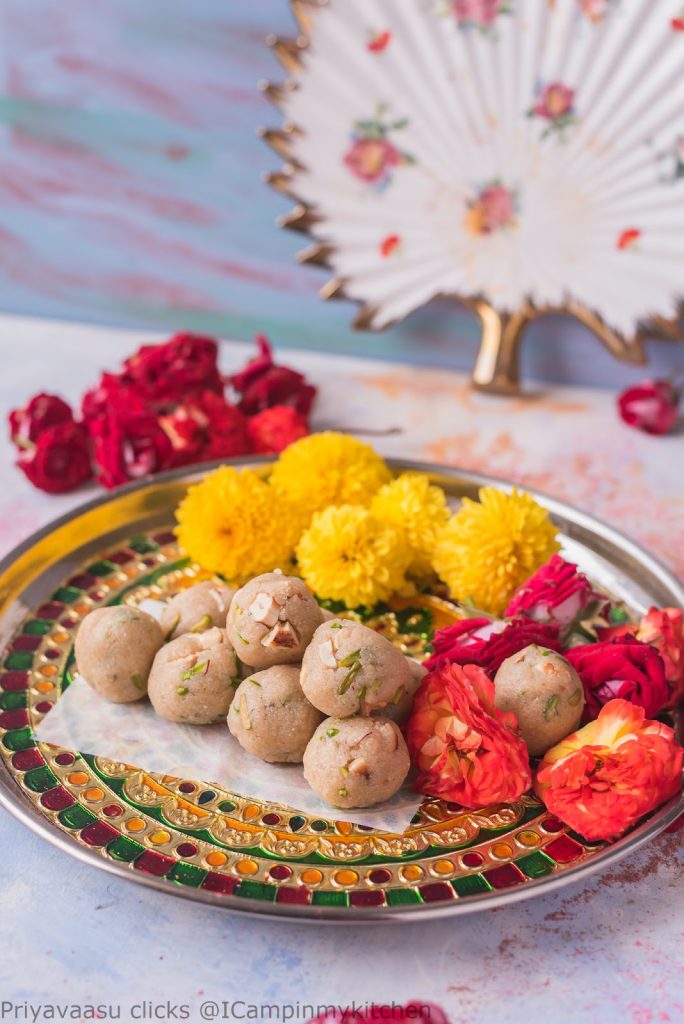 The ladoos are done, store it in an air-tight container in the refrigerator. Since it contains milk, i prefer to store it in the fridge.