Its Second Edition of Blog Hop Wednesday!!!! This time i m paired with Radhika of Tickling Palates, the brain behind Blog Hop Wednesday!!!!! No need to introduce her blog!!! She has an amazing Space!!! I planned to make this Sohan Halwa for Diwali, but we had too many swets that day, so didnt want to over indulge!!!! Loved the color and texture of this Sweet!!! Also it is very easy to make!!!!
Ingredients
5 tablespoon of Corn Flour
3-4 Cardamom Pods Crushed
3 tablespoon Almond Flakes
Yellow/Orange Food Color few drops
Method
Mix Corn flour with half Cup of water and make a Solution without any lumps. Grease a Flat Plate with Ghee and keep it ready.

In a Heavy Bottom pan/Non-Stick Pan, Boil 2 Cups of Water, Add sugar to it and bring it to a Sticky consistency/

While the Sugar Syrup reaches a sticky consistency,

add Corn flour and mix well. Keep the Flame Low and Keep Stirring.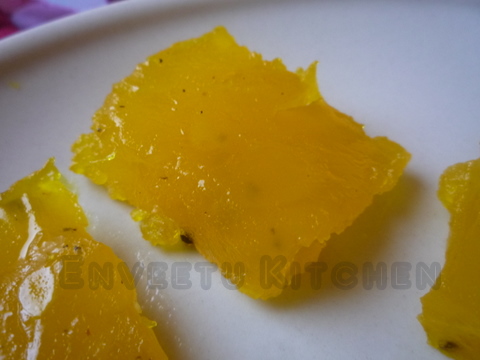 The Mixture will start thickening, add Crushed cardamom, Almond flakes, Food Color and ghee and Keep Stirring.

The Halwa will reach a Glossy Finish and gathers like big mass, Take it off the flame and transfer it to the greased plate. Let it cool. Cut them into desired shapes and Enjoy!!!
Notes
Once you add corn flour to Sugar syrup, the halwa cooks in minutes. So, don't leave the stove and keep the greased plate ready.

Keep the Flame Low and Cook.