The Last week of BM, i took paired blogger series as my theme and i m paired with Suma of Veggie Platter. Suma, a blogger buddy,who has been in BM group for so long, probably from the day it started and best known for her clean and crisp food clicks and her lip-smacking dishes. Her amazing bakes this marathon, stunned us all. She gave a totally different theme, naming each day of the week with a fun adjective and baked something different for every day. Not many of us, can think of a theme like that.
First i planned to bake from her baking collection, but then decided to look into her traditional dishes and selected 3 from them and made it for this marathon. Selecting 3 from her blog, was a bit tough, i shortlisted 10 and then skimmed it to 3 from there.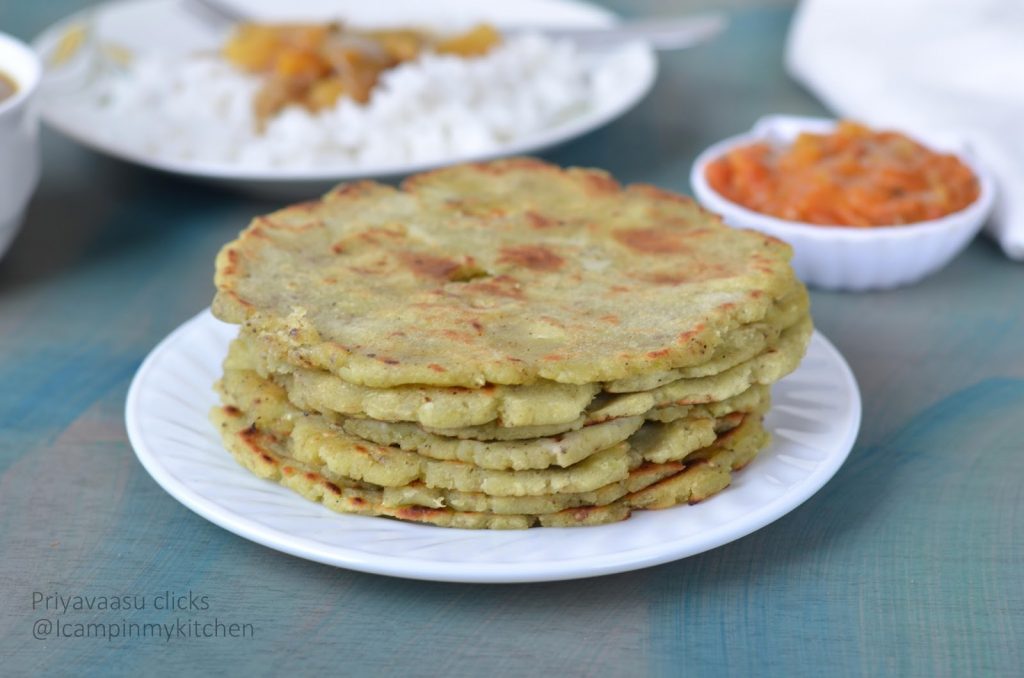 The first recipe is an easy breakfast recipe, cucumber roti/Southekayi rotti. I first made it for dinner and paired it with Aviyal and also as breakfast for another day. The breakfast i paired it with tomato chutney and felt it, as a better combo than aviyal. This roti needs a spicy and a saucy side, so you can also pair it with pickle or any spicy yogurt dip.
My Elder one liked this rotti, though it was a bit spicy for him ,he panted a little, drank water, but came back again for second helping, maybe his taste buds are changing now. But it was way too spicy for the younger one, he just took one bite and left it saying "kaaram amma". So, if serving for kids, try to decrease the chilies and add peppercorns and increase the amount of coconut to one or two tbsp.


Source : Veggie Platter
Ingredients (12-14)
2 Cups Rice flour
2 nos lebanese cucumber
4 nos green chilies or 5 nos green chilie (avoid peppercorn powder if using 5)
1 cup freshly grated coconut
¼ cup chopped coriander leaves
salt to taste (1 tsp)
1 tablespoon freshly ground peppercorns
oil for cooking the roti's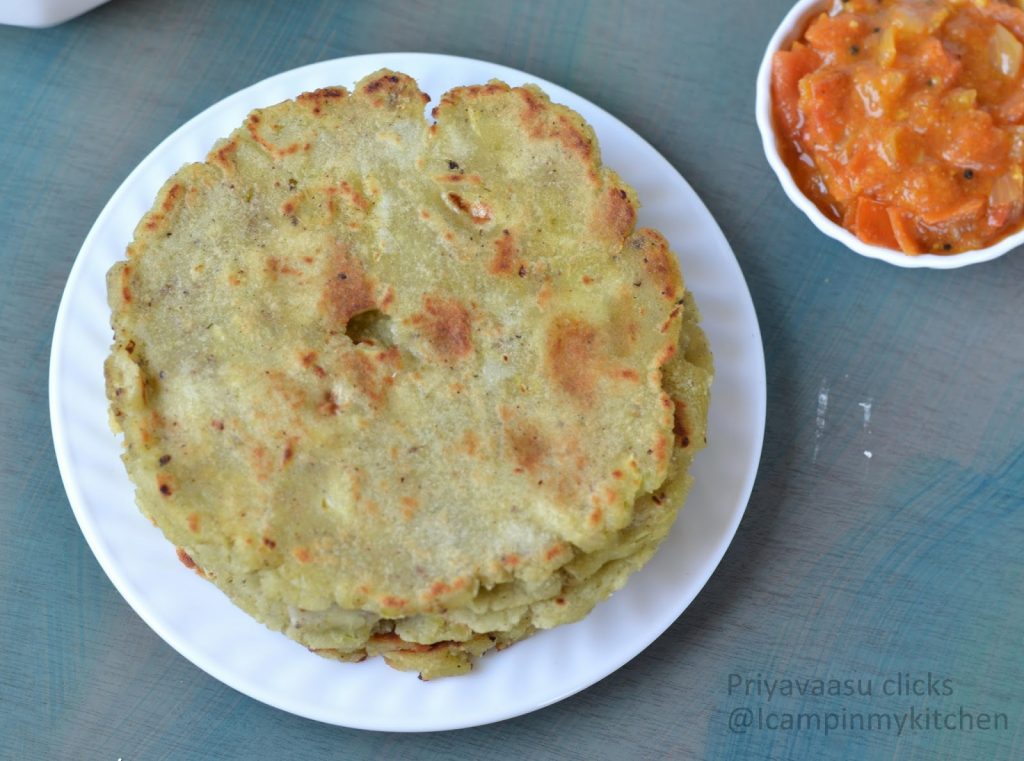 Method
In a small mixer, take coconut, green chilies, coriander together, add one or two tablespoon water and grid to a fine paste.

Wash and peel the cucumber. In a large bowl, take rice flour, add salt and shred the cucumber directly into the rice flour bowl.

Add the ground coconut-chili paste to this and start kneading a soft dough. No need to add any water, moisture for the cucumber and the ground paste will take care of it. Little trivia about cucumber, do you know it is a fruit??? raising eye-brows, yes me too knew it only a few minutes before!! 🙂

Once kneaded, divide the dough into a little larger than ping-pong ball, but less than that of a tennis ball size.

Place a cast iron tava on the stove, let it get heated in a simmer flame, you got to maintain the same heat to get a evenly cooked and nicely browned rotti.

Use a plastic cover to pat/shape the rotti or you can pat the rotti directly on to the hot tava. I use my sandwich bag for the same. Take a dough ball and pat it to 4-5 inches round flat rotti, make a small hole in the center.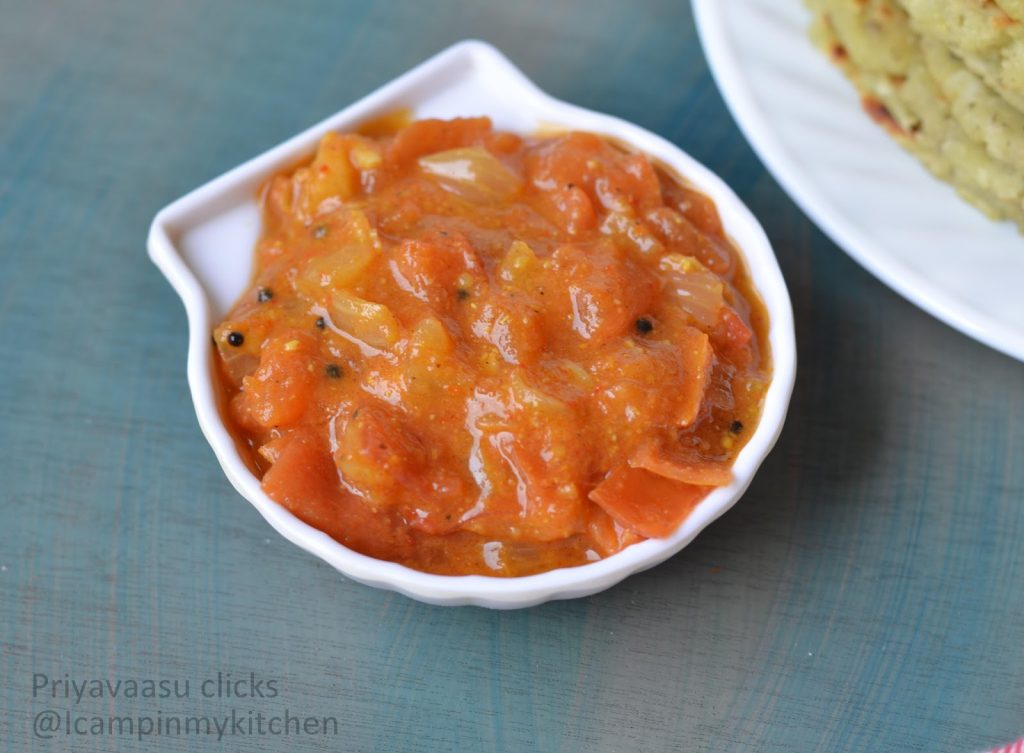 Take the plastic cover in your hand and remove the rotti on your other and transfer it to the hot tava, drizzle ½ teaspoon of oil around the edges, cover and cook one side for a minute, the edges will turn brown, flip and cook the other side, drizzle oil again. Transfer it to another plate. Serve it along with a saucy chutney. I served it with Tomato chutney.
Since it take a longer time to cook, it is better to keep the next rotti patted ready while the one is cooking. Rotti's taste better when served hot straight from the tava. If storing it, to be served later, better warm it in the microwave for 20 seconds and serve it hot.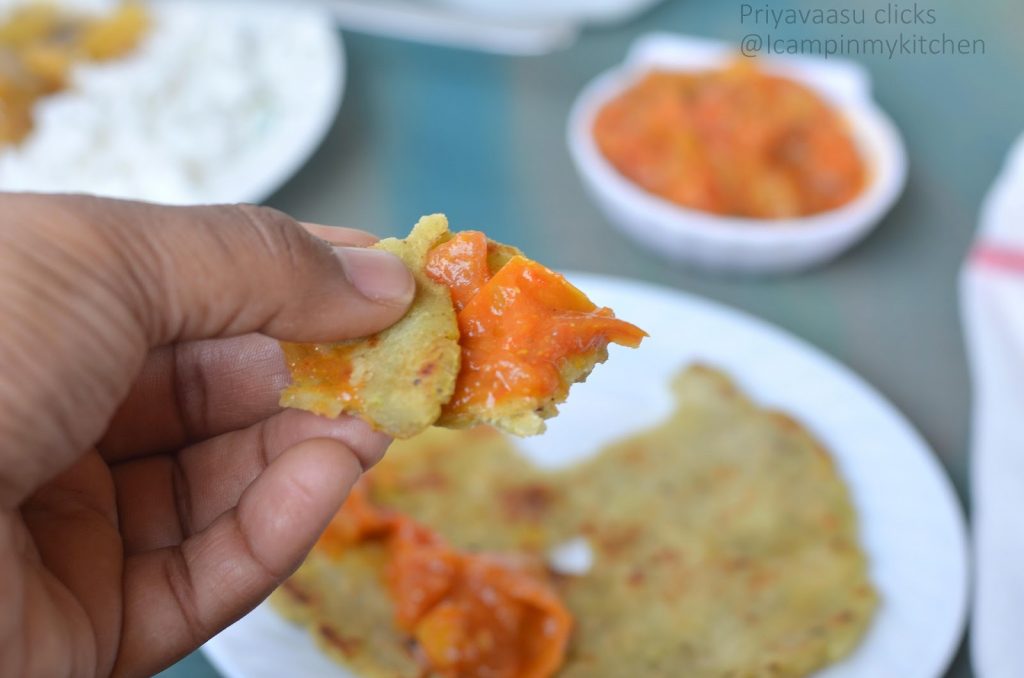 Sending this to Kids Delight - Fruits in any form, happening @ Harini's Space, an event by +Srivalli Jetti.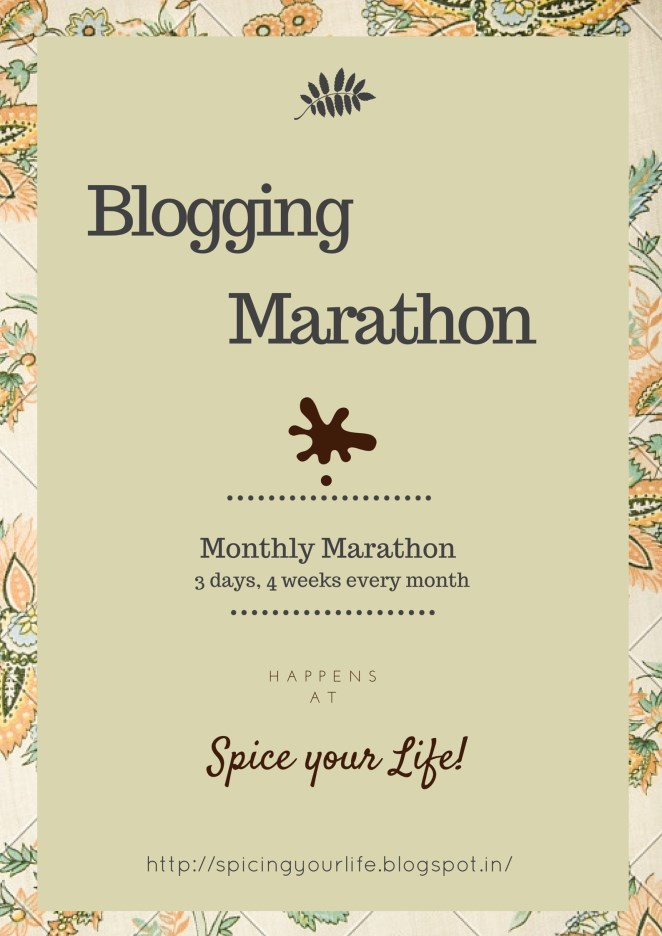 Check out the Blogging Marathon page for the other Blogging Marathoners doing BM# 53