Our host for march The Mom Chef, gave us a wide theme : Tropical Vacation.  I have put everything tropical in this cake!! 🙂 This bundt is inspired from here. It was an experiment, but we totally loved the final outcome. Though i named it speckled, the color of the cake ended up a bit dark, that we couldn't see the pomegranate pearls and tutti frutti in it. It was all together a flavor bursts in your mouth, a bite of pomegranate, taste of pineapple, a dash of coconut, divinely tropical.
1 & ⅔ cups of Pineapple juice,fresh 
½ cup grated jaggery/Palm sugar
½ cup sweetened coconut flakes
¼ cup tutti frutti (candied raw papaya cubes)
Topping
½ cup dark chocolate chips
2 tablespoon sweetened coconut flakes
2 tablespoon fresh pomegranate pearls
Method
Sift together flour, baking soda, and baking powder. To this add coconut flakes,  pomegranate pearls, tutti frutti, mix well.

Add grated jaggery  and oil to pineapple juice and mix well.

Now add the wet ingredients to the dry. Using a spatuala,  carefully combine to form a homogeneous mixture.

I baked them as 1 small bundt and remaining batter into 12 mini muffins. Prepare the pans, by greasing them with oil and flour 

Preheat the oven to 190C. Pour the batter upto ¾ of the pan. Smooth the top. Bake for about 30-40 minutes or until a skewer inserted in the center comes out clean. 

Take it out of the oven. Remove the cake on to a wire-rack to cool completely.

For the topping, melt the choco chips in a  microwave safe mug for a minute. Pour the chocolate on top of the budnt, garnish wtih coconut flakes and pomegranate pearls, serve warm.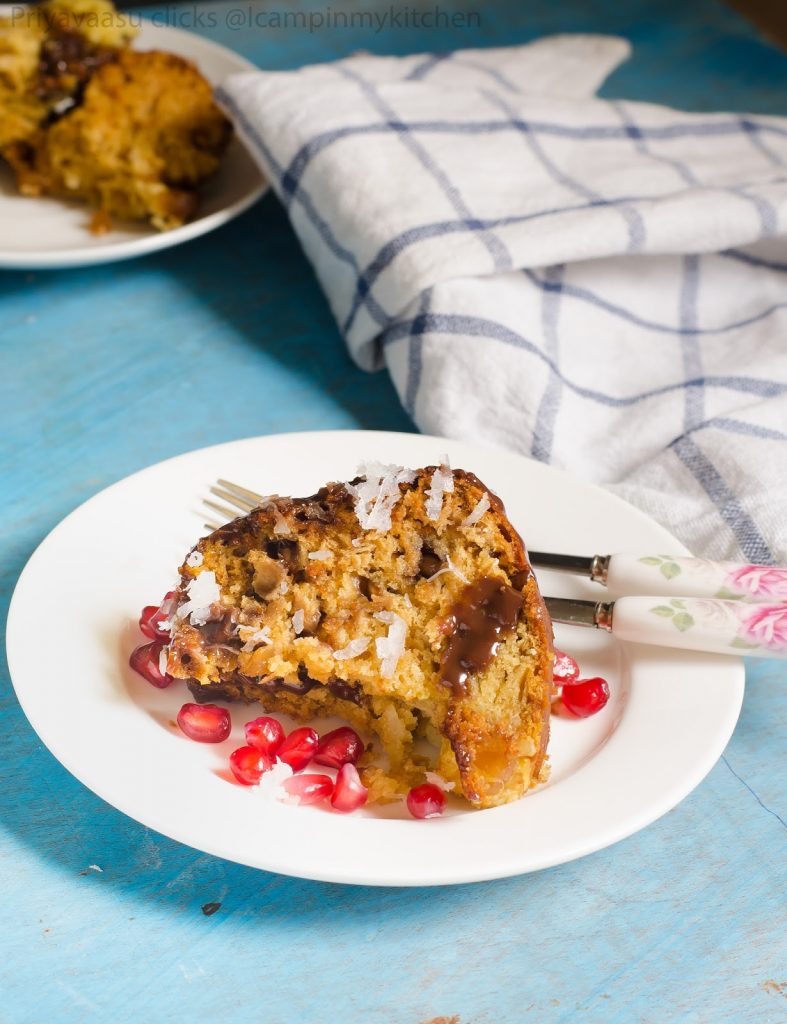 #BundtBakers is a group of Bundt loving Bakers who get together once a month to bake Bundts with a common ingredient or theme.  You can see all of our lovely Bundts by following our Pinterest Board.
We take turns hosting each month and choosing the theme or ingredient.
Updated links for all of our past events and more information about BundtBakers can be found on our
homepage
.