There comes a time in your day-to-day routine, where you don't want to do anything, just sit and while the time out. I think i m going through that phase now. The problem, it is happening quite a bit often these days. A toddler in the house, makes you tired pretty easy, don't acceptgree with me, wait until you see mine. From the time he is up, he keeps me on my toes, literally. I hardly sit for half an hour together, amma, this, amma that, come here, see this, bring that, bring this, where is my car? where is my ed color car? Amma, vher are you? I just want to go hide in some hole that is deep inside the earth! Is it possible? yeah, you know the answer.
Ok, now coming to today's recipe, I will be posting International Flat-breads for this week. So, while looking for recipes, i came across this Pol roti/Coconut Roti, a simple, savory roti from Sri Lanka, that is served with a relish. They normally serve it with chilli crushed with maldive fish. I made our simple tomato-onion relish and it tasted yum!!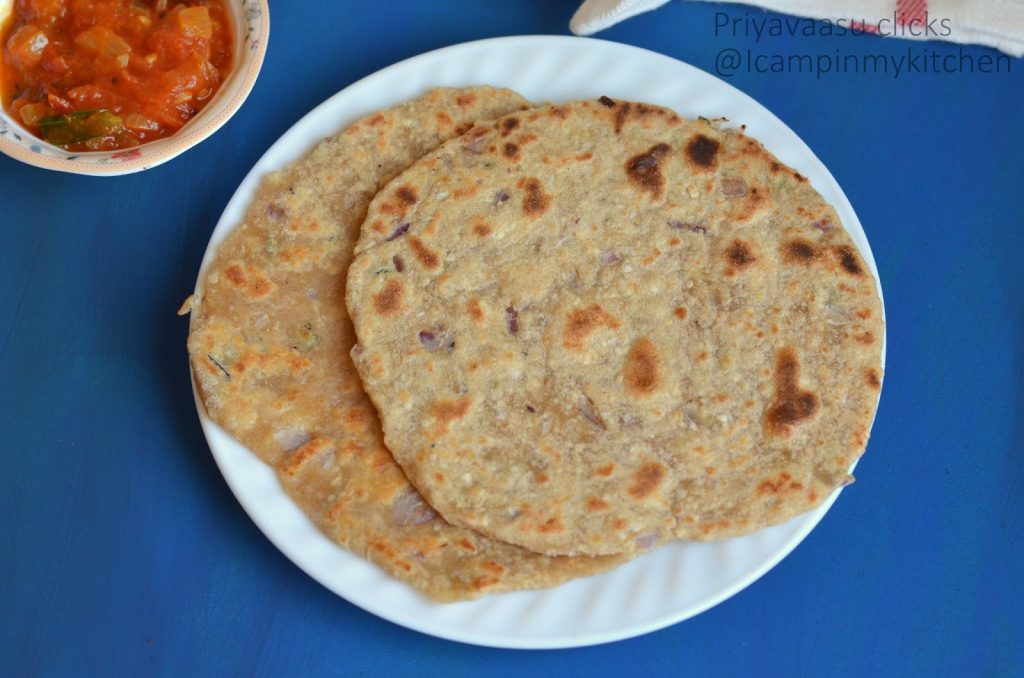 These Roti's can also be made just with coconut and flour and then be served with a sweet side. Originally they are made with All purpose flour and for kneading they use Coconut Milk, but i have avoided APF for the obvious reason and since i didn't have coconut milk, i have used half milk and half water. But i would definitely recommend coconut milk, as it will bring out amazing flavors and taste of this dish.


Source here
Ingredients
½ Cup freshly grated coconut
2 nos green chili, chopped fine
1 no medium-sized onion, finely chopped
½ cup coconut milk or Normal milk or water (i used half water and ½ milk)
2 tablespoon oil while kneading the dough
coconut oil for dotting the sides while cooking the roti.
I used my food processor to make the dough, it can be kneaded by hand too. Take flour, coconut, green chili, onions and salt together in your processor bowl. Pulse twice to mix all the ingredients together.

Slowly add water/milk and knead to form a dough. When the dough is made, add oil at the end to get a soft dough. Take the dough off the food processor, knead a couple of minutes by hand and let the doguh rest for 10 minutes.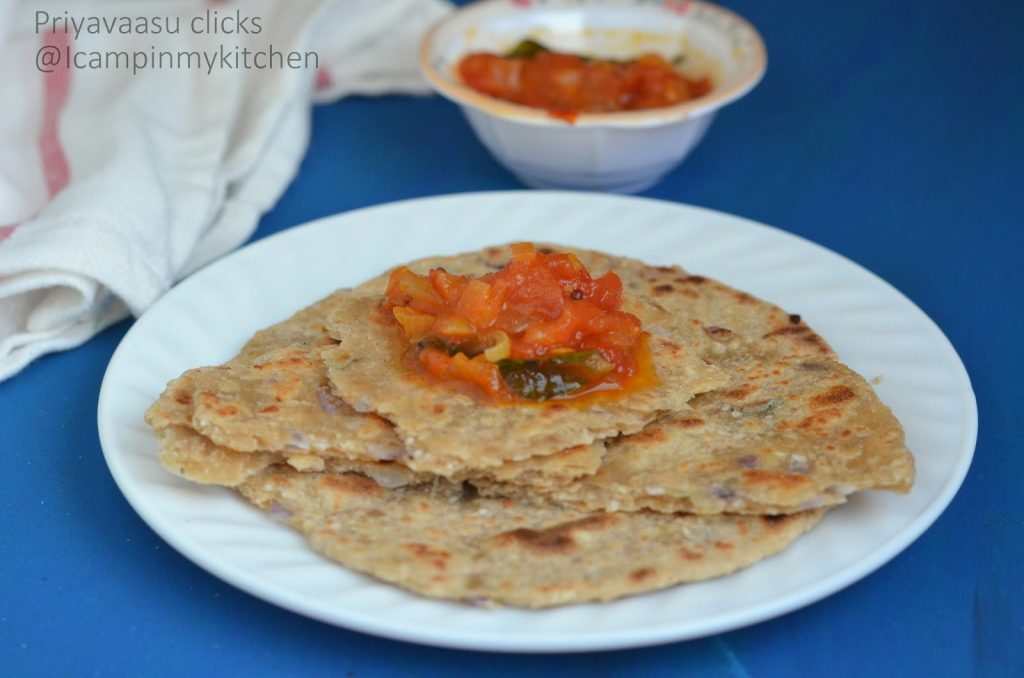 Divide the dough into 6-8 portions. Roll the divided portion into 4-5" circle. Heat a tava and cook the rolled dough on both sides until brown. Dot the sides of the roti with little coconut oil while cooking on the tava.

Serve hot with a spicy side. I served with simple Tomato-Onion relish.
Check out the Blogging Marathon page for the other Blogging Marathoners doing BM#50