Summer in its full glory. All i think about is gulping down ice cold drinks and stuff myself into the fridge. The other problem that comes with sun is the cold that catches when you eat or drink something cold straight from the fridge. Though the mind knows it is bad, the heart doesn't understand. I try to make something chill and leave it outside for 30 minutes, before giving it to my kids. 
My lil one enjoys chilled beverages and my elder one ice-creams. So, if oneday i make ice-cream, then the next day it is iced tea. 
Last week, i made this strawberry banana ice-cream. This is similar to the blueberry banana chocolate ice cream, i made sometime before.  I tried to make it vegan, using coconut milk, you can also use regular cream. We loved the flavor of coconut milk and rich color of strawberry. The cocoa nibs added a nice crunch here and there. Both my boys, licked their bowl clean. Me too was happy, since it was homemade and i knew what went into it was all healthy.
Ingredients
2 nos frozen banana (i used dole variety)
10 nos frozen strawberries 
½ cup coconut milk
¼ cup sugar (i used raw sugar)
3 tablespoon cocoa nibs or (chocolate chips or toasted nuts)
Method
Since i used frozen fruits, i removed them 30 minutes before blending them from the freezer. Take both banana and strawberries into the blender along with sugar and coconut milk, blend them smooth.

In a freezer safe box, remove the fruit puree, add cocoa nibs and mix well. 

Freeze it for a minimum of 8-10 hours.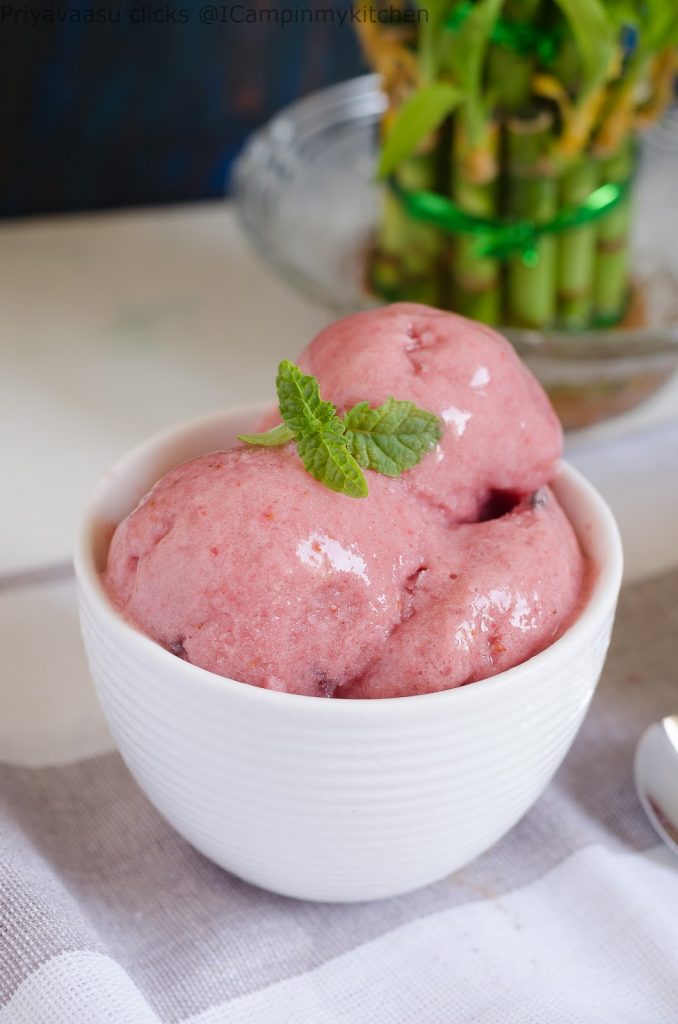 Remove the box 15 minutes before serving from the freezer. Scoop and serve. Can be topped with some toasted nuts or chocolate sauce.