Bundt baking time!!! I so eagerly wait for this every month, not only for the interesting theme, but also to look at the amazing bundt pans, this group has!!! ohh yes, last month after visiting those naughty & nice flavored bundts, i was ready to splurge and buy a handsome looking bundt, thanks to Not in stock labels,on the pans i chose!!! 🙂 Now today again, when i visit them all, i know i m going to be hysterical to buy a new pan before the next bundt bakers!!!
Our host for this month, Lauren of Sew you think you can cook, gave us the theme : Cinnamon. Oh my it is my favorite spice and how can i not choose something razzling, dazzling for this theme. I got some fresh strawberries last week while grocery shopping @ Carrefour. After making this No Bake Poha & Millet Strawberry Tart, i put the rest to good use in this bundt today. I totally loved the color, though first i thought of using only Bread flour, i had very little spelt flour, which was getting sifted here and there, i used it into this delicious bread. This bread is a perfect breakfast treat, the luscious sweet berries, compliment the cinnamon so well, what i missed was a little chocolate, that would have made it more exotic. Note to self and also my readers: add a handful white/dark chocolate, when you make it again!!!
Ingredients
¼ cup brown sugar /white sugar
⅓ cup butter (I used oil)
Filling
12 nos plump strawberries
1 teaspoon cinnamon powder
2 tablespoon butter @ room temperature
1-2 teaspoon sugar (optional)
Method
Take together both the flours, yeast, sugar and salt in the food processor bowl.

Pulse twice to mix well.

Warm milk in the microwave for 40 seconds. Add butter to this warm milk and mix well.

Now slowly add the milk mixture to the flour mix and start kneading the dough.

If kneading by hand, knead around 10-12 minutes to get a smooth, soft dough that doesn't stick to the bowl. Since I kneaded in my processor it took around 5-6 minutes to get a soft dough.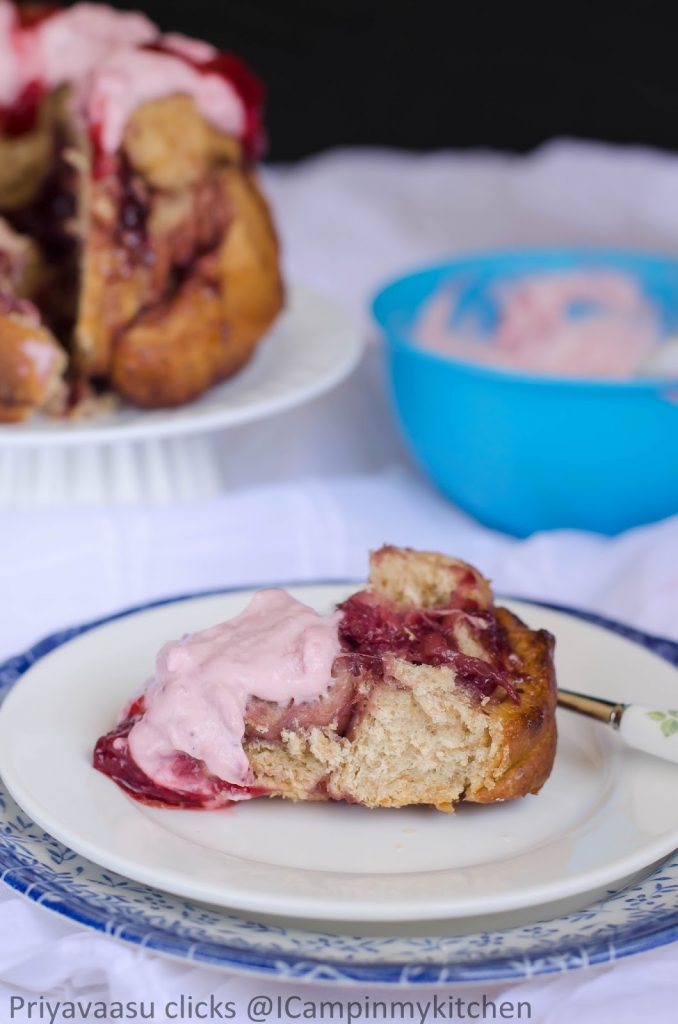 Take the dough out of the processor, knead it twice by hands. Place the kneaded dough in a well-oiled bowl, cover it loosely with a kitchen towel and let it rest in a warm place and rise for about 1 hour to 90 minutes.

While the dough is resting let us make the filling.

Chop the strawberries into small pieces. Take it along with sugar, cinnamon and corn starch in a saucepan, cook it in a slow flame, stirring often.

About 8-10 minutes, the mixture will start thickening to jam like consistency.

Let this cool completely before using it as a filling.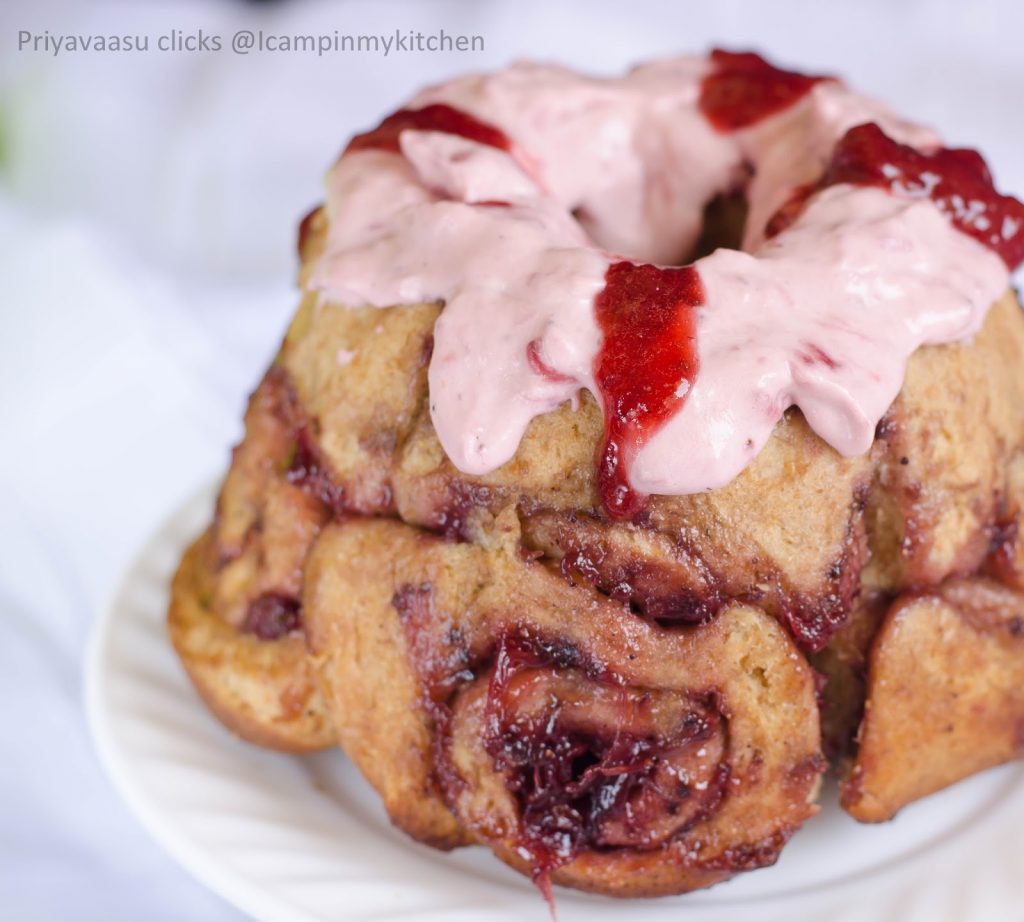 Once the dough rises well. Remove it from the bowl,punch it down to remove the excess air. Divide the dough into 2 portion's.

Dust your work surface with flour, roll out a portion of dough into a rectangle of size 12 x 11 inches. No need to measure exactly, just make sure it isn't too thick or thin.

Spreadsheet 2 teaspoon of butter on the rolled out rectangle, spread 3-4 tablespoon of strawberry filling on it. Roll it tightly into a log. Pinch the seams to seal.

Keep a bundt pan greased and dusted with flour ready by the side. I used a small bundt pan and a rectangular tin to bake. I very well knew, my fellas won't wait for me to click it the next day and i had to save my bundt!!!!

Cut the roll into ½ inch roundels, place them in the bundt pan. I place 5 rounds at the bottom. 6 roundels around the walls and filled the center with 4 roundels.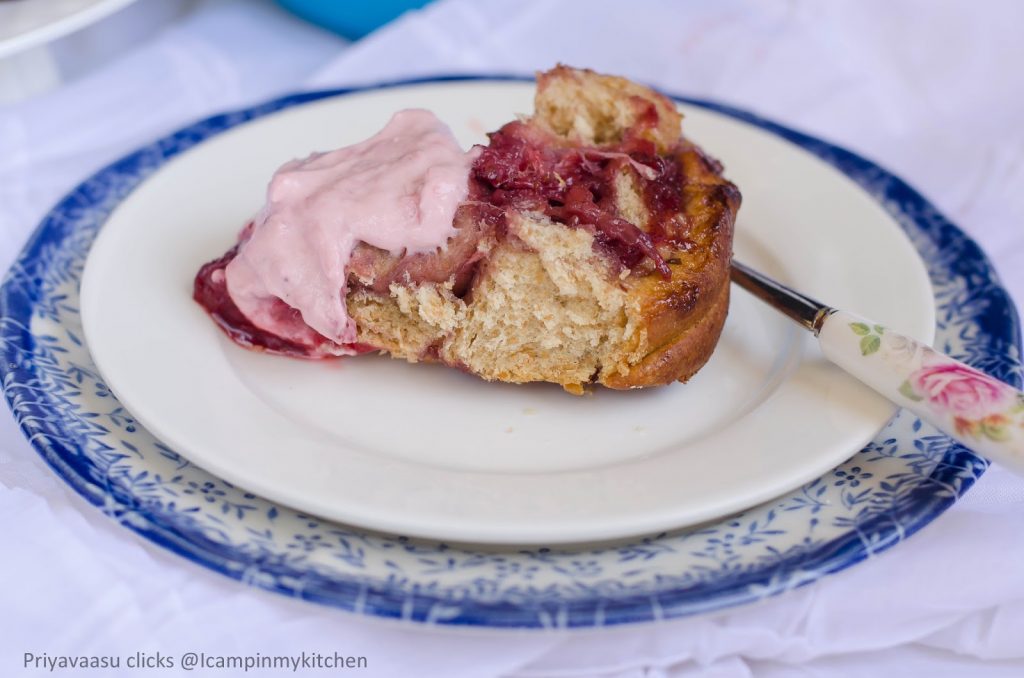 Repeat the same with other portion of the dough. I got about 9 1-inch roundels. I was left with ¼ cup of strawberry filling, which we mopped clear for breakfast next day.

Let the rolls sit for 30 minutes. Preheat the oven to 180c. Bake them for 30 minutes. Once done remove the pans from the oven, let it sit for 5 minutes in the pan, then remove them onto a wire-rack.

Let it cool completely.

I whipped ½ cup cream cheese with 2 teaspoon of strawberry filling and smothered on top of the bundt. Slice and enjoy it warm and relish the sweetness of the berries.
#BundtBakers is a group of Bundt loving Bakers who get together once a month to bake Bundts with a common ingredient or theme. You can see all of our lovely Bundts by following our Pinterest Board. We take turns hosting each month and choosing the theme or ingredient.
Updated links for all of our past events and more information about BundtBakers can be found on ourhomepage.
You can see all our of lovely Bundts by following our Pinterest board. Updated links for all of our past events and more information about #BundtBakers, can be found on our home page. And don't forget to take a peek at what other talented bakers have baked this month: