Festive Time is always a busy time @ home and that too Navrathri,we expect Guests and Friends to come home for Pooja and We too go their places for the same. So, this weekend it was Going and Coming for us. Right now, i m literally holding my Eye-lids open to finish this post. For the last day of BM, under Navrathri theme, i m posting a Sweet Recipe. Sweet Semiya/Vermicelli, is a quick and easy to make Sweet for Neivedhiyams. You can make this in the side, while prepping for your Pooja!! that is how, i made it!!! 🙂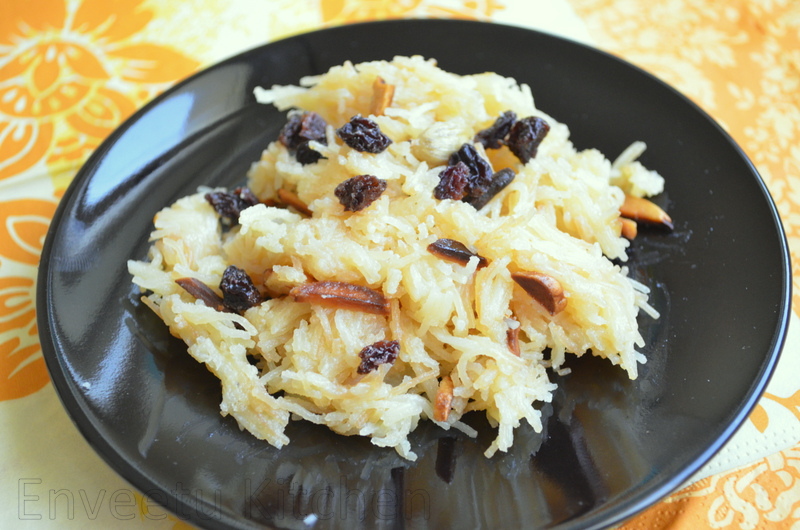 Ingredients
⅓ Cup Milk + 2 tablespoon Water
3 pods of Cardamom, Crushed
2 tablespoon Roasted Almonds for Garnishing
1 tablespoon Raisins for Garnishing
Method
In a Non-Stick Pan, add a teaspoon of Ghee and Roast the Vermicelli until it turns Golden Brown. Keep Stirring, do not burn the Vermicelli.

When it turns Golden Brown, Add Milk-Water and Give a Good Stir. Let it Boil. Add the Crushed Cardamom.
When the Vermicelli is almost Cooked (takes about 6-8 minutes). Add Sugar and Stir Well.

By this time, it would have absorbed most of the milk. Add Ghee little by little and Mix.
When Milk is completely absorbed, Give it a good stir and take it off the heat, Garnish with Almonds and Raisins and Serve Warm.
Amount of Milk Might Vary a little according to the variety of vermicelli being used.