We Knead to Bake#4, a Group of Baker's with an aim to learn ,to bake 12 different Breads, lead of
Aparna of My Diverse Kitchen.
 For the Month of April, we baked Cookies!!! yup, but it was not an ordinary cookie, they are Sugar Crusted Yeast Cookies with a Twist!!! 🙂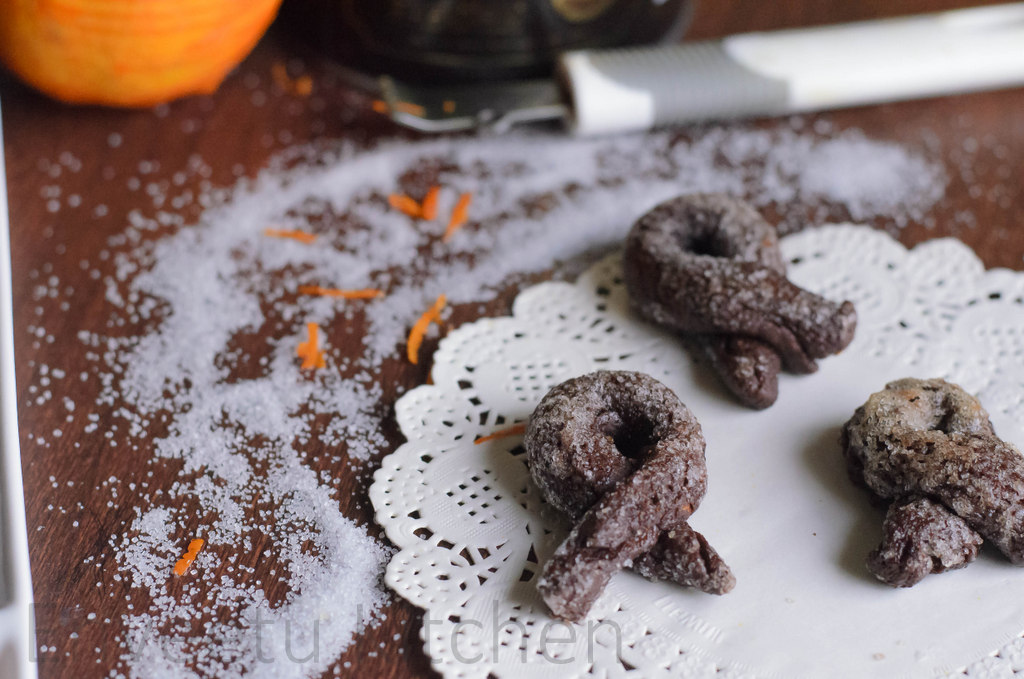 Torcetti/ Torcettini are believed to have descended from Grissini (breadsticks) which were made from the leftover scraps of bread dough. According to one story, a Grissini baker had some leftover butter which he needed to use up. Inspiration struck and he decided to add the butter to the last batch of his Grissini dough for the day. To be able to differentiate this lot of "breadsticks" from his Grissini, he rolled them in sugar and shaped them into loops, and the Torcetti was born. Torcetti/ Torchettini are usually flavoured with lime/ lemon zest or anise.
Belive me, the zest gives a real kick. I made both Plain and Chocoalte and the plain cookies, vanished just like that, i couldn't even save some for the clicks. The Lime Zest and the Sugar was amazingly flavorful, they just linger in your mouth long after the cookies.  Though Chocolate Flavor with Orange zest was also good, but i prefered Plain with Lime Zest!!!
Ingredients
1 teaspoon active dry yeast (or 1-¼ teaspoon active dry yeast)
1 ¼ cups + 2  tbsp  All-purpose flour
2- ½ tbsp/40gms unsalted butter, cold and cut into small pieces
about ⅓ cup granulated sugar for rolling the cookies
Method
Take the Flour, cocoa Powder, Sugar, Instant yeast in a Large Bowl and whisk to mix. 

Add the butter pieces and mix until the butter is well blended and the flour-butter mixture looks powdery.

Add the water and knead till it all comes together as a ball. Do not over process or knead. 
Place the ball of dough in a oiled bowl, turning it so it is well coated with the oil. Cover the bowl, and let the dough rise quite a bit.

This dough does not really double in volume, but it should look "puffy" after about an hour or so. When you pinch off a bit from the top you can see the interior looking a bit like honeycomb. Press down the dough and deflate it, wrap it in cling warp and refrigerate it for at least one hour or up to 24 hours.
When ready to make the cookies, take the dough out and lightly roll it out into an approximately 6" square. If the dough feels sticky, scatter a little sugar on it. Using a pizza wheel cut the dough into four strips of equal width. Cut each strip into 6 equal pieces, by cutting across, making a total of 24 pieces. The measurements are not very critical in this part because this just makes it easier to have 24 equal sized bits of dough, as compared to pinching of bits of the dough.

Roll each piece into a pencil thick "rope" about 5" long. Sprinkle a little sugar on your work surface and roll the "rope" in it so the sugar crusts the dough uniformly. Form the "rope" into a loop crossing it over before the ends.
Place the Torcettini on parchment lined baking sheets, leaving 1 ½″ between them. Leave them for about 20 minutes or so till they rise/ puff up slightly. They will not "puff up" much, like bread, but the "puff" will be visible.
Bake them at 160C (325F) for about 25 minutes till they're a nice golden brown. Cool the cookies completely, on a rack. Store them in an air-tight container at room temperature. 
Some tips that might make a difference to your Torcettini 
As i have mentioned, you can make them Plain also.  If making plain, use 1.5 Cups of All Purpose Flour and omit the Cocoa Powder and the Sugar.

Once your Torcettini have been shaped, don't let them rise for longer than 20 minutes. If you do, your Torcettini will more bread-like on the inside due to the extra "rise".

To make sure the Torcettini dough does not rise for more than 20 minutes, it's a good idea to work on shaping the 2nd batch while the first batch is in the oven.

If you do not want to use parchment paper, you can grease you cookie sheets and place the shaped Torcettini dough on them directly. Just remember to take them off the sheets while they're still hot. You will need a spatula to the dislodge them, and do so carefully so they don't break. Once they're cool, the caramelised sugar on the Torcettini make them stick to cookie sheets and they become difficult to dislodge without breaking them, So better use Parchment paper.