A simple rasam and potato curry/Beans parupuusli is my comfort food on any day. Mainly it is very easy to make, secondly it has got so many flavors in it. We say simple rasam but the variety of spices that go into it ginger, garlic, pepper,cumin and mixture of lentils that go into the rasam powder, when this spiced soup is mixed with steaming hot rice with a dollop of ghee, it is an out of the world experience.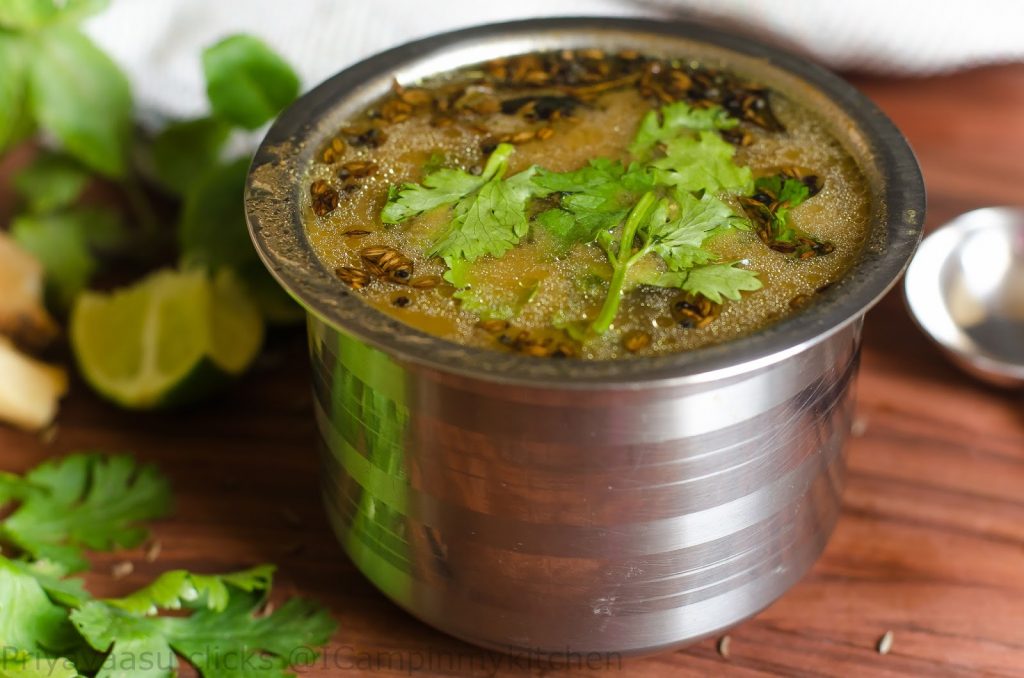 Try rasam when u have cold/flu, you would be blessing the person who made that elixir
 for you. My hubby always pairs it with narthangai urukai, when he has flu and he would be going on and on about it.
For today, i bring you a herbal rasam, Tulasi rasam/holy basil rasam.  Brings a great relief during aaah, ooh, ouchh days. Try it and let me know how you liked
it.
Ingredients
1 teaspoon Cumin seeds/Jeera
½ tablespoon tuvar dal/Pigeon pea
2 medium  ripened tomatoes, chopped
two fistful of fresh tulsi leaves/Holy basil leaves
fresh coriander for garnish
Seasoning
a pinch of hing and turmeric powder
a dash of freshly pounded black pepper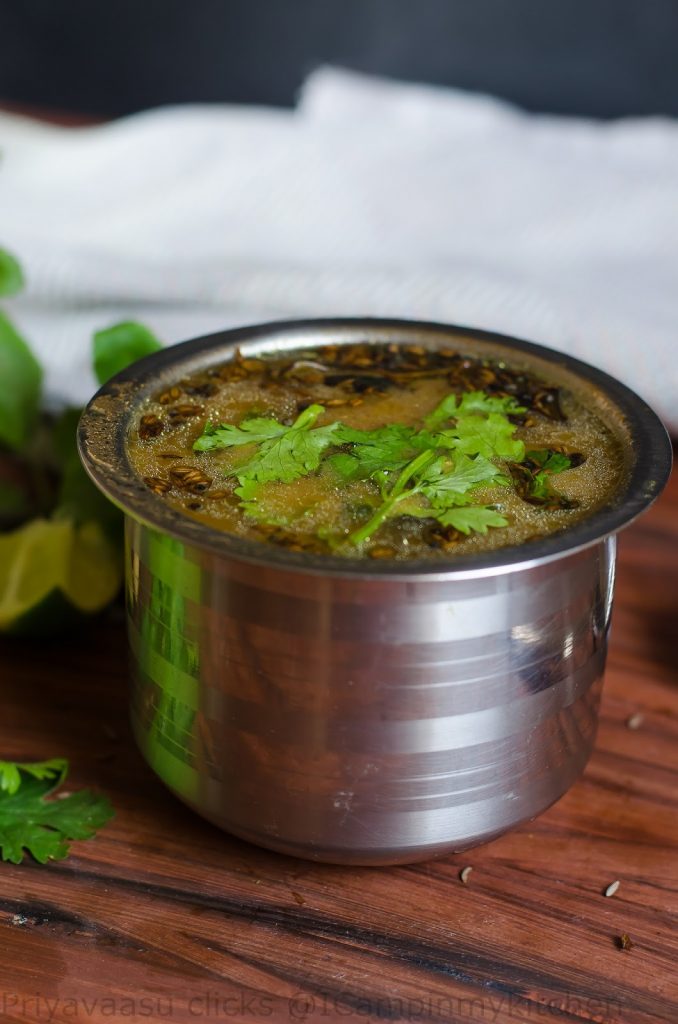 Method
Soak jeera/cumin seeds and tuvar dal together for 30 minutes.  In a mixer/blender jar, take chopped tomatoes, soaked jeera and dal along with the water, ginger, curry leaves, tulsi leaves, green chili together. Blend smooth by adding ½ a cup of water.

Take the blended mixture in a saucepan, add rasam powder, salt and another cup of water. Let this cook on a medium flame. Let it boil rapidly for 5-8 minutes for the rawness of the rasam powder to escape.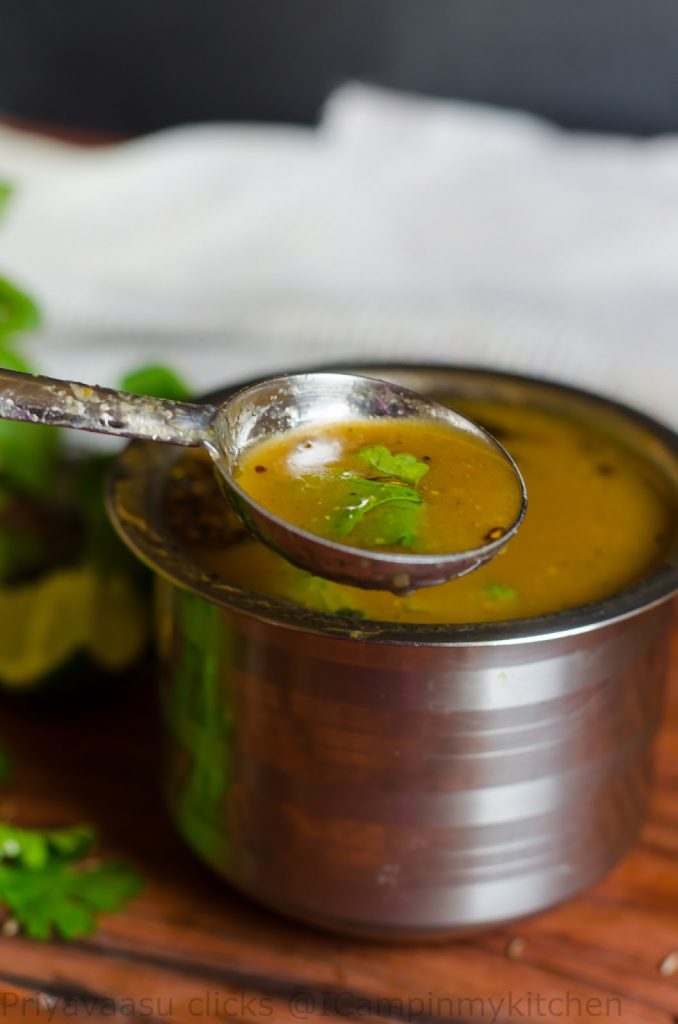 Check the consistency of the rasam, if it is too thick add another ½ cup of water, i added. Take it of the stove.

In a small tadka pan, heat ghee/oil, splutter mustard seeds, crackle cumin, add hing and a dash of freshly pounded pepper powder.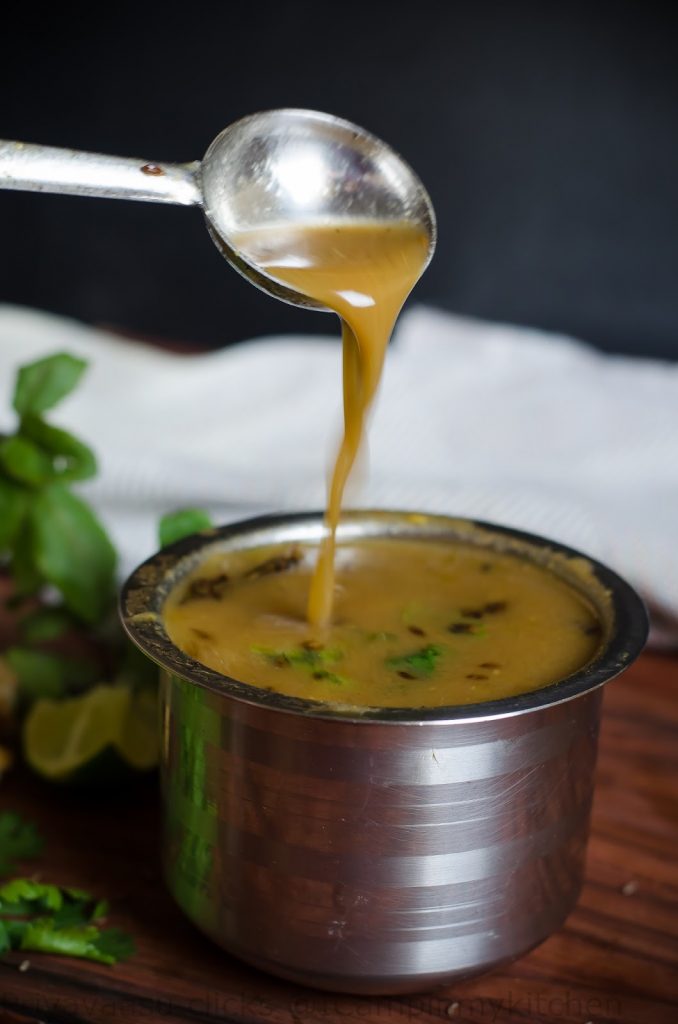 Pour this sizzling tadka over the hot rasam, add lemon juice, garnish with coriander leaves and serve it with hot steaming rice.