Whenever we go to Carrefour for our Monthly Grocery Shopping, Kuttu would grab himself a box of Chewy Chocolate Chip Cookies from the bakery there. Though i bake cookies @ home, i have never tried these @ home. For this month's Baking Partner's Challenge, we got three Cookies Recipe. 
Ultimate Chocolate Cream Cheese Cookies from Tina of 
Pinay's Cooking Corner, Cornflakes Cookies by Priya of Priya's Versatile Recipes and Home-made Oreo Cookies by Reeni of Cinnamon spice and Everything nice.
I immedidately decided to make my Kuttu's fav. Chewy Chocolate Cream cheese cookies. Oh my, they tasted awesome, Kuttu loved them. I baked Cornflakes Cookies too, which i will be posting in another 2 days. 
Ingredients
1 Cup + 2 tablespoon All Purpose Flour
2 tablespoon Unsweetened cocoa Powder
1 Stick (100gms), Unsalted Butter, @ Room Temperature
50gms Cream Cheese, @ Room Temperature
½ Cup granulated White Sugar
1 tablespoon Flaxseed Meal + ¼ Cup Warm Water
½ teaspoon Pure Vanilla Extract
40gms Bittersweet Chocolate, Melted and cooled
 Peanut Butter Choco Chips and Dark Chocolate Chips, 50gms each (or)
100gms Semi-Sweet Chocolate Chips
Preheat Oven 190C. Line Baking Trays with Parchment Paper.

Mix Flaxseed meal with¼ Cup Warm Water and set aside.

In a Medium Bowl, Sift together Flour, cocoa, Baking Soda and Salt.

Using a Hand-held mixer, Beat  Butter, Cream Cheese, both the sugars together until fluffy.

Scrap down the sides of the bowl, add Flax-seed Meal Water, heavy cream, vanilla  and blend.

Now At low Speed, add the dry ingredients and combine. Add Melted Chocolate and chocolate chips and beat just until incorporated.. Cover Dough and refrigerated at-least 15 minutes or upto 2 hours.

Scoop heaping tablespoons of cookie dough onto prepared baking sheets, leaving about 2 inches space 

in-between. Oil the spoon used for scooping the dough, makes the work pretty much easy.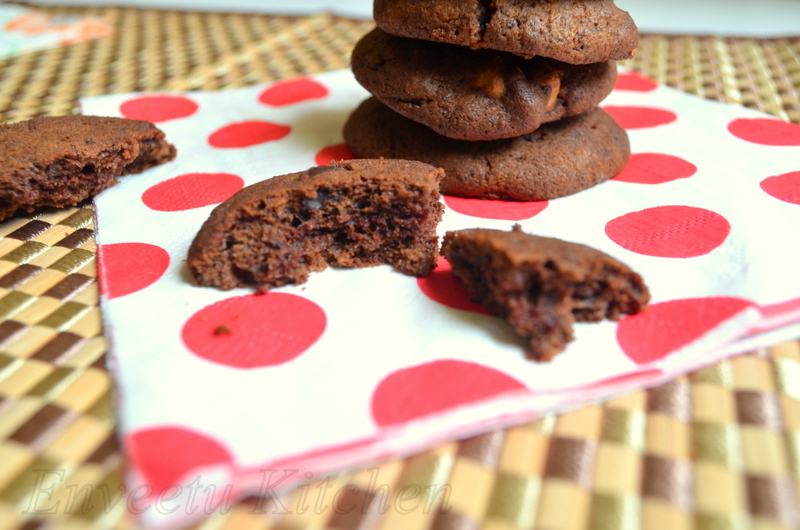 Bake for about 12-15 minutes, unitl the cookies are just set. Let the Cookies Cool on the baking sheet for 5 minutes, then transfer them to a rack to cool completely.

The Cookies are Crispy on the Outside and Chewy in the middle. So Take care not to over-bake them.
Notes