For the final day of the Dessert week, i was planning to do a Kozhukattai, then changed my mind to lassi and finally landed in laddu. Though kozhukattai/South-Indian steamed dumpling, is listed as part of Wiki Dessert list, i couldn't consider it as one, though it is made for Chathurthi as a traditional offering, but then as a dessert after a meal, nahh, it is like side to be had along with a meal, isn't?? Now don't start me with lassi, we have it to wash down the heavy meal we had for lunch!! 🙂
Finally, laddu, why? I have a love for laddu's, first they are pretty easy to make. Roast, mix and make!! Secondly, if you are calorie conscious or a Vegan, it is pretty easy to change a traditional laddu recipe to vegan. And not to forget, they are small, bite-sized and so portion-controlled. Contrary to the belief that all Indian sweets are calorie-laden, these ladoo's made with jaggery, nuts and some ghee are real healthy.
I already have 20 gorgeous laddu recipe's in my blog, now this urad dal laddu is another ball to that laddu galore!
Jokes apart, urad dal/Mungo beans is not only an healthy legume,
it is only one of a handful of seeds to contain Essential Fatty Acids or EFA, which the human body cannot produce even though they're an essential nutrient for it, especially for the human brain. Traditionally a kali/pudding made using urad dal flour and jaggery is given to girls who attend puberty, they say it strengthens the back muscles during that time. So, apart from the usual idly-dosa, these urad dal can also be made into a delicious dessert or a snack to munch on.
I have added a little coconut and some nuts while making the laddu's to pack little more nutrients. Both my kiddo's loved the laddu's, the lil one even had a second serving. Try making them, not only for they are healthy, also delicious.
Ingredients (Makes about 20 laddus)
½ cup powdered jaggery/Gud ke Shakkar
2 tablespoon of dessicated coconut.
¼ cup ghee +1 tablespoon for roasting the flour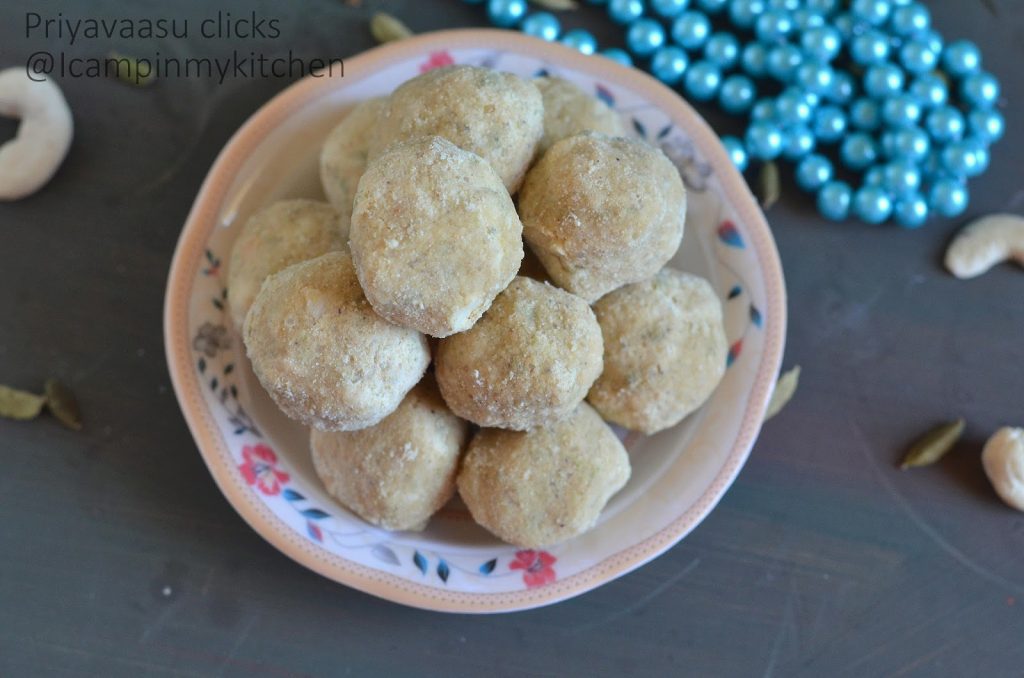 Method
In a wide pan, add a tablespoon of ghee and add the urad dal flour and roast it in a medium flame, until you get a nice aroma and a mild golden hue colored flour. Keep the flame low and roast, we don't want the flour to get burned. Raw flour might spoil the taste the of the laddu and so is the burned flour. So, stand by the side while roasting and keep an eye on the flame. Before taking the flour off the stove, add the desiccated coconut and saute for a second and remove.

Once done, transfer the flour to a wide plate. Now melt the remaining ghee and fry the chopped cashew-nuts in it , drain and keep aside until use.

Now in a small mixer or coffee grinder, take pistachios and cardamom pods together and give it a grind. Add this mixture to the urad dal flour. Add jaggery and roasted nuts to this flour mix and mix well with your hand.

Now to this flour-jaggery mix add ghee little by little and make small ping-pong sized balls of laddu.
You get approximately 20 laddu's from this measurement. once done, store them in an air-tight container, they stay good on the kitchen counter. If storing for more than a week, i would advise the fridge.