For people here in UAE, the best climate for us to venture out is from November-March. The climate is too good to miss. You can see almost all parks brimming with people, kids and adults playing, barbeques, and lot of activities.So,this is the time we too plan outing with our friends to some open parks or areas where children can run and play.
Though we prefer to eat out while returning from such trips, but us
ually by the time we get to a restaurant, most of our kids would be asleep bcoz of all that running and playing and not in a mood to eat. So i always pack some filling snack so even if they miss dinner it won't be bothering. Cakes and muffins always come handy while planning such eatables. I usually carry either a chocolate cake or a banana bread.
Ever since i saw rafeeda's post on cookie butter, i was on a hunt to get it. I couldnt find it in my local grocery stores, last week when we went for our monthly groceries to carrefour, i found them and immediately bought 2 small bottles.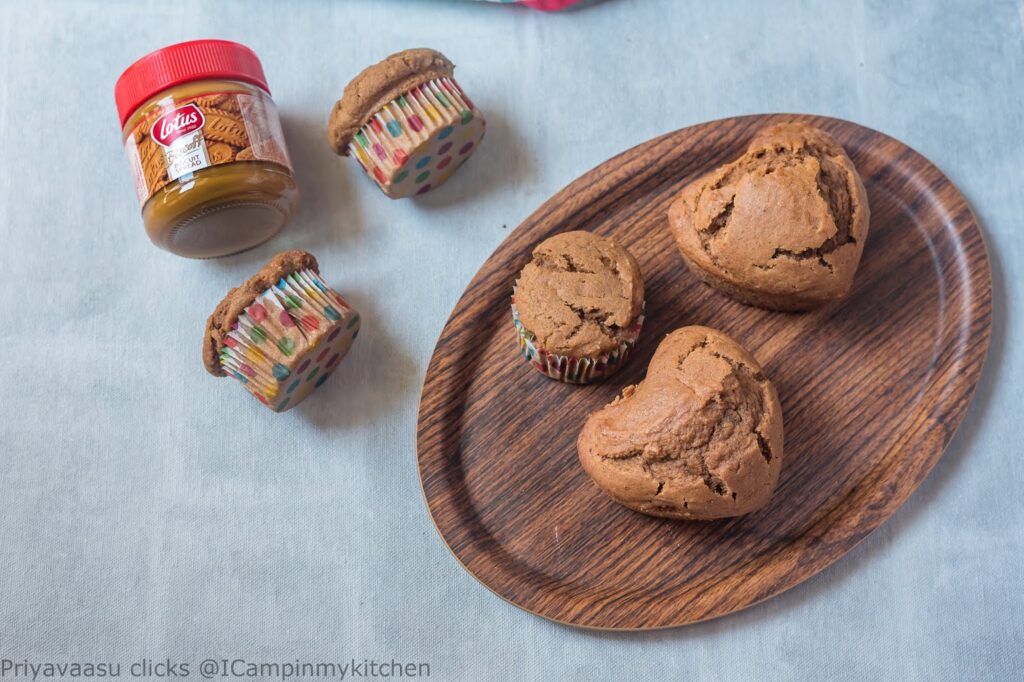 The same day, i made some sandwiches with it and kids loved the taste. But the original purpose was to use them in bakes. So, here is my vegan banana muffins inspired by rafeeda. I have used my usual banana muffins recipe and replaced the oil/fat with cookie butter.
The spread is already sweet, and since i m also using banana in the recipe, i have reduced the sugar to ½ cup. We don't prefer sweeeet bakes. Incase you have a sweeeet tooth, do increase the sugar to ¾ cup. The texture of the bake is amazing, soft and fluffy, enjoy it warm, i bet you would love the taste.
Ingredients
1.5 cups of whole wheat flour ( i used aashirwadh brand)
1 large ripened banana (weighed 206 grams)
½ teaspoon baking soda
½ teaspoon cinnamon powder
1 teaspoon vanilla extract
6 tablespoon biscoff cookie butter
Preheat the oven to 170C, Lay a 12 hole muffin pan with liners. I used my 6-hole pan and 3 big ramekins to make around 8 muffins. The

In a wide bowl, add chopped bananas, cookie butter, sugar, vanilla extract, cinnamon powder and water. Using a stick blender blend the contents together. If you dont have a stick blender, then first mash the banana with a fork,add the rest of the ingredients mentioned, then whisk it well.

To the same bowl, add flour, baking powder and baking soda. Using a whisk, whisk the contents on top and then using a spatuala fold in together. Do not mix vigorously, be gentle and mix in one direction.

Spoon the batter into the muffin pan, fill ¾ of each hole. Bake in the preheated oven for about 35-40 minutes or until done. If baking in a bigger ramekin it might take another 5-8 minutes extra. My heart shaped ramekin took another 8 minutes to get done.

Remove the muffins from the oven, let it

sit in the pan for 2-3 minutes, then remove them on to a wire rack. Serve them warm as snack. Cold muffins can be reheated for 10-15 seconds, i usually prefer them warm.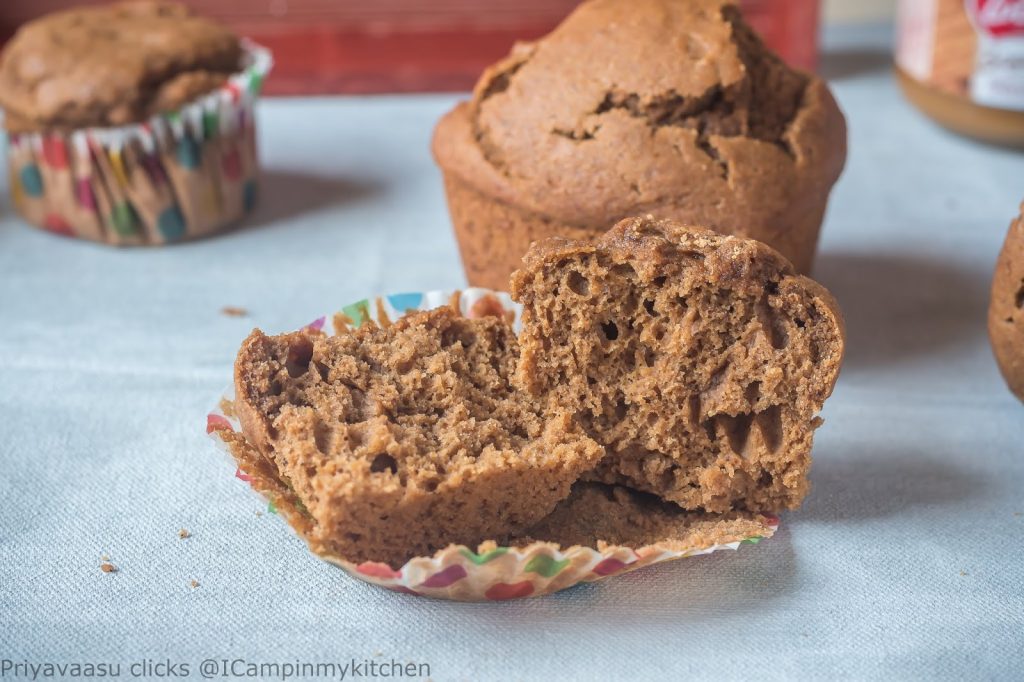 While packing for trips, i bake them the previous night or the morning and pack them in airtight containers.