For the past ¾ days, my kiddo is seeing me making cakes in various shapes and sizes. Today, Morning while getting him ready for the school, he asked me whether i am going to make his favourite Chocolate Cake today. I promised to bake him one, when he is back from school. I made 2 Small Cakes and 2 Muffins. When i went to pick him up after school from the bus stop, he asked whether his cake is ready. The moment he entered the home, removed his shoes, went straight ahead to the Kitchen and Whooooshhhhh!!!! Muffins Vanished!!!! With great effort, Saved the other two cakes!!!
This recipe is from CCN's One Minute Microwave Vegan Black Forest Cup Cakes. Madhuri has actually made this cake using Microwave. I too have tried this cake 2 or 3 times in the microwave. It has come out in a jiffy and perfect for a Weekend Morning Breakfast!!!! This time, for the marathon, i have tried baking it. Yeah, i have already got the results and have passed out with flying colors!!!!!!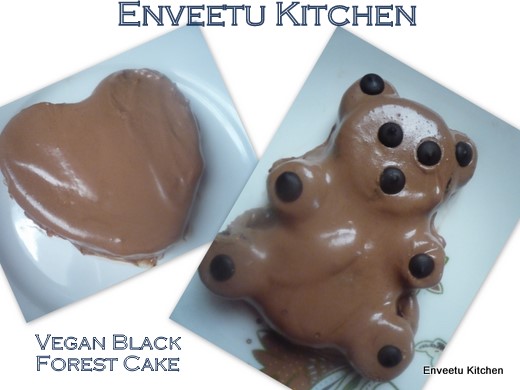 Ingredients
¾ Cup All purpose flour/Maida
¼ Cup Cocoa
¾ Cup Brown Sugar (i used ½ Brown sugar and ¼ Cup Normal Sugar)
½ teaspoon Baking powder
¼ teaspoon Baking Soda
Salt a pinch
2 teaspoon of Flax seed powder in ½ cup warm water
¼ Cup Warm Water
¼ Cup Oil
1 teaspoon Vanilla essence


For the Frosting
½ cup Cold Milk (little less, would do good)
1 packet of Foster clark's Dream Whip
1 tablespoon Cocoa
1 teaspoon Vanilla essence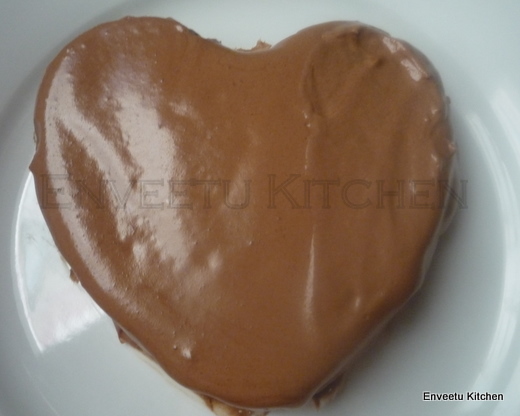 Method
Preheat the oven to 180C. Mix Flax seed with ½ cup of Warm Water and set it aside. Sift together flour,Cocoa, Baking powder, Baking Soda and salt together in a bowl. Add sugar to this and stir well. Stir in the warm water, oil, vanilla essence and the flaxseed powder-warm water mixture. Mix well. The batter must have a dropping consistency now.
I have used 2 Silicon moulds, a heart-shaped mould and a Teddy-bear mould. You can use a 8"inch round pan. Whatever you use, grease the pan/mould. Pour the batter into the pan. Bake it @ 180 C for 15 minutes. Reduce the temperature to 160C and bake it for another 15 minutes. Baking Temperature differ from Oven to Oven. Please do the Skewer test to check the done-ness of the cake. Let the Cake Cool a bit, take it off the mould and place it on a plate/Cake stand. Let it cool completely.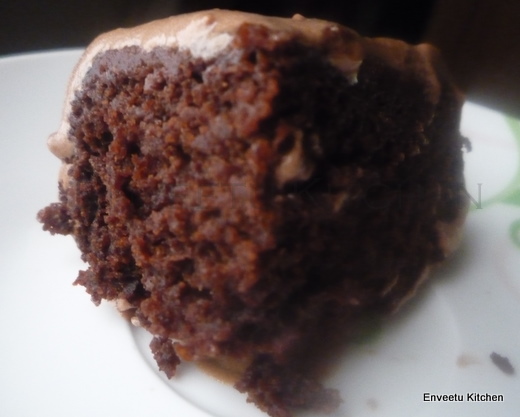 For the Frosting
I have used Foster Clarks Dream Whipp to get the frosting. But, unfortunately i added extra milk i believe, i used my normal tumbler to measure the milk 🙁 so the cream didnt acutally peak-up!!! Thank God, It was a bit thick.
Cool the cake well, Pour a tsp of orange juice on the top of the cake, then pour the whipped cream and spread it well with a spatuala. Cool the cake for an hour or two, before digging it!!!!!
Check out my Blogging Marathoners doing Group 3 BM#4 along with me
Diabetes Diet/Management: Kamalika, Smitha, Suma
Kid Friendly Recipes: Anusha, Cool Lassi(e)
Seven Days of Soup: Priya Suresh
Seven Days of Indian Bread: Jayasree, Pavani
Seven Days of Cakes: Me
Seven Days of Preserves: Gayathri Kumar, Vaishali
30 Minutes Meals: Priya Mahadevan, Srivalli