Today's post is a chocolate cake, which i baked for a trial run before deciding to bake my son's birthday cake. I wanted to test my confidence and my skill level before accepting the gruelling task fo baking 3 cakes and presenting it perfect for the party.
So, kindly bear with a loft sided cake in the pic. I was able to get a perfect only recently(read 2 days back). Other than that, the cake was perfect in every way. The ganache with coconut milk was smooth like silk. Loved it totally.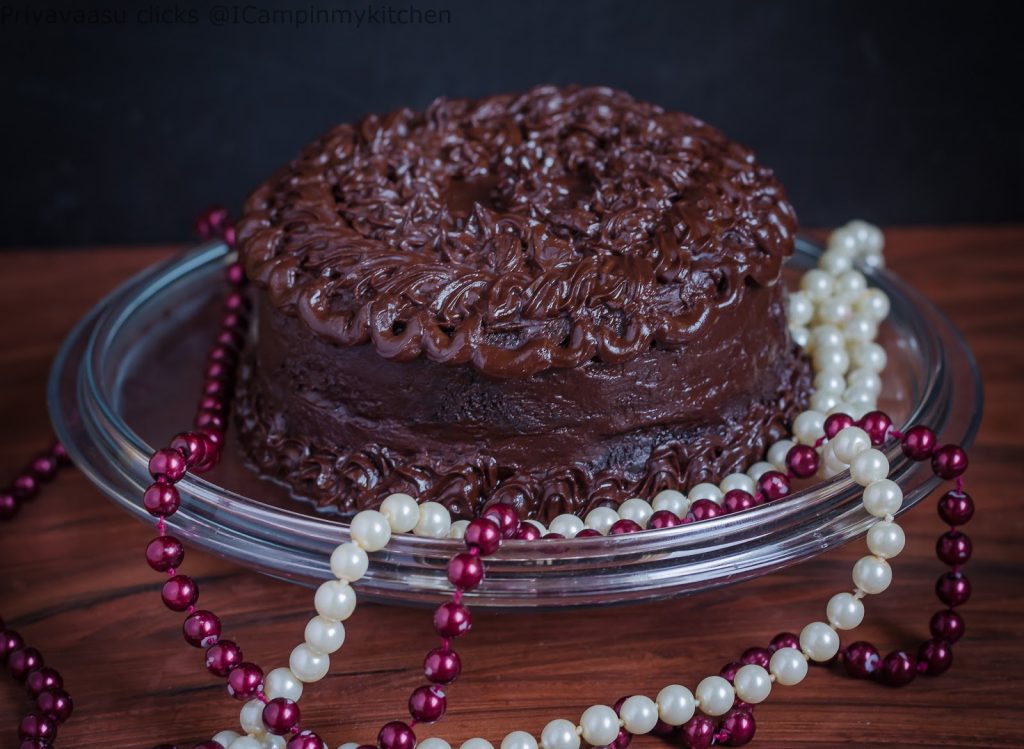 Ingredients
Dry
Wet
¾ cup coconut milk ( ½ cup thick coconut milk, mixed with ¼ cup water)
3 tablespoon chocolate chips/bar broken into bite-sized pieces
½ teaspoon apple cider vinegar
¾ teaspoon vanilla extract
Glaze
¼ teaspoon vanilla extract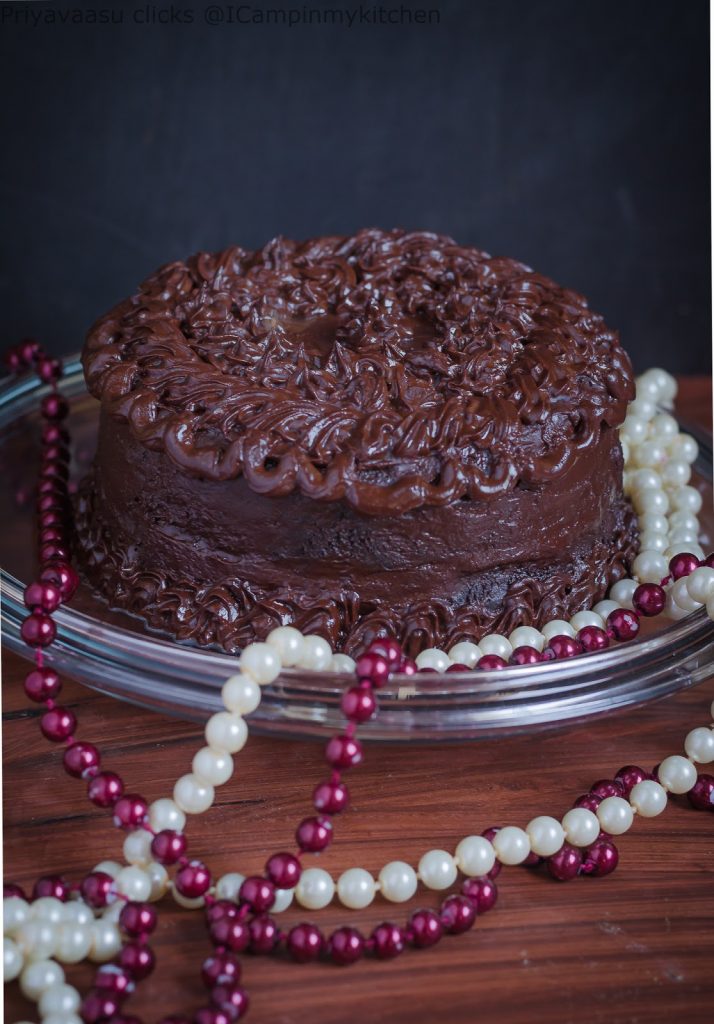 Method
Cake
Preheat the oven to 170C. In a bowl, take all the dry ingredients and whisk well to combine.

In another bowl, heat coconut milk and chocolate until just about hot. I microwaved it for a minute. Whisk until chocolate is melted. Add in the rest of the wet ingredients and mix in until smooth.

Add the dry to the wet and mix to make a smooth batter. Transfer batter to greased or parchment lined 6 inch cake pan(17cms).

Bake at 170C F for 35-40 minutes. or until toothpick from the center comes out clean.

Let the cakes cool for 10 minutes then remove from the pan and cool on the rack completely before adding a glaze or ganache.
Ganache
Heat the non dairy milk + sugar in a pan over medium heat, until just about hot. Mix well. Add in the chocolate, mix once and take the pan off heat. Keep mixing until the chocolate is melted and smooth. Add in the vanilla Mix until smooth. Chill in the refrigerator for 20 to 30 minutes to thicken to desired consistency.
For frosting the cake
Slice the cake into two halves. Drizzle some sugar syrup on one half, Spread ganache and place the other half on top. Pour some ganache on top of the cake and using a offset spatula or a butter knife, spread it around the edges. I used a butter knife to smooth the sides.

Refrigerate the ganache for 30 minutes to thicken it. I took the remaining ganache in a piping bag and piped some designs on top.

It is totally optional, you can simple pour the ganache over to get a drip effect on the cake. since i was practicing to get my son's birthday cake perfect, i tried everything possible on this one. Let the cake sit for 30 minutes for the flavors to infuse. Slice and enjoy.