On Day 2 of orange Muffins week, i present you a chocolate version of orange muffins. Orange and chocolate are always a winning combination. I have a orange and chocolate yeast cookie Torcettini di saint vincent, a chocolate orange cake, already on the blog and i can swear on their taste.
Did i tell you why this is a muffin, not a cupcake. Well technically Muffins are very easy to make take dry, take wet, add wet to dry, mix and bake. Muffins have a coarser crumb. Whereas, cupcakes are done by first creaming butter with sugar for that delicious soft and fluffiness of a cake in a small cup, with a finer crumbs than muffins.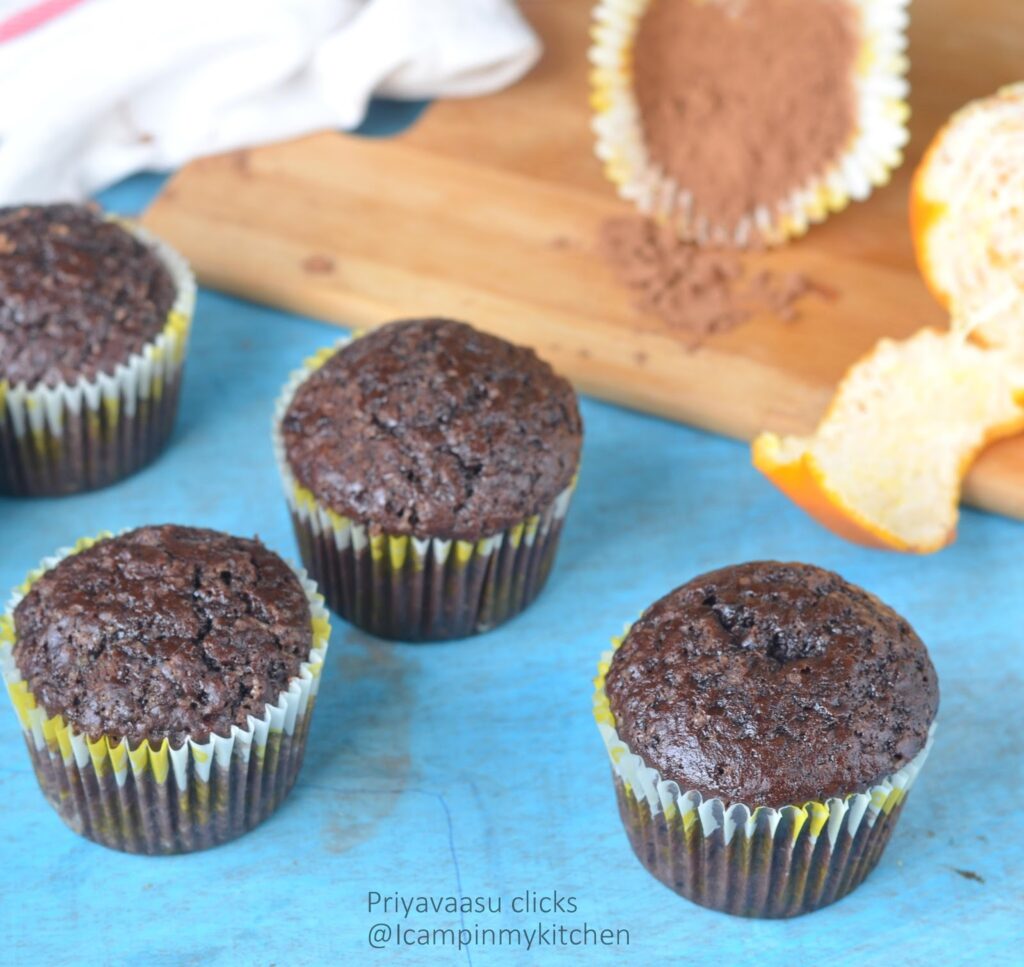 Ok, enough of the technical stuff, lets get to the recipe. Yesterday's Vegan Mixed berries Muffins, used flaxseed as the egg replacement, today i m using Vinegar. I prefer using apple cider vinegar to the white, as i feel the later has a strong smell of it in the bake. If you are comfortable using white vinegar, go ahead and use it. The Muffins came out good, we felt the flavors came out well the next day. Try it to believe!!! 🙂
1.5 cups All purpose flour
6 tablespoon Cocoa powder
½ cup orange juice, freshly squeezed
1 tablespoon apple cidar vinegar/white vinegar
1.5 teaspoon vanilla extract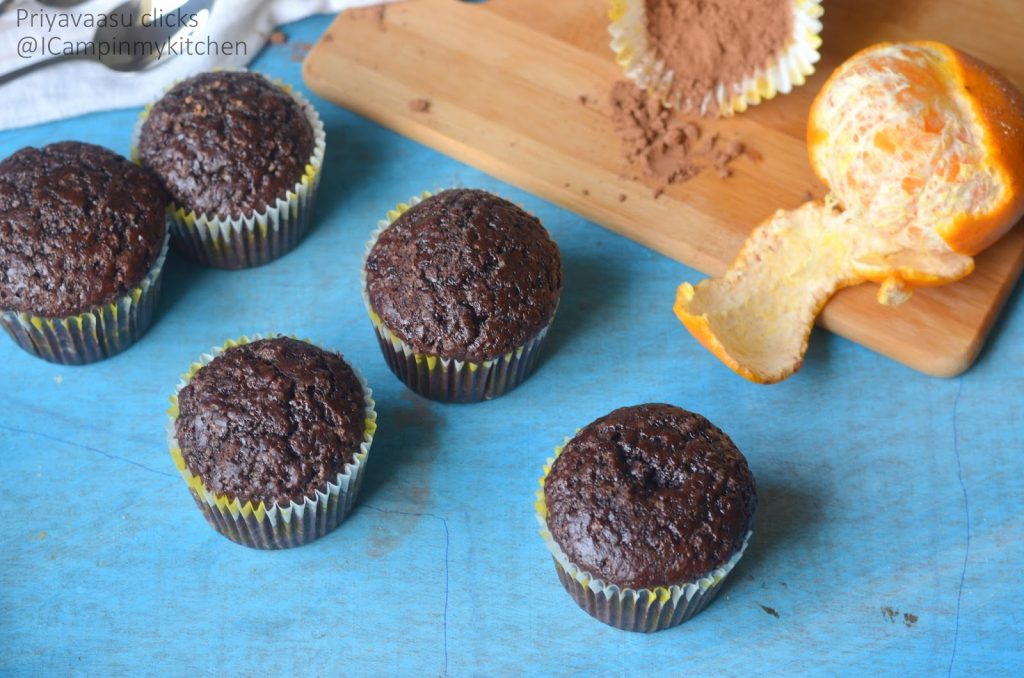 Preheat the oven to 180C. Line a 12-cup muffin pan with cupcake liners.

Take flour, cocoa powder, baking soda, salt and sugar in a bowl. Whisk well to combine. In another bowl take orange juice, zest, water, oil, vinegar and vanilla extract. Mix well.

Add liquid ingredients to the flour mix. Mix using a spatula to combine. spoon the batter into the cupcake pan, fill up to ⅔rd of the cup.
Bake in the pre-heated oven for 20-22 minutes or until a skewer inserted in the centre comes out clean.

Remove from the oven on to a wire rack, let it cool,come down to comfortably warm temperature and serve.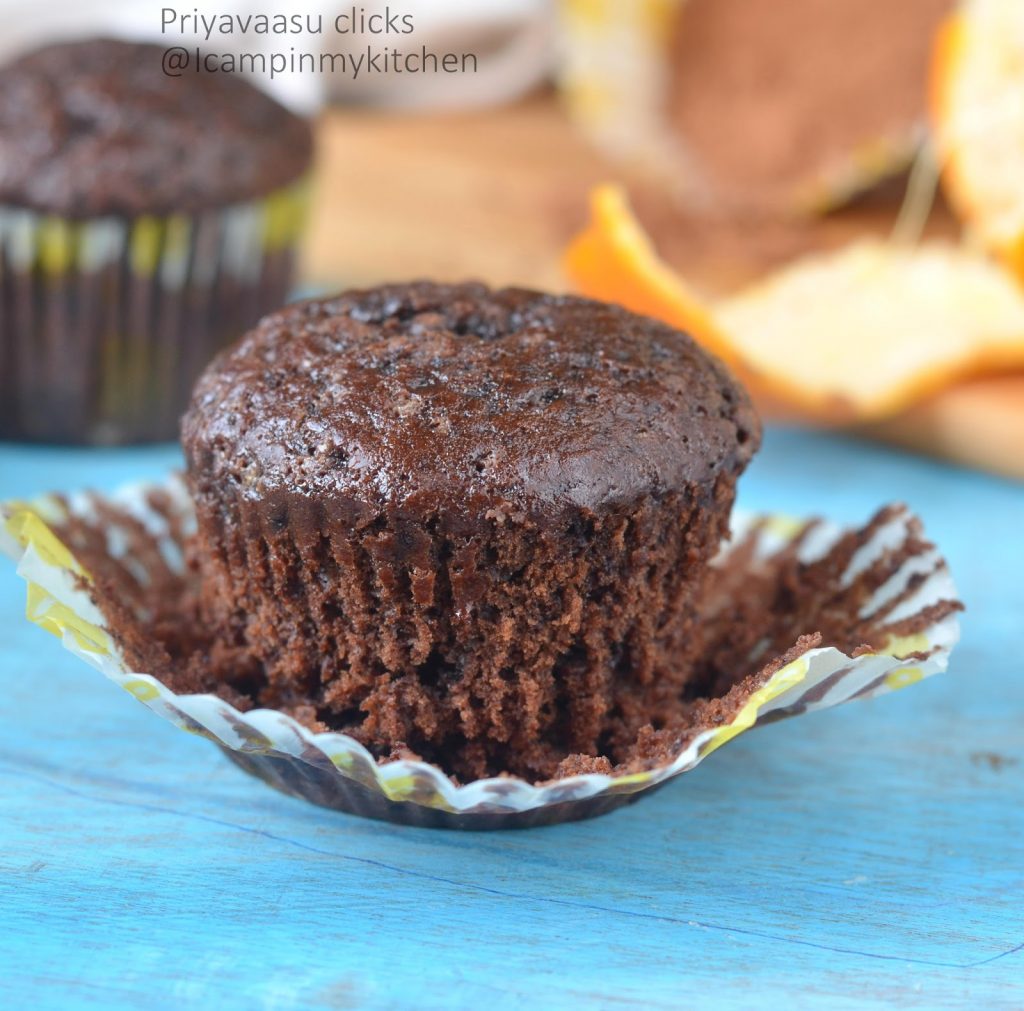 The cupcakes stay good on the counter for 2 days, they taste better the next day. If storing for more than 2 days, refrigerate it and while serving warm it for 10 seconds in a microwave and serve.