We are in the last week of our Mega Marathon Fire Up Your Oven. Can't believe we have posted month-long bakes. If you are following this marathon, then you might be aware that i had a sub-theme every week. This week i will be posting orange muffins. Oh yes, for all days, you might be thinking i have gone mad? No, god's grace i m still sane. wonder how many different recipes are there to get a delicious orange muffin.
Yes i will be giving you 4-different recipes this week.
In that order, today i give you a mixed berries vegan orange muffins. The recipe is from Madhuram's Eggless baking. The recipe uses Flaxseed meal as Egg-replacement and gives 12 regular muffins. I used my 6-cup muffin pan and my small bundt pan for this recipe. I filled up more than the required amount of batter in each cup, so my muffins had a dome and looked like a mushroom. But, neverthless the taste was very good, with the orange zest and the mixed berries in every bite, it was a tasty riot in the mouth,
Ingredients (Makes 12 Muffins)
1 cup whole wheat flour (i used qfm brand)
¾ cup sugar (brown sugar can be used, i used raw sugar)
1 cup chopped walnuts/pecans
⅔ cup orange juice (freshly squeezed)
2 teaspoon flaxseed powder
Method
Preheat the oven to 190C for 10 minutes. Grease or line a muffin pan.

In a large bowl, take together both the flours, sugar, baking powder and walnuts. Whisk well to combine.

Mix together flaxsee powder and water, whisk well until frothy.

In a measuring jug (i used my 2-cup measure), take orange juice, top it with water to reach 1 cup, add the flaxseed mixture, orange zest and oil. Stir together.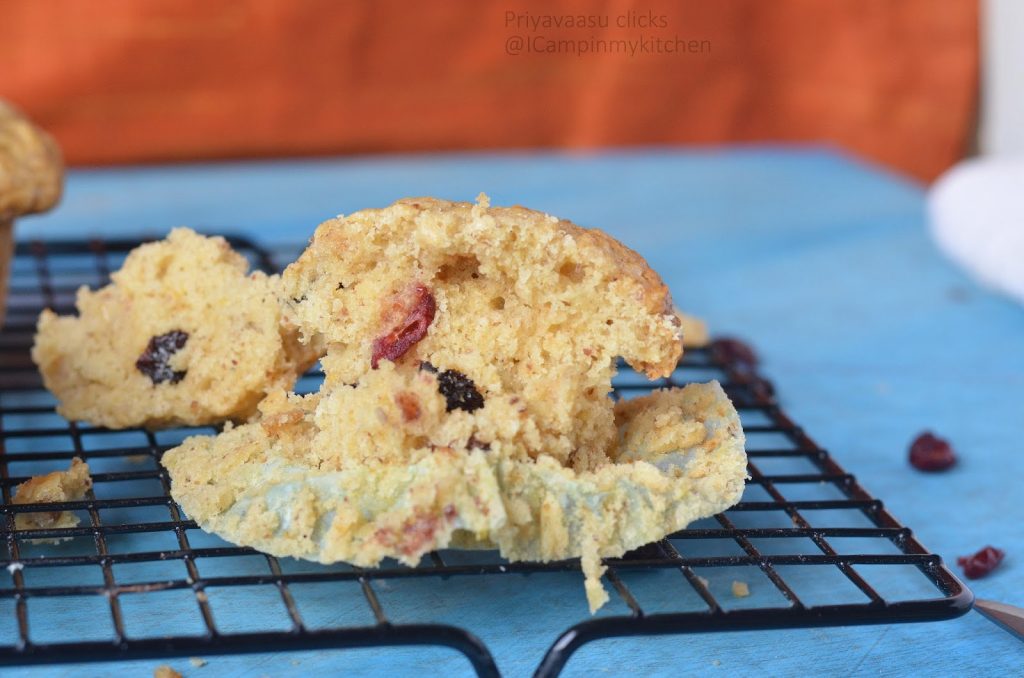 Pour this liquid into the dry ingredients, mix until well

moistened. Fold in the berries. Do not over-mix.

Use a spatula, mix in one direction, slowly.

Spoon the batter into the already prepared muffin tins. I used my 6-cup muffin tin and my small bundt pan for the above ingredients.

Bake for around 20 minutes or until a toothpick inserted in teh centre comes out clean.

Remove from the oven to a wire rack, let it cool completely .