This Recipe is one of the oldest recipes in my blog. When i posted it for the first time, i didn't take any picture of it, i just posted only the recipe. Made this again after a very long time for my DH Birthday. We had a Halwa-Cutting Ceremony, instead of the traditional cake-cutting!!! 🙂
I was planning to post it by last week But, Navrathri Celebrations and the Pooja, i really couldn't find time to sit and do a post. Lets move on to the recipe of Walnut Halwa, an Healthy Combination of Vegetable and Nuts.
Ingredients
2 Cups Walnut - (Soak in warm water and remove the skin)
2 cups Grated carrot
1 Cup Milk
11/2 Cup Sugar
½ Cup Ghee
5-8 pods Cardamom Crushed
Nuts For Garnishing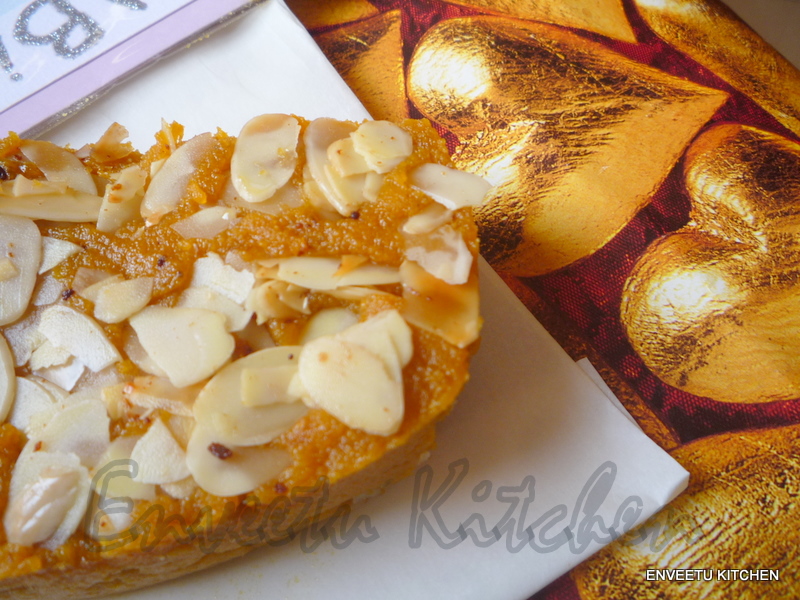 Method
Grind Walnuts and Carrot adding little milk.

Heat a heavy bottomed pan add walnut-carrot paste, the remaining milk, sugar and ghee. Keep the flame low and Stir occasionally.
When ghee start leaving the sides add cardamom and mix well. Take it off the flame and garnish with nuts.

I used two small Silicon Heart-Shape Moulds for shaping the halwa. Before pouring them to the mould, i scattered some roasted almond flakes in the mould and spread the halwa on top.
Sending this Healthy Dessert to