Another week of Blogging Marathon, this week is all about Naan's. A typical naan recipe involves mixing white flour with salt, a yeast culture, and enough yogurt to make a smooth, elastic dough.The dough is kneaded for a few minutes, then set aside to rise for a few hours. Once risen, the dough is divided into balls which are flattened and cooked. In Pakistani cuisine, naans are typically graced with fragrant essences, such as rose, khus with butter or ghee melted on them.
Raisins and spices can be added to the bread to add to the flavour. Naan can also be covered with, or serve as a wrap for, various toppings of meat, vegetables, and/or cheeses. Naan bya in Burma is sometimes served at breakfast with tea or coffee.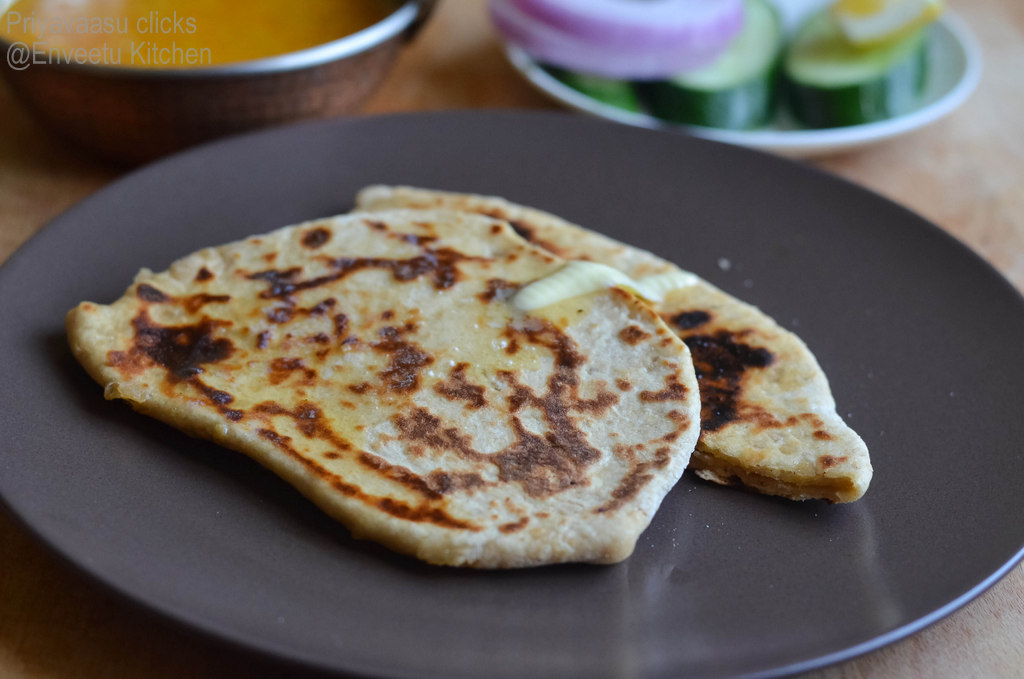 Today i m presenting a simple butter naan recipe, that is adapted to my taste preference. Instead of All purpose flour, i have used Whole wheat flour. The bread came out very soft, even after a day. We didn't feel that dryness and hardness that comes with the regular restaurant brought naan. Try it, you will definitely
feel the difference.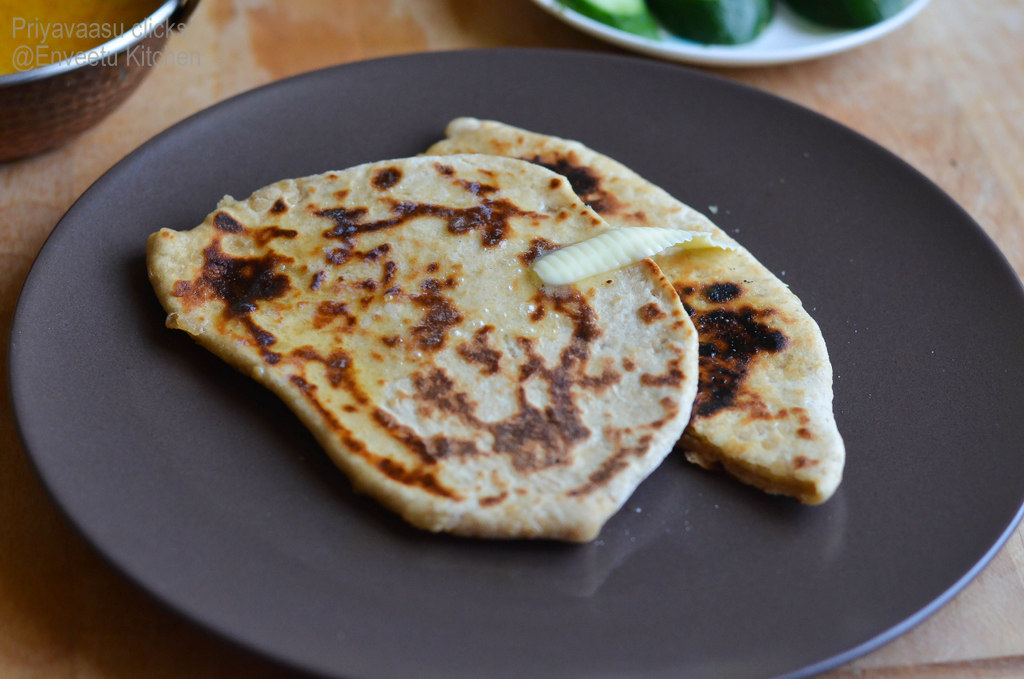 Ingredients
2 Cups of Whole Wheat Flour
1 teaspoon honey (you can use sugar also)
2 tablespoon Butter @ room temperature
½ Cup Water + ½ Cup Milk Mixed together
¼ cup butter extra, while rolling and brushing the naans.
Method
Mix Water and milk together and warm it a bit. I used reheated the mix in my Microwave for 20 seconds.

I used my foodprocessor to make the dough. It can be made by hands too.

Add Flour, instant yeast, honey, butter, salt, yogurt to the food processor bowl.

Pulse it twice to mix well. Then add the warm liquid and run it in full speed to make the dough.

Knead well until the dough comes together as one big ball. Take it out of the processor bowl. Let it rest in a well-oiled bowl in a warm place for about 40-50 minutes or until it doubles.

If making the dough by hand, just take all the dry ingredients in a big bowl, whisk well to mix.

Add warm liquid little by little and knead well by hands to make a dough. Knead well until the dough becomes soft. Then follow the rest of the procedure same.

After the required resting time, i.e after the dough doubles up, take the dough out on a well-floured surface.

Punch the extra air out, knead for a minute. Divide the dough into 6 equal pieces. Let it rest for another 10 minutes.
Dust the surface well, roll the dough into tear shape or whatever shape you are comfortable making.

Roll it into half the size, spoon 1 or 2 dabs of butter into the rolled dough, fold again and roll into oblong shape, roll it not too thick or thin. Roll out all the dough balls.

Heat a tava, i used my cast-iron tava, When it is hot enough, place a rolled naan, cover and cook for 2 minutes, until brown spots appear on the bread. Take care to keep the flame medium. Flip, cover and cook again for 2 minutes.

Take it out on a place,apply a blob of butter on top.

Serve Hot with a spicy curry.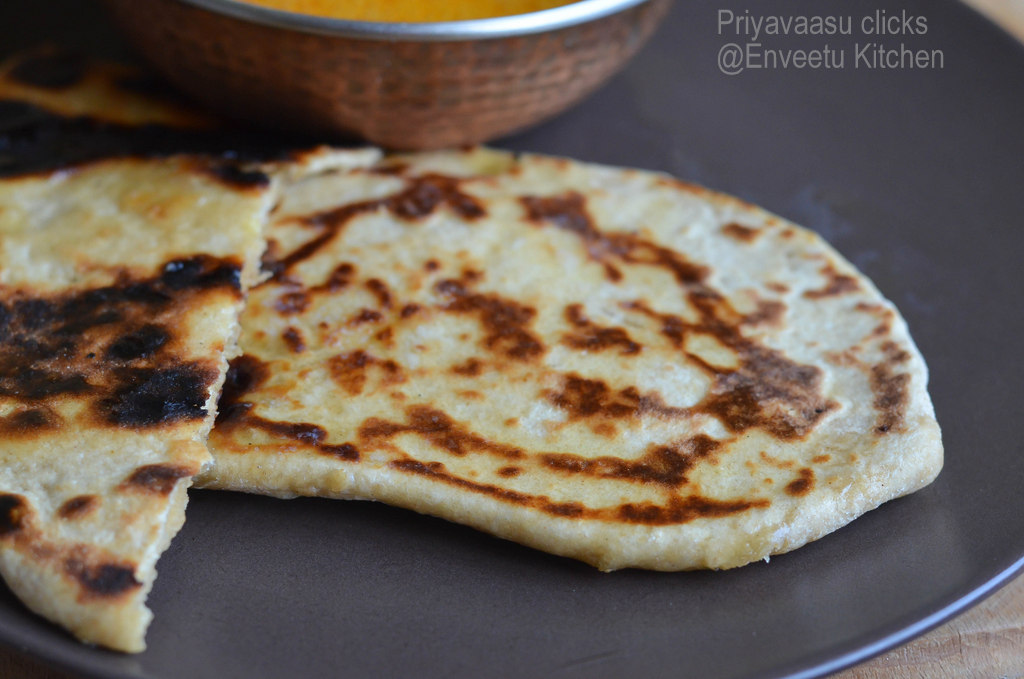 Important Notes
Cooked naans can be refrigerated in a ziploc cover and while serving the next day, cook it again on a hot tava with butter and serve.

Cooked naans can also be freezed for a long time. While serving, do not Thaw, cook it straight on a hot tava with butter and serve.

Naan Dough can also be refrigerated. I actually, refrigerated the rised dough overnight. Today i took it out 3 hours before making it again.