Next bake in the series is another yeast bread, but one that is hearty and healthy. With a big of pack of chia seeds in my pantry, i was looking for recipes where i can use them. Apart from using them in my fruit juice and smoothies, i wanted to bake with them. While browsing for oats bake recipes, i came across these Whole wheat flaxseed buns @ King Arthur flour website. Yeah, that website is like a warehouse of bakes, right, you want to bake every bread, i should every bake in that site.
First time, i tried these i used half chia and half flax and baked as burger buns. The second time, i used chia meal completely and baked it as a loaf. The loaf came out super soft and fluffy, for a whole wheat flour and the oats in it, i expected it to be a bit dense. But then, it came out very good and we relished with a lip-smacking Nutella, apple and walnut sandwich.
Ingredients
2 cups Bread Flour
½ cup old-fashioned rolled oats (not quick oats)
1 cup Whole Wheat Flour
2 ½ teaspoon instant yeast
½ cup Chia meal (chia seeds powdered)
1 ½ teaspoon salt

¼ cup canola oil or melted butter
Method
I used my food processor to make the dough, it can also be hand kneaded. Take the flours, oats and chia meal together in the processor bowl. Run i t in slow speed for the flours to mix well. Now add instant yeast, honey and salt to it.

Take the liquids orange juice, oil and water together in a measuring cup. Add yogurt to the flour mix and slowly add the liquid ingredients slowly to the flour mix and start kneading a soft and smooth dough. Since i kneaded using processor, i kneaded around 5-6 minutes in medium speed to get a soft dough. If kneading by hand, knead a little longer to get a soft dough.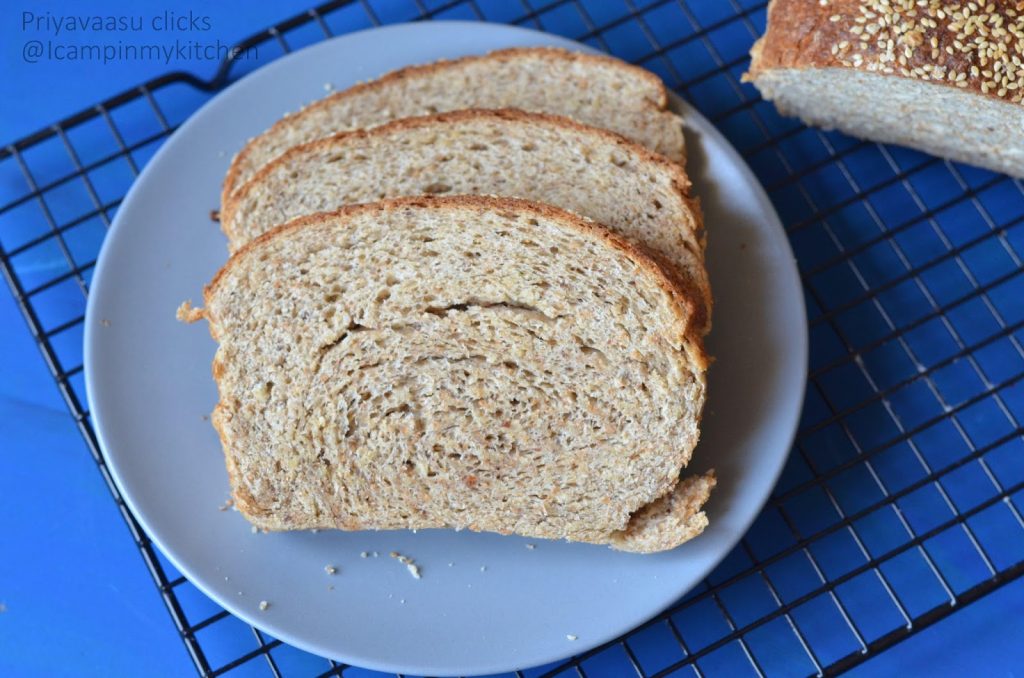 Let the kneaded dough rest in a well-oiled owl for about 60 - 90 minutes or until it is doubled in size. Once doubled, take the dough on to a kneading surface, punch down the excess air. Roll it to a rectangle and fold it into a envelope and place in a well-oiled parchment laid bread pan. I used 9 x 5 loaf pan. Let the bread rest for about 30-40 minutes for it to rise a bit above the rim and gets a good dome.

During the last 10 minutes of the second rise, preheat the oven to 180C. Brush the top of the bread with cream or milk and oil mix. Sprinkle white sesame on top generously. Bake the bread for about 30-40 minutes or until the top is nicely browned.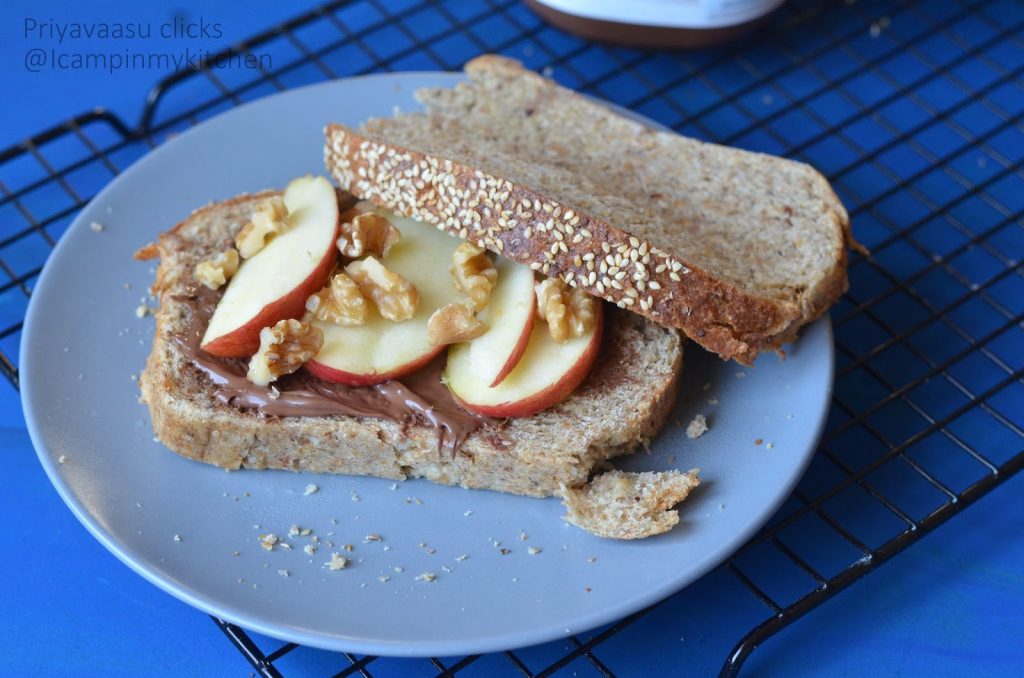 Once done, take the pan out of the oven, remove the bread on to a wire rack, let it cool completely. Slice and serve for breakfast. I made a delicious nutella apple and walnuts sandwich for our breakfast with the bread.