Before starting to the airport on July 4th, i literally hugged and kissed my Oven, Cooking range and my refrigerator and told them not to worry for being left unattended or less used for the next 2 months. This is my usual routine before leaving for vacation. For me baking is just like day to day cooking, making sambhar for lunch and baking bread for dinner or breakfast is an usual chore in my house. 
But, when i m in Chennai for my vacation, i miss baking, the touch of yeast and smell of freshly baked bread is something that cannot be described by words. That is the reason i m into so many Bread baking groups. When Rocio of Kids and Chic announced Oatmeal as the theme for this Month's #Bread Bakers, i was literally scratching my head, i didn't want to miss it, but how do bake without oven??? Since bread bakers normally give us a broad theme, i chose to make a steamed bun for this month.
Huajuan or Steamed Scallion Buns, is steamed bun for Mandarin cuisine. I have already tried Banh Boa sometime back, so, i knew the taste and ease of making the same. But this time, i replaced half the flour with oatmeal and made these scallion buns for evening snack. I served them with some peanut and sesame sauce.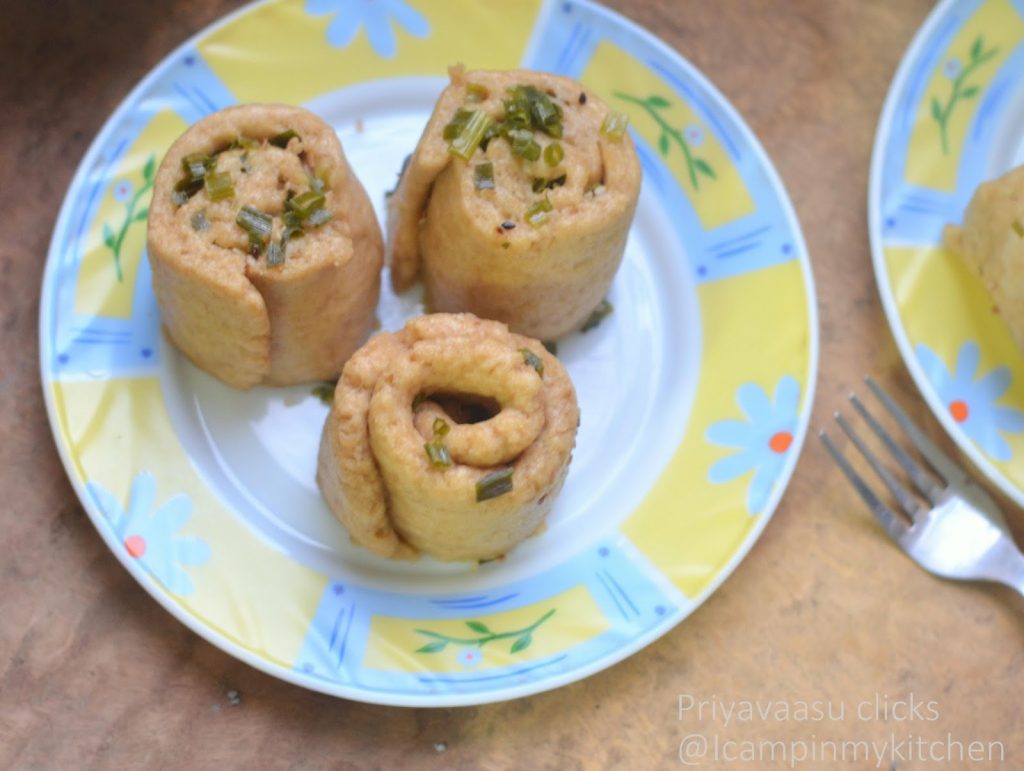 Ingredients
1.5 cups Whole wheat flour (Chapathi flour)
1.5 cups Oats flour (i used quick cooking oats)
heaped teaspoon instant yeast
1 cup warm milk + 2 or 3 tablespoon extra
Filling
4 tablespoon finely chopped scallions(green part only)
2 tablespoon roasted white sesame seeds
1 green chili, finely chopped (optional)
Method
Take oats in a mixer and powder it. I measured 1.5 cups quick oats first and then powdered it. 

Take both the flours together in a bowl, add yeast, sugar and salt. Mix well. Add warm milk to this and knead to form a  soft dough.

Once  you get a dough, knead it for few times to make it more soft. I coated my hands with little oil and kneaded the dough. Once done, let it rest covered for an hour or until it doubles in size. 

Mix the ingredients given under filling in a bowl and keep aside until use.
Once the dough doubles, punch it down and divide it into two portions. Roll a portion of dough, roughly into a rectangle, not too thick nor too thin. Spread a generous portion of the filling on it. Roll it tightly into a log. Divide the log into 1 inch pieces. 
Repeat the same with the rest of the dough. Place the cut portions on the steamer plate and let it sit for 20 minutes to rise.

Since i used my idly steamer for this, i kept it ready on the stove while the bread was resting, so after 20 minutes, the water was boiling and ready.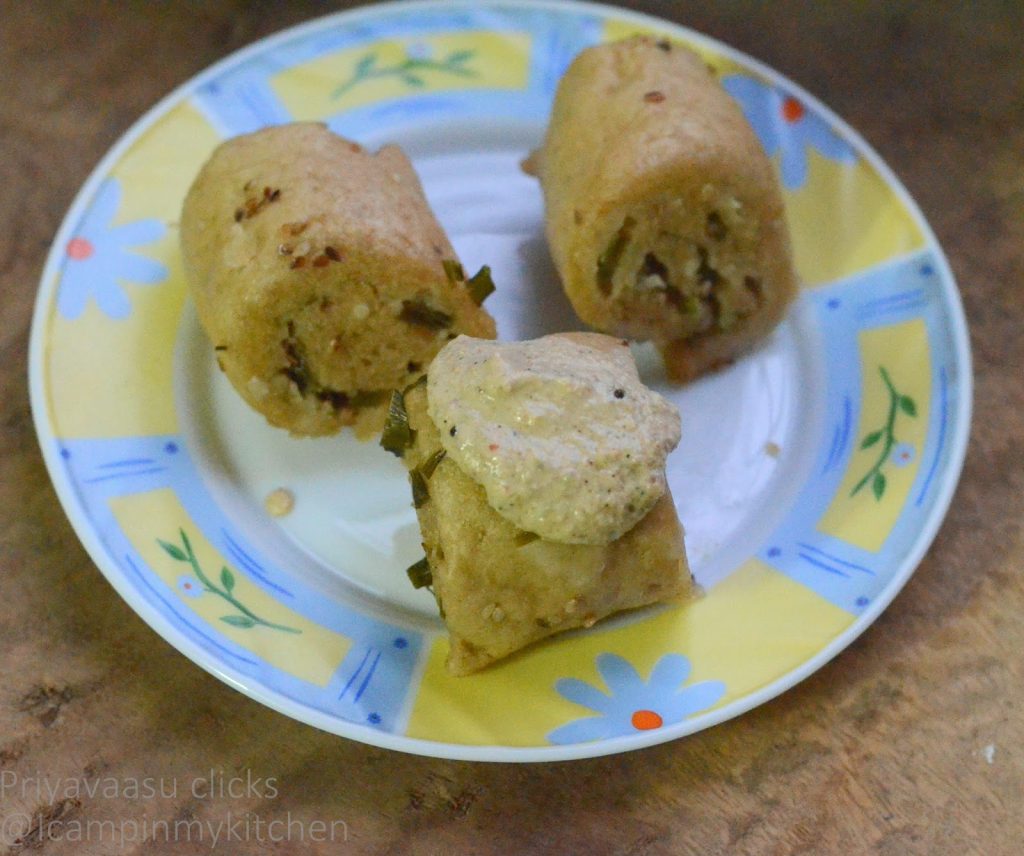 Place the steam basket over the boiling water. Cover and cook for about 15-20 minutes or until the buns are done. 
#BreadBakers is a group of bread loving bakers who get together once a month to bake bread with a common ingredient or theme. Follow our Pinterest board right here. Links are also updated each month on this home page.
We take turns hosting each month and choosing the theme/ingredient.
Oatmeal Bread themed #BreadBakers: