Its been almost a month, since i tended my balcony garden.  My hubby is the one who is watering the plants daily. I didnt even clean the balcony. Wait, it is not laziness, there is a nest in my balcony, and it is been there for the past 6-8 months. It is always busy with egg, mommy and daddy bird guarding the egg and after 3 weeks they hatch and another 3 weeks the baby birds leave the nest and again they start the cycle!!! 
I was a bit hesitant to go clean that area and disturb the small bird family. So, it was dusty and bird poopy in a corner of my balcony. Now its been a week, since the last set of birds flew away, i m not seeing another bird building its family there. So, i cleaned, but left the nest as such, what if the momma bird comes back to start again!!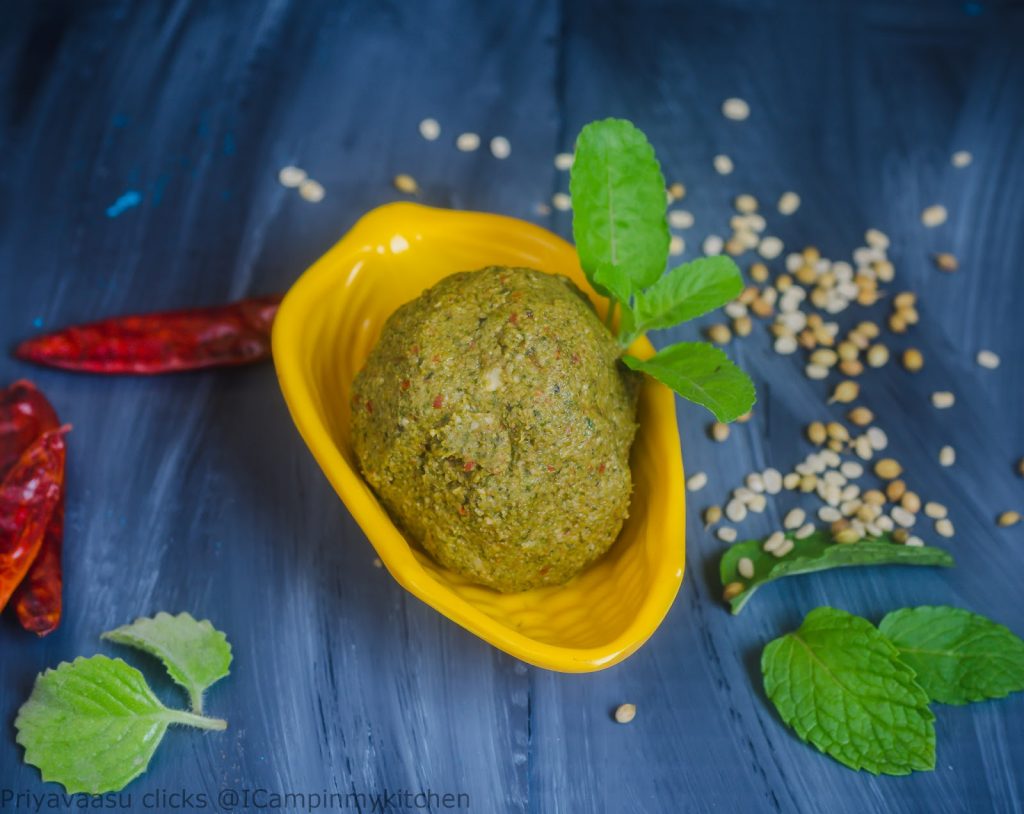 So, while cleaning, i trimmed all my herbs, which i didnt do for a long time now. I normally make rasam with tulsi and ajwain leaves. Add tulsi to our evening tea. But with this set, i tried thogayal/chutney. As a south-indian, i cannot live without thogayal, i need it atleast 3 times in a week. I loved the zestiness of ajwain leaves in this thogayal, it stays in your mouth even after the meal. 
Best use of herbs in your food this winter season, with flu in air, it definitely builds your immunity. Try it and let me know how you liked it
Ingredients
1 tablespoon coriander seeds
5 nos red chilies (increase to 8, if you want more spice)
a small gooseberry sized tamarind
¼ cup of freshly grated coconut
handful of ajwain leaves (if measured loosely,  gives ¾ cup)
Method
Dry roast urad dal and coriander seeds separately. Take care while roasting the dal, it should turn golden brown. To the hot pan, add red chilies and remove. 

Wash the herbs well with water. I took fresh leaves from my balcony, i kept them immersed in water for 10 minutes to remove the dust on them, and washed again under running water once.

Heat the same pan, in which you roasted the dal. Add the washed leaves to it, let it sizzle and wilt a little. Do not saute if for long, the leaves have just wilt. 

Remove it to another plate, let the ingredients cool well. Take them in a mixer-grinder, along with coconut, tamarind, salt and hing. Grind it to paste. Do not add more water, add a tablespoon of water whenever the mixer get stuck, i added about 3-4 tablespoon of water totally.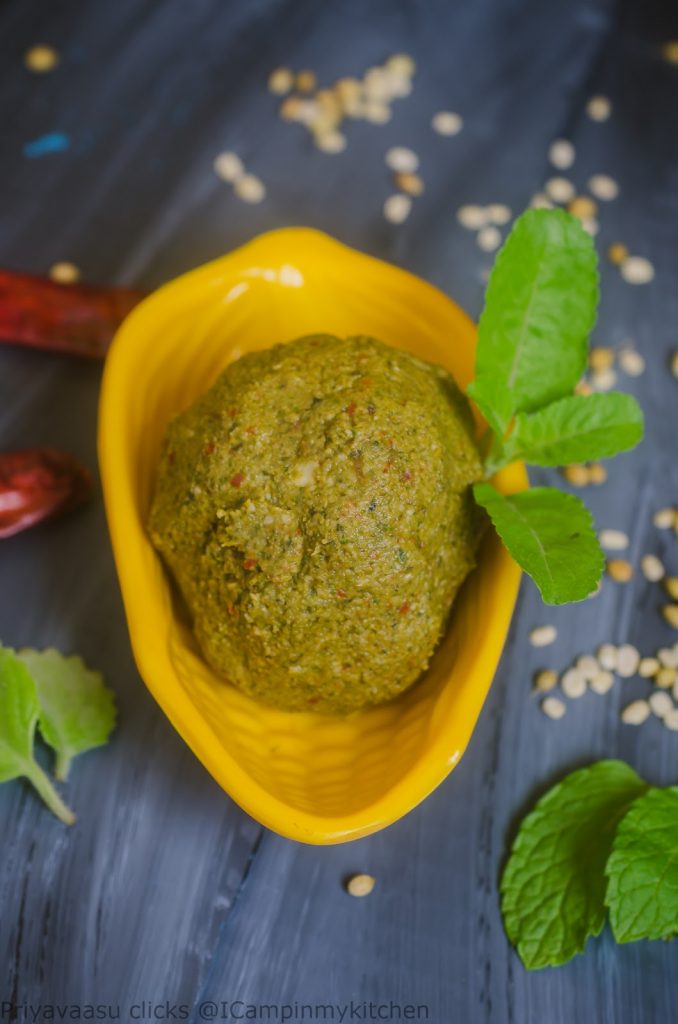 Remove the thogayal/chutney to a serving bowl. Serve it along hot rice, topped with ghee/gingely oil.