When i made it for the first time, my hubby was really surprised. Ridge gourd Kootu is more common in my in-laws place. But Peel Thogayal was something new.  I Learned this recipe from my Chithi, My Mom's sis.
I feel Ridge Gourd as a veggie has more peel than the inner part what we cook. So, Lets not waste it
Ingredients
Ridge Gourd Peel – 2 cups (loosely packed)
Chana Dal/Gram Dal/Kadalai parupu – 1/4 cup
Red Chillies – 6-8 nos
Tamarind paste – 2 tsp
Ginger paste – 1 tsp
Salt to taste
Curry leaves- one tight fist
Hing – pinch
Oil – 1 tbsp
Mustard seed – 1 tsp
urad dal – 1 tsp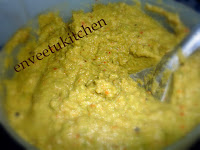 Saute the peels with lil oil, Keep it aside, let it cool. Roast Chana Dal, Red chillies, Let it cool. Grind the sauted peels, chana dal, red chillies, and all the other ingredients together with water. You might need 1/2 cup water to grind it chutney/thogayal consistency.
Season it with mustard seeds and urad dal. If you want the chutney to be more spicy u can add 1 or 2 red chillies while seasoning.
Great combo for Thayir Saadam/Curd Rice.