Chocolates and banana are a delicious combination. I have tried them in smoothies, in sandwiches and now in a dessert!!! This is a very simple dessert, though the name looks a bit long, trying to include whatever i have used in the making!!!This loaf is inspired from Martha Stewart's No Bake Desserts. Original recipe uses peanut butter, since i ran out of peanuts, i subsituted it with Almonds and got this delicious loaf. It is a perfect party pleaser. It is again a make-ahead dessert, if serving in parties, for a large crowd, individual serving cups will be a better idea, if making at home for a small gathering, then i would suggest to make it as a loaf, which can be cut and served at the dinner table.
Ingredients
50 grams Lindt chocolate (70% cocoa, i used half of a 100 grams bar), chopped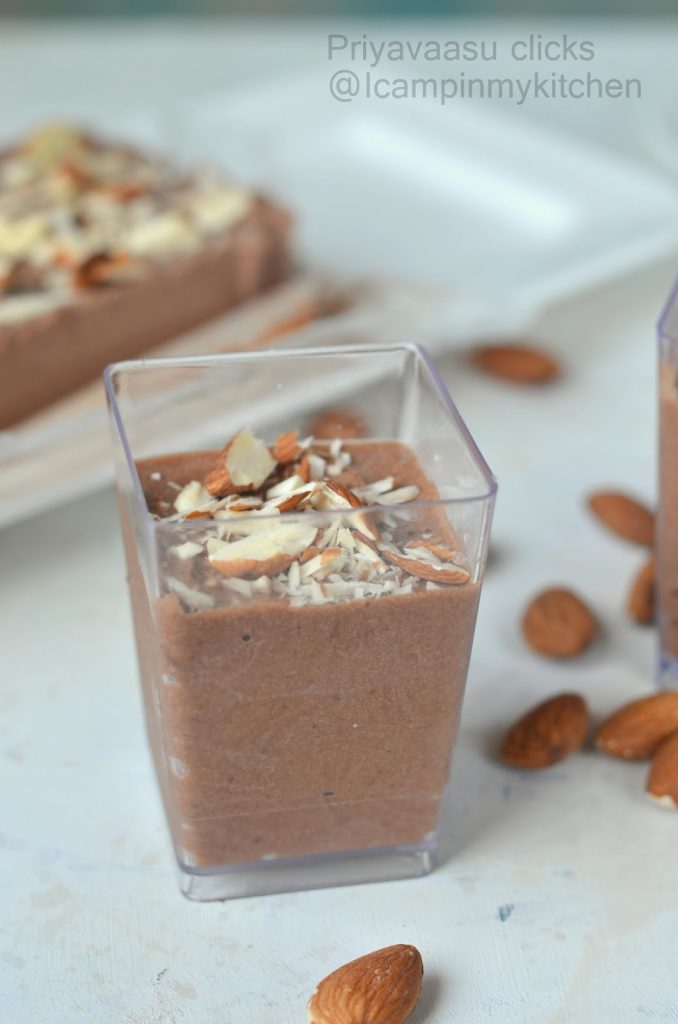 Method
Take the almonds in a microwave safe plate, add a drop of oil and coat them well. MW high for 4 minutes, removing once after 2 minutes, to toss and place it again. Once done, let the almonds cool well. Coat a loaf pan with little oil and line it with a parchment with edges falling outside so it is easy to pull our the loaf once it is done.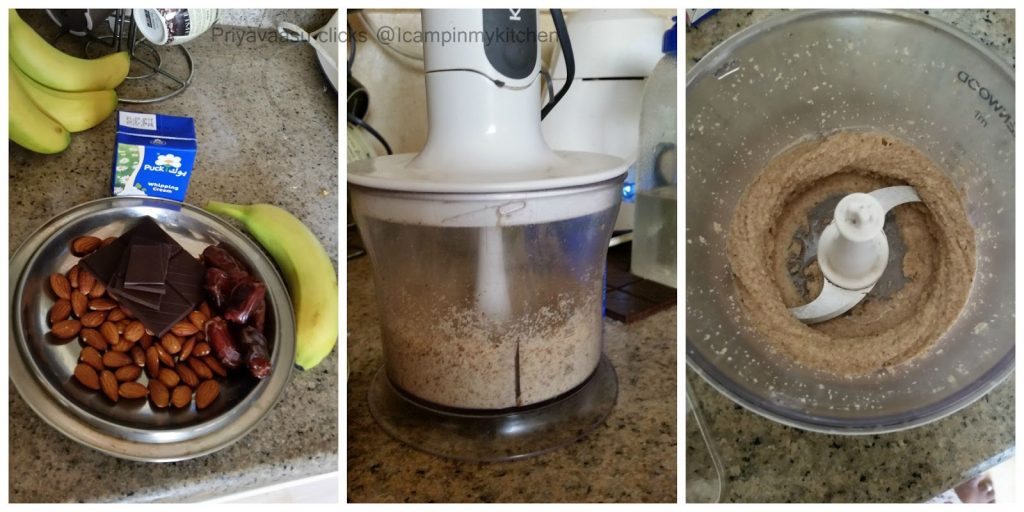 While the almonds are toasting, remove the seeds from the dates and take it together with banana in a mixer and make a smooth paste of it.

Take the almonds along with sea salt in a food processor and grind. We are now making almond butter, grind for a minute, stop and scrape down the sides and continue. Do this until it gets finely powdered and start to release fat. Add a teaspoon or 2 of vegetable oil at the end to get a smooth and creamy almond butter.
To this almond butter add banana-dates mixture and chopped chocolate and grind to make a fine paste.

In another bowl, take the whipping cream and whip it well using an electric beater until it holds stiff peaks. To this bowl, add the almond butter-banana-chocolate mixture and using a silicone spatula, fold in the ingredients well to get a homogeneous mixture. Don't forget to lick the spatula.

Pour the mixture into the prepared loaf pan, i filled ¾th of the pan and had some leftover, which i filled up in individual mousse cups. Once done, top the loafwith some chopped almonds.
Put the loaf tin into the freezer and the mousse cups into the fridge, let it sit for a good 2-3 hours. When it is time to serve, just remove the loaf pan from freezer, let it sit for 5 minutes and then pull the loaf out using the paper hanging out.
Cut thick slices using a serrated knife and serve immediately.
Notes
This is something similar to Ice-cream or a mousse. If it is refrigerated, the texture will be of a mousse, if frozen, it will be like smooth and silky ice-cream, the advantage is, not having any ice-crystals and No churning of course!!!