Hey guys, hope you all had a great start to 2016. I don't know, is it my age or the truth, these days i don't give much importance to dates. Anything New can start anytime, any day, why to stick it to a date? That doesn't mean i don't like celebrations. I love to party (on my terms), love to cook for my friends, crack jokes and laugh out loud like crazy. But that need not be associated with one day or a date, makes sense, right?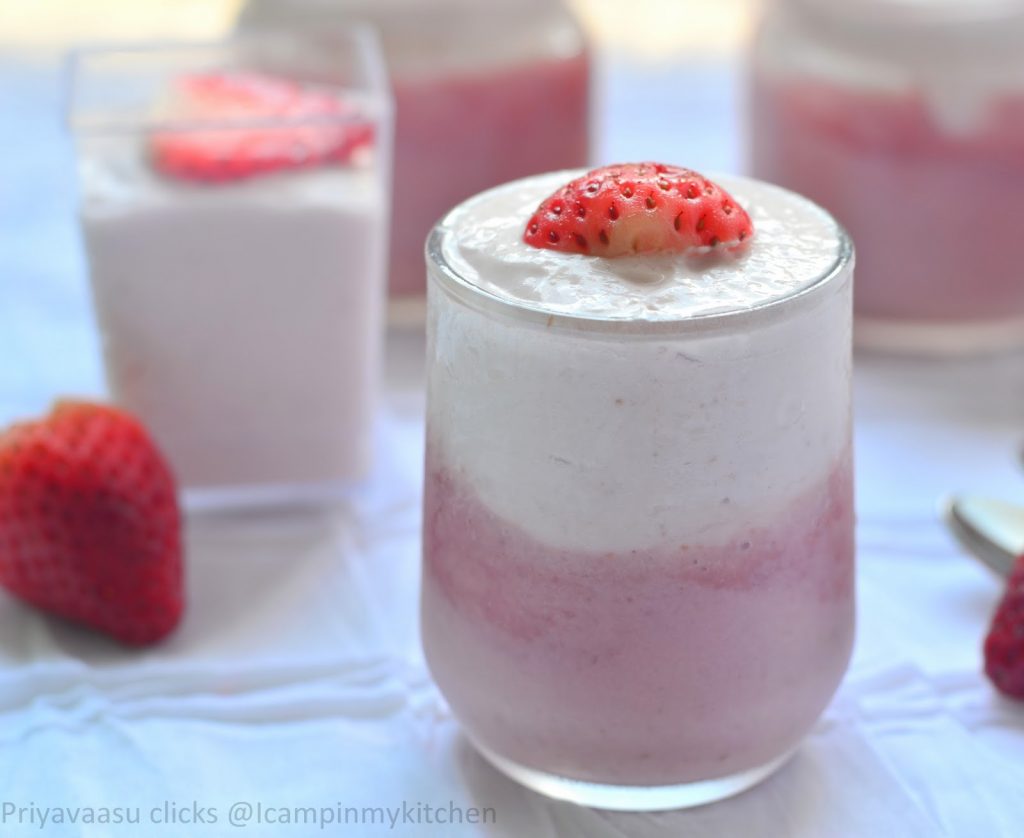 For me, every weekend is a party. I go from a crazy person on Sunday to a normal person by Wednesday evening. I s
tart baking something good or make some dessert keeping the weekend in mind. This is one such dessert, fits the bill for a weekend treat, also beautifully masks the fruit, makes it one tempting bowl for your little devils, who runs a mile when you ask them to eat their fruit.
To make it more tempting, try using fresh and good quality strawberries. Adjust the sweet added according to the sweetness of the fruit. Mine were very fresh, juicy and sweet. I regretted adding 1/4 cup condensed milk to the puree later. Fruit puree blended with cream is so delicious, my kiddo's literally drank a cup as such. So, beware do not ask your lil ones to taste test. 🙂
Ingredients serves (4-5)
25 nos fresh strawberries
200ml whipping cream
1/2 cup condensed milk ( you can reduce it to 1/3 cup)
Fresh strawberries to decorate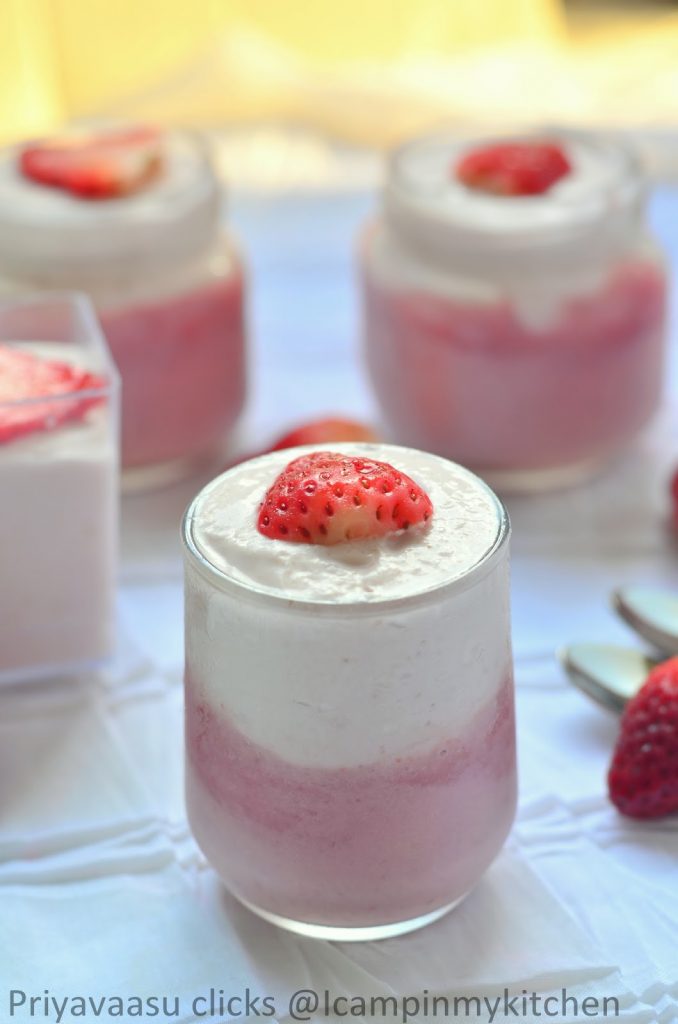 Method
Wash and hull the strawberries. Take 15 of them and blend well to a puree in a blender. If you want, you can sieve, i didn't do that. To this fresh puree, add 1/4 cup (or 2 tbsp) of condensed milk and blend once more.

Divide the puree among-st 6 shot glasses or 4 200 ml glass jars. Fill half the glass with the puree.

Now take the remaining 10 strawberries, add 1/4 cup condensed milk puree well. To this add whipping cream and blend for a minute or two for it to come fluffy. Do not blend more, it might split.
This is just fruit cream without the bottom layer
of fresh strawberry puree
Divide the cream and pour it on top of the strawberry puree in the shot glasses. Cling-wrap and refrigerate for at-least 4-5 hours. While serving garnish with a fresh strawberry slice and serve immediately.