Vacation is over, we are back home in Sharjah, slowly settling. Still have to unpack the suitcases. Yesterday was spent in cleaning our bedroom and make it sleep-able, though the doors were shut tight, i don;t know from where do we get that fine dust, and with a sensitive nose at home, that starts sneezing within 5 minutes contact of dust, the first thing i did after landing yesterday was to pick up my dust cloth and vacuum cleaner!!! sigh, a brief at mom's place, makes you more lazy, hmm!!
Ok, now coming to today's post, After a month's vacation i signed up for 2 weeks for this BM. Wondering what BM is? It is the brainchild of +Srivalli Jetti, where we blog every week on a different theme. Sometimes our ring leader, spare us and give easy themes, at times she pushes our limits to an extent where we would have never dreamed or imagined tasting or making such a dish. Do you want to join our crazy gang, well go ahead and check here, but be warned, we are addictive!!! 🙂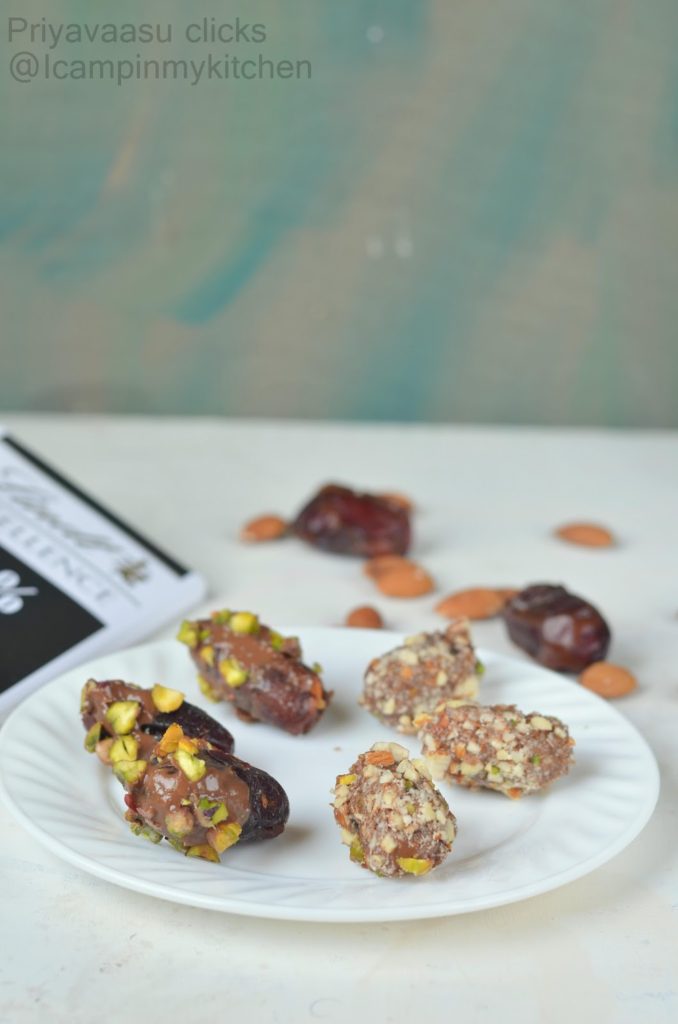 Since, i m just back from vacation, i picked up an easy theme, No Bake Desserts, under this, i chose an easy dessert today. It takes only 15 minutes to make this, even your kiddos can make. It is a make ahead dessert, make it a day before and refrigerate it and enjoy it for your party or as a dessert for everyday.The goodness of dates, its natural sweetness along with roasted almonds, coated with good quality chocolate and rolled over nuts. Heaven i would say!!!
Ingredients
10 nos Dates, Stone removed
80 grams/2 bars chocolate (i used half milk chocolate and half dark chocolate)
4 tablespoon chopped pistachios
4 tablespoon chopped almonds
Remove the stone from the dates, without squishing it, just make a small slit with your thumb, remove the seed, stuff an almond in place of the seed and slightly push to close it. Repeat the same with rest the dates.

Melt chocolate in Microwave. Break the chocolate into blocks, take them in a microwave-safe mug/bowl. MW high for a minute. Take it out and whisk it well with a spoon, It should have melted well, into thick glossy chocolate of liquid consistency, if not MW again for another 30 seconds.

Keep a plate with chopped nuts ready by your side. In another plate, place a piece of parchment to lay the choco-dipped dates.

Now, take a almond-stuffed dates, dip one half of in chocolate, shake a little to remove the excess chocolate, immediately roll it over chopped pistachios and rest on parchment.
Another method, is to dip the whole almond-date into chocolate, remove it using a fork, shake to remove the excess chocolate, immediately roll it over the chopped nuts and rest on parchment.

Stick the tray into the refrigerator for the chocolate coat to set. Serve it straight at the time of Dessert.
Notes
To roast almonds/pistachios, Spread the nuts on a microwave-safe plate, add a drop of oil and coat the nuts well.

MW high for 4 minutes, taking it out and tossing it after every 1 minute. Let it cool completely, your toasted nuts ready!!!